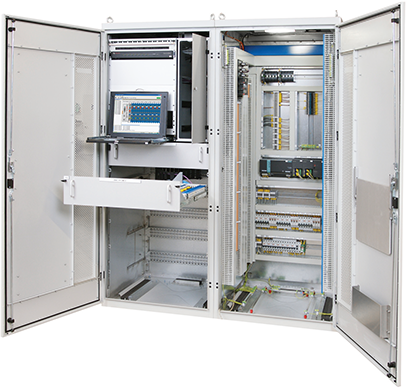 Electrifying potential
Founded in 1990, Forus Elektro is one of Norway's largest and leading suppliers of panels and switchboards for use in the industrial, marine, offshore and ventilation industries.
Since its inception the company has grown from a staff base of seven employees to a force of over 200 highly skilled staff, and along with Skarnes Elektro, Forus Elektro is made up of two main divisions headquartered in Stavanger. Within the extensive 3000 square metre facility, the workshop is divided into four main areas of production, these include; panels for automation, especially for protection from fire and gas, shut down systems and low level operation systems; pumping systems for ships; MCC's (motor control centres) and motor starters for large consumption users, including panels and power systems; and finally explosion proof equipment. In addition to production services the organisation has capabilities in engineering, design and certification, working closely with major players such as Veritas and Nemco for the programming and testing of applications.
Knut Husebo, director of Forus Elektro outlines the company's main strengths: "All of our growth over the past twenty years in regards to the shipping and offshore markets has come from satisfied customers who were impressed by the standard of the service we supply. As a result we have had stable growth right from the beginning and our turnover in this sector is now 130 million NOK a year with the overall group turnover reaching 300 million. Our major strength lies in the fact that though we are now quite a large company we have maintained the flexibility of a much smaller business. We are the biggest panel builder in the Norwegian market but our delivery times and ability to meet customer's requirements is unrivalled in the industry. For example, we have just completed a job for Dolphin UK where they asked us to build a new 440-watt distribution board for a complete platform. We finished the project within three months, which is a very short time considering all the engineering, introduction and building services we provided."
With 95 per cent of Forus Elektro's provision being tailor-made to the client's exact wishes, it is no wonder that market leaders such as Aker utilise the company for multiple services on rigs and vessels. While mostly operating throughout Norway and the North Sea, the organisation is looking to the UK, Germany and Holland for potential expansion in the coming years. An increasing focus on the oil and gas aspect of the business will be facilitated by the premises expansion that took place in January this year. Outfitted with pneumatic, torque, hydraulic and stop processing tools, as well as its own engraving department, Forus Elektro is ideally adapted for the production of electrical panels. The engraving sector of the company provides acrylic signs for both indoor and outdoor use in the medical and food industries.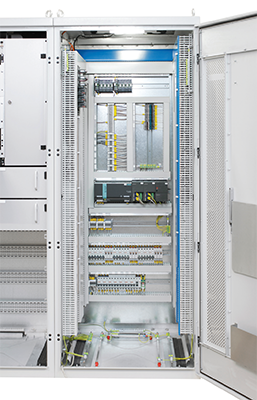 The company is starting a new business area on the back of an innovative panel design that has already been a great success with key clients. The product consists of a special MCC system ideally suited for use on platforms and ships as it is 'withdrawable' meaning it can function as a detachable compartment that can be removed and switched with another one. This has a great number of safety and production benefits as it enables service to be running at all times – having to stop production to repair damaged equipment is avoided as the panel can simply be replaced by a fully operational one. Knut comments: "We are extremely pleased with the success of this new panel. Throughout the market there are historically two main market leaders for this type of innovation and through this product's popularity we are now the third. We are growing as the company of choice as we provide a cheaper and more preferable option to these two main leaders. The biggest contract we hold at the moment is with Dolphin and one other key client who have put in an order for our new panel system that is able to run to 440 watts."
Forus Elektro is able to deliver products with voltage ranges from 0 to 3000 volts and power ranges from 0 to 7000 amps. Its highly skilled staff base made up of engineers, designers and outfitters have decades of experience between them both in the workshop and on location offshore. The workshops produce a range of switchboards, motor distributions, PLC boards, control panels, ventilation panels and EEX panels, while the service department work closely with customers to provide rehabilitation, renovation and maintenance capabilities. With such a broad range of competences, the company adheres to the most rigorous of international safety and quality standards both for its own operations and for the testing of external applications. Forus Elektro is able to certify boards by NEMKO, DNV, ABS, RINA, LRS and BV standards, and by November 2009 will have achieved its own ISO 9001 certificate. Though it has been running to this standard for some time, implementing the manual criteria throughout operations, the official certificate has not yet been achieved. It will bring great advantages in marketing the business to drilling and operator companies.
Looking to the future, Knut predicts that despite the economic crisis Forus Elektro will make progress across the oil and gas industry: "Right now the market is challenging for everybody and due to the global financial downturn we have experienced a five per cent reduction in our turnover. However we feel this is an acceptable decline compared to others and it would have been a lot worse had we only stuck to our own customers. In the past year we have actively sought new business areas and through a good marketing and sales team have expanded. These new customers, alongside our new product capability, have helped us through the crisis and I believe that we will see a 30-40 per cent growth pattern over the next few years. We have already started the setting-up of another new area that involves the equipping of containers with electrical equipment and panelling. I'm confident the company will remain a key player for the years to come."
Forus Elektro-Automatikk
Products Offshore panels  and switchboards