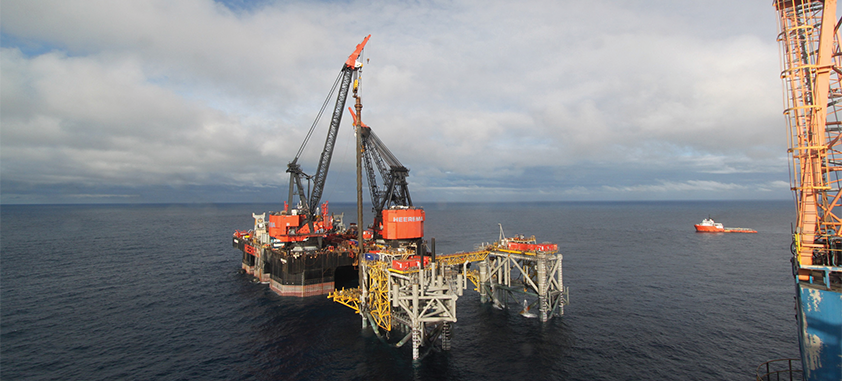 Founded on expertise
Having held a presence in the market since 1966, FoundOcean has concentrated its expertise to become one of today's leading subsea and offshore grouting specialists serving the global energy construction industries.
However, it's been in the last five years that FoundOcean has witnessed its most significant growth, with the last 24 months resulting in the company doubling in size, both in terms of its turnover and the number of people employed. As such, the business now employs around 85 members of staff over two sites with 80 per cent of the personnel directly involved with offshore activities.
In terms of the market activity that has driven this development, managing director Jim Bell reveals where FoundOcean has made the greatest strides: "We saw growth in the renewable construction business, particularly with the Ormonde and Thornton Bank wind farms that we've worked on in the last couple of years. Most of the growth last year though came out of an expansion into oil and gas. At present this industry is supported by a high oil price and this has translated into very significant levels of activity all over the world, including the North Sea. Throughout the early 2000s up to recently we were seeing new platforms and jackets being installed in this market at the rate of one or two each year. From last year though this has increased to around ten or more new jackets installed annually, so for what was considered to be a mature and declining oil region the North Sea has really seen a renaissance of late, and we see that contributing significantly to our five year outlook."
FoundOcean has also remained successful in its penetration into the South East Asian market through its strategic partner IEV. In an extension of this five-year relationship, FoundOcean has integrated IEV's internally developed marine growth prevention and control system into its product range. "Essentially this product stops marine growth such as barnacles from attaching to offshore structures, which has significant maintenance benefits. We have been the UK outlet for this product for the last year and are beginning to see success in raising awareness of this in the industry. In particular, we're hoping to see it installed on a number of wind farm foundations on a trial basis, as well as picking up maintenance and replacement of systems already installed on oil and gas structures," elaborates Jim.
Another important business relationship which has also generated new opportunities for FoundOcean is the company recently being appointed Licensed Applicator for BASF Exa-grout Masterflow 9500. Certain foundation designs within the renewable energy market require cement grouts with exceptional properties. It is in the logistics, the mixing and the delivery of these Exa-grouts, that FoundOcean is collaborating with BASF on. This is part of the ongoing development of a two-year relationship, and has helped both parties to secure a growing market share of the North European offshore renewables industry.
Just a number of weeks ago FoundOcean opened its expanded Offshore Service Base in Livingston, Scotland. This was the culmination of a series of improvements made at the base, with additional workshop space to build and maintain equipment, and working space for offshore personnel, and office facilities for engineers and logistics staff. "Both new and long-term clients travelled from all over Europe for the opening, which was a great opportunity for us to showcase our equipment and quality of service we provide, but most importantly our personnel. In the end what delivers success offshore for us and our customers are the individuals who carry out this work all over the world in difficult working conditions, and still achieve a first class service," enthuses Jim.
An example of this expertise is FoundOcean's work on the foundations of the North Rankin B platform in Western Australia for long-term client Heerema. Due to difficult seabed geometry, the project required piles to be drilled and inserted into sockets in the seabed and cemented into position. Whereas a normal project would have a cement requirement of between 200 and 500 tonnes, the North Rankin B platform totalled around 5000 tonnes. Therefore it was a substantial logistical exercise to get this quantity of material offshore, and to a fairly remote location, and to then successfully mix and pump this into the foundations. Closer to home, FoundOcean has been awarded two new North Sea pile grouting contracts for a total of five jacket structures, which forms part of a three year agreement between the company and Saipem UK.
As with its business activities today, FoundOcean's strategy for the next few years is split between the oil and gas market, and renewable energies, in order to build upon its success to date in these markets: "One cornerstone of this is to consolidate our position as the key provider of foundation grouting in the renewable industry. We've had great success in the last couple of years, but our aim is to become the service company of choice to provide such services in Europe, and further around the world as other markets start to catch up.
"Within the oil and gas market we firstly intend to repeat our successful expansion into South East Asia into other regions of the world such as South America and West Africa. We then also want to carry out more work in our home market in the field of platform repair and upgrade such as extending the life of existing jackets, or repairing risers and caissons. In order to achieve this, we are currently working towards raising profile of our capabilities in the repair and maintenance industry in the oil and gas engineering hot spots like Aberdeen and Stavanger."
FoundOcean
Services Subsea and offshore grouting specialist