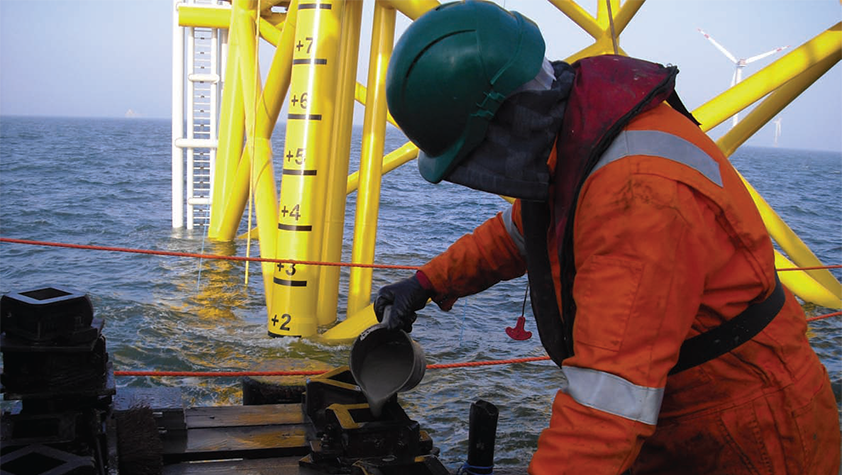 Embedded expertise
The largest dedicated player within its niche sector, FoundOcean is the offshore grouting specialist for the global energy construction industry.
The company has over 40 years of experience working in oil and gas construction providing a range of services including foundation and structural grouting, structural repair and strengthening, and pipeline and cable support and protection in all oil and gas production areas around the world.
Since 2003, FoundOcean has also been advising and working with renewable energycompanies helping to shape the emergent supply chain. As such it offers the same scope ofservices as in the oil and gas market for global renewable energy projects. This sector has been a major driver of the growth that FoundOcean has experienced over the last three years.
"We have consolidated our position in renewable energy," begins managing director Jim Bell. "We are running six concurrent renewableenergy projects, and throughout the course ofthe year expect this figure to grow. Last year wehad two such projects, and the year before just one. We really have grown our involvement to the extent that renewable energy is now the largest part of the business."
In order to deliver this FoundOcean has had to expand the capacity of the business on all levels. This includes its offshore service base in Scotland, permanent employee base and plant. "We have more than doubled our personnel from 60 to 140 as of May 2013," elaborates Jim. "This has presented some real challenges interms of recruitment as we are a very specialistcompany, and therefore you can't really findpeople who have done this precise type of workbefore. As such we've invested heavily in ourtraining programme so we can bring people up to the required technical and safety standards as quickly as possible.
"We have also expanded our offshore assets so that we now have 40 offshore grouting systemscompared to ten four years ago. By increasingthe number of our workforce and our equipment we have needed to expand our office and workshop footprint, taking on an extra 10,000 square feet last year. More projects running at the same time than ever before, and the need to support those in terms of maintenance and resupply, means that we are in the process of taking on a further 15,000 square feet as well," he continues.
In 2012 FoundOcean was appointed Licensed Applicator for BASF Exa-grout Masterflow® 9500, seeing it take on the logistics, mixing and delivery of this product. Reflecting on the importance of this relationship in terms of where the business is at today, Jim notes: "Using the BASF Masterflow product has been key to us entering the windfarm market. By aligning ourselves with a blue chip manufacturing company such as BASF, we give our customers confidence that they are getting a durable product from a reliable service provider. Without this relationship it would have been much more difficult to build our renewable energy market share as quickly as we have."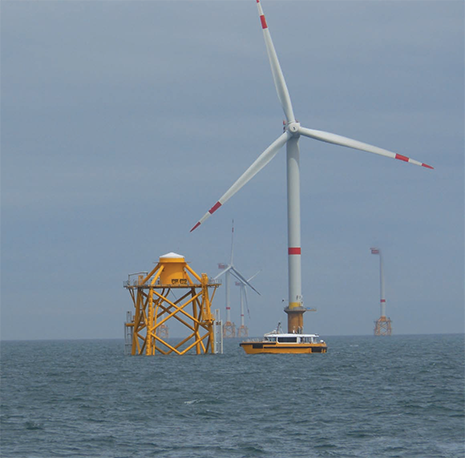 The Masterflow system is being employed on two of the biggest wind farm projects that FoundOcean is currently involved in – West of Duddon Sands and Gwynt y Môr. In both cases FoundOcean is delivering grouting for the turbine foundations, in water depths of 17 to 24 metres at West of Duddon Sands and 12 to 28 metres at Gwynt y Môr. In addition to these, and the other renewable energy projects the company is currently engaged on, FoundOcean expects to see several more contract awards by the end of the year.
The oil and gas side of the business has been far from quiet. For more than five years now FoundOcean has been partnering with IEV Group in order to capitalise on the Southeast Asian market. "Together we are the leading grouting specialist in the region," enthuses Jim. "So far this year we have worked in Malaysia, Indonesia, Vietnam, and Burma where we were one of the first UK businesses to begin work following the change in government, so that relationship continues to be successful."
Last year FoundOcean added IEV's internally developed marine growth prevention and control system to its product range. This is being re-introduced to the North Sea having been used sparingly in the region in the past. "We are now going through a trial programme to install a small number of test devices on some selected North Sea wind farms. Within the next six to 12 months we expect to get some positive feedback on the effectiveness of these, which should lead to a more extensive deployment," describes Jim.
Even more recently the company has set up a new joint venture with its Indian partner Ambico to open a fabric formwork manufacturing facility in Mumbai. "These are very large engineered bags of several metres in size that are typically used in pipeline stabilisation works, where they are placed under the pipeline and then filled with grout. We have just completed several large projects of this nature in Southeast Asia, as well as one in the Gulf of Mexico where we set a new world record by putting in pipeline supports at a depth of 1400 metres. This broke our previous record of 1,244 metres, and means we are getting to a stage where we can install these supports almost a mile beneath the surface," reveals Jim.
He continues with how FoundOcean is alone in the market when it comes to delivering pipeline support at these depths: "There is no-one else in the world that is capable of even coming close to this, which is why we get the opportunity to export our service all over the world. Another interesting project we are working on using these fabric formwork bags is the salvage of the Costa Concordia wreck in Italy. Here we are essentially using these formworks to build a false seabed that will support the wreck when it is rolled into its upright position. The volumes and scale involved in the project are huge with several thousand formwork bags, 25,000 tonnes of cement, and two of our grouting systems being employed."
With two thriving aspects to the business, once again FoundOcean's strategy is split between maximising both its oil and gas, and renewable energy activities, as Jim reveals in thinking about the rest of the year ahead: "We have had a very strong focus on entering the renewable energy market over the last three years. We have been successful in that, and are now returning our focus back to the oil and gas industry and particularly the export market. Over the next 12 months we will be pushing to expand our footprint in the Middle East, Gulf of Mexico, South America, and West Africa and establish a more permanent presence in all of those locations."
This is representative of FoundOcean's longer-term view to consolidate itself in all markets where it is not yet the number one service company, as it is in Europe and Southeast Asia. "I think the activity of the individual markets will determine the order in which we address them, but our aim is to become the leader in all markets around the world," notes Jim. "With a bit of good fortune we will also see the US renewable energy market take off. It is closer than ever before with indications that the first offshore wind farm project in the US could begin as early as the middle of next year. We are establishing ourselves more substantially and permanently in the US to be ready when this happens.
"Over the next few years we will also be looking to identify and acquire some complimentary businesses to assist with our growth and development. We are still at the very early stages of that process but we have identified a shortlist of businesses which may be suitable for this," he concludes.
FoundOcean Ltd
Services: Subsea and offshore grouting specialist