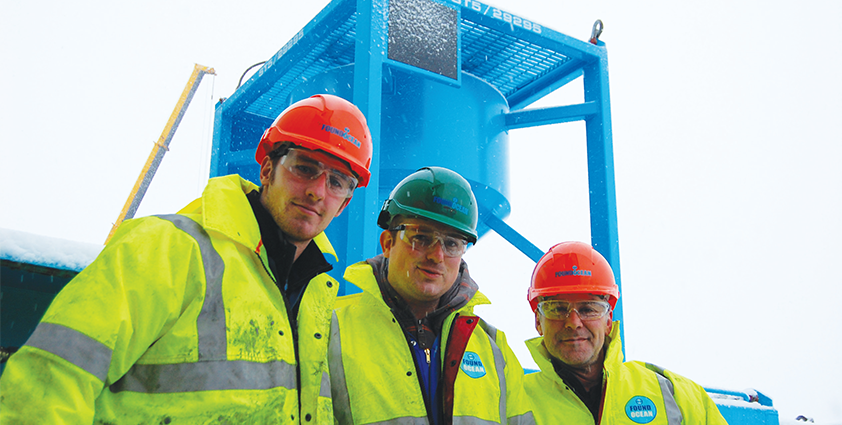 Strong foundations
As a subsea and offshore cementing specialist for the global energy construction industries, FoundOcean's main activity is fixing structures to the seabed by foundation grouting.
The privately owned company, which started work in 1966 in the Middle East in what are now known as the Umm Shaif and Zakum oil fields, also provides structural repair services for subsea and offshore structures, and pipeline and cable support and protection services.
FoundOcean moved into the North Sea in the 1970s, through its work for BP's platforms in the Forties oilfield, situated 110 miles east of Aberdeen. Though it still works extensively in the North Sea, the majority of its work is now in other parts of the world, with customers as far afield as South East Asia, Brazil, the Indian Ocean and West Africa, the Mediterranean, the Caspian and Russia.
Its headquarters, along with its project management and engineering activities, are based near London, in the UK. Its specialist subsea and offshore engineering equipment is located for rapid deployment in key energy producing areas of the world including Europe, the Gulf of Mexico, Southeast Asia and the Middle East.
The company's comprehensive track record encompasses nearly 500 structures and more than 3000 high strength structural sleeve connections, as well as numerous structural repairs and pipeline stabilisation projects.
As previously outlined, FoundOcean's primary service is foundation grouting for the installation of new oil and gas platforms. The grout mixing equipment is specially designed for this purpose and is capable of mixing cement grouts to the very high densities required for high strength connections. FoundOcean provides grout monitoring services to measure grout density in the pile-sleeve annulus. This equipment is mounted on an ROV, with grout density readings displayed in the ROV control cabin, which helpfully provides the certifying authority company representatives with confirmation of the quality of the grouted connection.
FoundOcean's 'HydraScope' Flooded Member Detection (FMD) system allows for the rapid and cost-effective inspection of offshore platforms to check that members have not become flooded as a result of damage or defective welds. FoundOcean is one of the few companies to design and produce its FMD equipment in-house, and it has incorporated a number of improvements into the current design, which helps keep the company at the cutting edge of FMD technology.
The support, protection and stabilisation of subsea pipelines and structures is achieved by the use of grouted fabric formworks, which can be deployed either by diver or ROV. The company set a record in 2008 when it installed grouted pipeline supports at a depth of 1,250m at CNR's Baobab field in West Africa. FoundOcean manufactures a range of concrete mattresses and structures for similar applications. FoundOcean's ScourMat causes the deposition of sand and sediments to counteract seabed scour to protect structures and reduce pipeline freespans.
In terms of its current agenda, FoundOcean is expanding its operations and engineering teams at its headquarters near London, and its service base in Scotland's Livingston. Commenting in April 2010, Managing director Jim Bell said: "We have 40 years' subsea experience in oil and gas, which has given us valuable construction expertise applicable to the global renewables industry. Our business is fixing structures to the seabed, which is just as important to wind and tidal power as it is for oil and gas. Renewables has huge growth potential and we're working with the market leaders to drive this in 2010 in UK waters and beyond. This reorganisation and expansion will mean that our clients continue to experience excellent service and satisfaction."
The renewables sector has proved significant to FoundOcean. The business' first experience in this industry commenced in 2003 when it provided high strength grouting services for the Arklow Bank Wind Farm in the Republic of Ireland. In 2008, FoundOcean reached an agreement with TECROC – a manufacturer of ultra high-strength cements – to supply their materials for use in offshore construction. The companies have benefitted each other in terms of the expertise involved in providing premium structural connection grouting services to the renewable energy sector. FoundOcean's range of available material strengths means that wind farm operators can now access competitively priced ultra-high-strength grouts for use on their monopile turbines or use standard strength grouts on their multi-leg jacket structures similar to those used by the oil and gas industry. "The UK is one of the biggest offshore wind farm markets in the world, and the worldwide market is growing rapidly too," Jim said, at the time, noting that it was appropriate to have access to materials from the UK's leading manufacturer of high strength cements. "Teaming FoundOcean's experienced personnel and knowledge of deepwater construction with TECROC's premium materials and global distribution network means we are well placed to serve the renewable energy sector," he added.
FoundOcean was drafted in to take over the offshore grouting work over Christmas in 2009 for an offshore renewables project. FoundOcean have also been contracted to work on the installation of 29 wind turbine jackets and 2 substation jackets in UK waters in 2010.
Also in 2009, FoundOcean's service base was expanded at Telford Square Industrial Park in Livingston, Scotland. A 500 square metre building was added, so that the company could occupy the majority of the business park. The extra space was needed to build new cementing equipment and house a new materials testing laboratory, permitting more space for R&D into new grout formulations. Jim observed at the time: "A bigger unit in Scotland is essential for us to grow and develop our business. We'll be able to build on our success with new equipment, more research and an expanded workforce."
These improvements have paid dividends in terms of producing up-to-date technologies and market leading solutions. With the worst of the recession behind us and the rising prominence of the renewables sector, FoundOcean is looking to seize opportunities around the world, build upon its niche know-how and expand in the coming years.
FoundOcean Ltd
Services: Subsea and offshore cementing