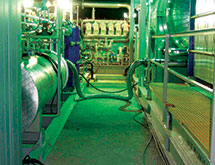 Fountain Quail Water Management LLC
Oilfield water is not usually thought of something that can be consumed. But Fountain Quail Water Management LLC has the ability to raise it to that level. "We recycle more oilfield water than anyone else," COO Brent Halldorson says declares. "We take [it] back to crystal clean brine or even to drinking water quality if needed."
Based in Fort Worth, Texas, the company is the oilfield services arm of Aqua-Pure, a recycler of industrial wastewater based in Calgary, Alberta. Halldorson notes that Aqua-Pure's history goes back to 1996, when its founders built a prototype evaporator technology in Kelowna, British Columbia.
"But what we were finding was we didn't want to be a capital equipment manufacturer," he explains. "We wanted to build a service company with recurring revenue and be involved with the day-to-day operations of the equipment as well. At the time, disposal was the only solution, and we felt we could recycle the water and be competitive."
Today, the majority of Fountain Quail's operations are in the Permian Basin and the Eagle Ford Shale in Texas. "As an oilfield service company, we go where the need is the highest," he says.
Halldorson, who has been with the parent company Aqua-Pure since 1999, says Fountain Quail brings extensive expertise to its customers. "We were really the earliest pioneers in this industry," he says. "We've got more experience than anyone. Every lesson learned along the way has helped make the technology more rugged and dependable."
This expertise makes Fountain Quail a leader in its industry, he adds. "We've recycled over a billion gallons back to freshwater," he states.
Exciting Times
It is an exciting time in the industry for Fountain Quail because water recycling has become more common, Halldorson says. In years past, "Our customers used to say, 'Recycling's too expensive,'" he recalls.
Today, its clients are more aware of the cost of disposing water versus the price of recycling it. "They've become very good at looking at the lifecycle cost of their water," he says.
They also are more mindful of Fountain Quail's technology. "These oil and gas producers are figuring out that 'I need A, B and C as my performance metrics for water treatment,'" Halldorson continues, noting that they also are aware of quality levels. "Finally, I can be judged for what I can do."
Its customers also are not distancing water recycling from disposal. Instead, "Many of our recycling projects have been set up at disposal wells," he says. "They're not mutually exclusive."
Bridging the Gap
Halldorson is proud of the recent formation of the Texas Water Recycling Association in Austin, Texas. He serves as the chairman of the organization, which represents the state's water recycling industry.
"We've got over 30 members that include oil and gas companies that are interested in recycling," he says. "It is very important to have a nonprofit group that speaks on behalf of recyclers. Our voice is very important."
Sometimes when oil and gas companies speak about sensitive industry issues such as water, "They're judged as being biased," Halldorson says. "As water recyclers, we find that we can bridge that gap. This is too important an issue to our nation's energy and security future and we cannot allow it to become politicized. Our message is that we can have our cake and eat it too – we can develop our substantial domestic natural resources while simultaneously protecting our water resources.
"Water can be handled very, very safely in these unconventional plays, and Fountain Quail is living proof of that," he says. "We've started to get the message out."
Building Itself Up
Fountain Quail's water recycling has become a larger part of its clients' value chain, Halldorson says. Previously, "[We were] always seen as a pilot," he recalls. "Now, if we fail, we can delay a frac and well production.
"Not every energy producer has embraced that, but we're finding every day it gets easier," he says, noting that the company is also focused on driving costs down and its reliability up. "Our focus on technology development has been making [our services] more rugged, more simple and more reliable."
Going forward, Halldorson wants Fountain Quail to be the name "that comes to people's minds" when they think of oilfield water recycling. "We want to be the Kleenex of the industry," he says. "It's taken a lot of years to build it up, and now we want to grow it from here."