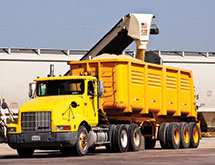 FourWinds Logistics may be seen as another new company offering sand transloading and storage services to the oil and gas industry, but its long-term mission is to become the largest transloading company in the world. "Failure is not an option," founder and CEO Stan Bates says. "Don't tell a Marine he can't do something because I will prove you wrong or die trying."
Bates was always interested in being part of the oil and gas industry, but his life went in a different direction as he became a sniper for the U.S. Marine Corps. After he retired, Bates ran his own advertising company during the day and scouted rig sites in the evening. "I was going to rig sites to learn whatever I could," he explains. "I would bring a Hibachi grill, steaks and an ice cooler full of beer and visit friends of mine to learn about the industry."
FourWinds Logistics started with Bates, his dog and one truck. Today, the San Antonio-based company transloads, sells and stores sand for the oil and gas industry with 141 employees and partnerships with eight companies around the country that helps it deliver on its promises. "We consider ourselves a full-service logistics company," Bates says. "From the mine to the well, we handle all the logistical nightmares in between."
Having jumpstarted the company only in February 2014, FourWinds Logistics has acquired logistical contracts with eight mining and warehouse companies, along with three barge companies.
Exceptional Performance
FourWinds Logistics is a performance-based company and a majority of its employees are veterans and former Marines, Bates notes. "I know how Marines perform under pressure and understand how to accomplish a mission," he adds. "We develop leaders and train with an outside consulting firm as one unit, so everyone can do everyone's job."
Each of its employees is trained on every aspect of the company so there is never a piece of the equation left unfulfilled. "We do what we say we are going to do and that's what makes us different," Bates adds. "Training is a huge part of our success."
The need to perform well under pressure is critical in a company that deals with logistics because, as Bates admits, "logistics is a nightmare." Transportation of sand or other proppants is reliant on trains and barges that have a number of elements to battle, including weather, which leaves a lot of circumstances out of FourWinds Logistics' control. "Logistics is always a challenge, so we forecast, predict and make adjustments while keeping our customers informed and communicating internally," he explains.
FourWinds Logistics also goes above and beyond in its services by making inventory data available to its customers, COO Shannon Smith says. "We have turned that data into a tool for our clients so they can track their shipment, know how much inventory remains and when more sand will arrive to the site," he explains. "A lot of companies are archaic and they don't want to catch up. We are trying to come up with FourWinds 2.0."
Silo Storage
"The oil and gas industry is a true supply and demand market," Bates says. "There are 24,000 holes permitted in Texas over the next year-and-a-half and anytime you drill a hole, you need 10,000 tons of sand. It's estimated that there will be 93 billion tons of sand used in 2014 and experts are forecasting that there will be a 90 percent increase in frac sand from there."
FourWinds Logistics is preparing for the increase in demand by building long-term relationships with its suppliers and securing contracts for the future. Bates and Smith agree it is imperative to plan for three, five, seven, and 20 years into the future.
To accommodate for future growth and demand, FourWinds Logistics is constructing 18 state-of-the-art transloading facilities throughout the United States. Each facility will include six silos with a total capacity of 100,000 tons and rail access to off-load sand directly from the rail cars into silos. The first facility will be completed in August 2015. "These will supersede the largest transloading facility in the world," Bates notes.
FourWinds Logistics is working to acquire 20 percent of the marketshare by 2020, Bates says. "We are a new company and have been going at warp speed for the past six months," he adds. "We will not be a publicly traded company, and it will be family owned and operated until we walk away. In 25 years, myself and Shannon want to be shaking hands on the cover of Forbes magazine."