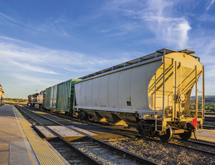 Frac Resources is in the business of keeping customers happy, Principal for Business Development Kyle Kinsel says. "People need to get their sand out of your terminal when they want it, and you have to be able to get it to them," he says. "If you can't do that, you can't keep customers."
The Houston-based firm provides frac sand and storage and logistic services to the oil and gas industry. Kinsel explains that Frac Resources got its start four years ago with a single terminal in Laredo, Texas, in the region of the Eagle Ford Shale.
Since then, "We've [become] one of the largest third-party trans-loaders in Eagle Ford," he says. Along with 50,000-square-feet of warehouse space in Laredo, Frac Resources has access to multiple facilities in the Port of Houston where it can store sand and other oilfield products.
The company plans to develop a frac sand terminal in Douglas, Wyo., which is expected to have more than 16,000 feet of track. The terminal will be a part of the new Powder River Basin Industrial Complex owned jointly by Frac Resources' parent company, Enserco Midstream LLC, and a Crestwood Midstream Partners LP entity.
But Frac Resources is not stopping there. It has invested in a location at Mission Rail Park, a complex currently under construction near San Antonio, Texas. "It's one of the largest commercial rail developments in [the area]," he says.
The company is also planning to develop a terminal in Big Spring, Texas, to be known as the Permian Rail Park. When finished, the facility will span 530 acres, feature 100 car spots and offer 24-hour service.
Built to Suit
Frac Resources takes a unique approach to its business, Kinsel says. "Our motto is that we'll facilitate customers however they want," he says. For example, the company can build a storage facility that it can sell to its client, or one that Frac Resources will operate for the client.
The company's ability to build these facilities to its clients' needs sets it apart, Vice President of Proppant Origination and Sales Andrew Branaugh says. "A lot of facilities that are coming out are restricted by rail, track or property space," he says.
"We can build it to suit," he says. "It's [part of] building a network to get the supply to the market where it needs to be."
"That's the biggest differentiation between what we do and what our competitors are doing," Kinsel states. "We're building super-terminals to support a lot of work."
High Hopes
Frac Resources plans to expand its network, Kinsel says. This January, Enserco Midstream, LLC acquired the majority interest of the Company. Enserco owns and operates crude oil logistical assets in North Dakota, Montana, Wyoming and Texas.
Enserco is a subsidiary of Twin Eagle Resource Management, LLC, a Houston-based marketer of energy commodities. Together, "We hope to build one of the biggest networks to support the sand mines that don't have a terminal infrastructure," Kinsel says.
"Our business model is based around building business state-of-the-art terminals," he says. "I think we might have the largest network of quality rail parks and terminals with this Twin Eagle acquisition."
By the end of this year, Branaugh says, the company expects to be operating four facilities. When they are finished, "[We'll have] close to 1,000 rail car spots among [them]," he says.
Kinsel also predicts that Frac Resources will grow to have distribution points in every major basin. "[I see us] being one of the largest sand distributors in the industry," he states.
"There's a lot of growth in every market," Branaugh adds. "We're going in with the intent of having secure customer bases as we go into [each one]."