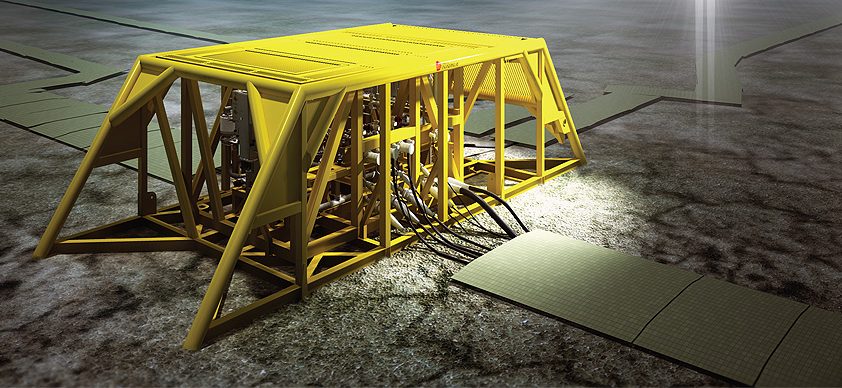 One vision
31 May 2008 will mark a significant milestone in Framo Engineering's history as the company shall be celebrating its 25th birthday.
In March 2008 Framo Engineering received industry recognition at the 23rd Scottish Offshore Achievement Awards ceremony. Tony Laing, the general manager of Framo Engineering UK, says with pride: "This is a tremendous accolade for a company that has been committed to innovation and technology, always believing in nothing less than pushing the boundaries, to achieve the vision of being the leader in enhanced recovery solutions.
"Framo Engineering today, employs 285 people with a turnover of 2,000 million NOK and is generally recognised as the leader in enhanced recovery system solutions; this is a direct result of focus
on delivering on time, the 'right' technologysolution and understanding the clients needs," says Tony. "The UK market has provided great opportunities for the company. This year Framo UK was pleased to receive recognition at the Scottish Offshore Achievement Awards where Oilexco won out-right in the Uptake of Technology Category using Framo's enhanced recovery compact manifold system, and Framo received a Highly Commendable for Innovating Technology Category for the CNR Columba E Raw Seawater Injection System; 'a worlds first'. Both of these projects have been successfully in operation since the summer of 2007."
Framo Engineering has a proven history of pioneering and developing fluid transfer systems, from subsea wellstream boosting and metering through to swivel systems onboard FPSOs, and places considerable emphasis on technology enhancement, testing and qualification programmes; this along with its vast experience makes the difference. Today as an example of its experience; the business has in excess of 850,000 pump running hours from 24 pump systems and over 800 meters on its reference list for either multiphase or wet gas operations. Framo supplies complete process transfer systems for fluid and gas transport, together with innovative control and monitoring equipment.
"We pride ourselves on developing systems to meet the most demanding economical and technological offshore requirements," comments Tony. "Our system building block portfolio boasts pump systems (multiphase, water injection) and flow meters (wet gas and multiphase), compact manifolds for topside and subsea application. Today we are further qualifying a wet gas pumping compressor system, for which the technology was proven some years ago; this technology is part of our new generation of pumping technologies that enables pumping of 'true' wet gas composition without the economic burden and technology challenging subsea separation system. Working alongside and engaged with our clients, our product strategy is based on the company's sound track record in pioneering and developing robust technology, taking from our operational experience to make incremental changes to meet the industry demands."
Not only is Framo a market leader in enhanced recovery systems, it also has an unrivalled reputation backed by an impressive list of successful projects; providing a unique approach in supporting its clients for the whole field life. This was further enhanced at the end of 2005 when Framo was awarded a significant project from Oilexco; at the time a new operator. Contracted to deliver the subsea manifold system for Oilexco's Brenda oilfield project, Framo supplied a unique system that included multiphase pumps, metering modules and controls in a compact manifold structure arrangement. The subsea structure will be used by the Canadian oil company to produce more than 30,000 barrels of oil a day from the central
North Sea field. It is an industry eye-opener, as it integrates leading edge technology into a compact and flexible unit. The system is designed to optimise production from the Brenda and Nicol fields and uses multiphase pumping of oil, gas and water to the Balmoral floating production platform.
The Brenda development scheme is based on an eight-slot manifold with initial three predrilled horizontal production wells plus the remote tie in of the Nicol satellite field. A fourth well was added in 2007 and a fifth well in 2008. Artificial lift capability in the form of gas lift is included for all wells and is enhanced by a subsea multiphase booster pump having 51,000 bbl/d of fluid capacity.
In addition to the Framo compact multiport selector manifold (MSM), the system also includes a Framo subsea multiphase pump that ensures good production rates from the field, a Framo multiphase meter for accurate and reliable reservoir monitoring as well as a complete fibre-optical subsea control system for high capacity data transfer from subsea to the topside. Along with the subsea equipment, which also manages and controls the wellhead equipment, Framo provided the associated topside equipment in an integrated unit, this approach minimised the topside interfaces. The Brenda manifold and pump is powered with communication over the 8.5 km combined subsea power and control umbilical and then distributed to the Nicol field a further 10km offset, also delivered by Framo.
"The system is a unique way of carrying out the operation because it means everything is that much lighter, cheaper for installation, much more flexible and also easier to install. Furthermore, from an oil tax point of view, you have far less leak paths available," Tony explains.
Mike Coulthard, Oilexco project manager, adds: "This is the first time a single contractor has been able to offer a truly integrated lightweight subsea manifold including pumps, meters and control systems for up to eight wells including remote subsea tie-backs. With each component being best in class, Oilexco was keen to take advantage of this unique opportunity. The manifold offers a
powerful tool in the development of remote and difficult subsea tiebacks so Framo's flexibility means that we have been able to issue a repeat order for future developments on a fast track delivery. Framo has certainly delivered an EPC contract in a highly responsible and professional manner."
Since 2003 Oilexco has been the most active exploration drilling company in the North Sea with three rigs operating in 2008. Its model of aggressive appraisal and exploration drilling, maintaining high working interests, followed by a quick and common sense approach to field development, will create significant value for its shareholders going forward. Oilexco looks forward to continuing to blaze new trails in the UK North Sea, a basin that, though mature, offers significant future potential to independent operators such as Oilexco.
Scotland's oil and gas industry has an outstanding reputation for innovation and excellence, and if successful execution of major projects was not enough of a measure, the Scottish Offshore Achievement Awards in March 2008 also paid tribute to companies in the energy industry on their collective and individual corporate achievement – two such companies are Framo and Oilexco. The 23rd ceremony held on the 20th of March 2008 presented, amongst many other companies, Framo with a Highly Commended Award under the Innovative Technology category while Oilexco successfully scooped the Operator Technology Uptake prize. Mike Coulthard says: "Oilexco won the award on the basis of Framo's technology and this is an accolade for both companies to be highly proud of."
Scottish Enterprise energy team director, Brian Nixon said at the event: "This award ceremony is a great way to hear about the industry's achievements and successes, and applaud the ambition and talent which have given our companies a reputation around the world for high standards and uncompromising safety. Our industry is in robust good health with investment levels forecast to remain at buoyant levels in both domestic and international markets for years to come."
Celebrating the recent achievements has been the perfect way for Framo to mark 25 years of success and unequalled presence in the industry. But after almost a quarter of a century in operation, how does Framo Engineering sees itself in the future? Tony is happy to answer: "Framo was formed on the vision to be the leader in enhanced recovery systems, and this vision has been the main propeller in driving the company forward to where it is today. Working with one vision in mind helped us build on a
strategy and develop technologies that are bespoke to deliver a clients solution; this is only achievable by means of our vast experience in enhanced recovery systems. We believe strongly in looking after the three main properties that ensure the company continues to be successful: the clients, our people and our technology. Looking ahead, I can safely say that this culture and mentality – the main foundations of this business – will never change."
He continues: "Framo has a worldwide presence. We have got systems installed in the UK and to as far a field as Australia, China, Brazil, West Africa and the Gulf of Mexico, and like the company, our presence can only go from strength to strength. We will continue being the leader and in order to retain our position, we will have to constantly perform beyond expectations. This basically means we have to engineer better, manufacture better and test better, we are the only company in the world that has its own subsea test dock where we can test beyond the norm, and we've had that for over 20 years; what is next! The only way forward from this point is to have a continuous commitment to meeting the vision set 25 years ago."
This vision is also further driven by Schlumberger, following a 52.75 per cent acquisition of Framo Engineering AS on 20 November 2007. Frank Mohn AS, which has been instrumental in the development of Framo in becoming a world leader within its main product groups, continues to hold the remaining shares. Schlumberger is the world's leading oilfield services company supplying technology, information solutions and integrated project management that optimise reservoir
performance for customers working in the oil and gas industry. Employing more than 76,000 people of over 140 nationalities working in approximately 80 countries, Schlumberger supplies a wide range of products and services from seismic acquisition and processing, formation evaluation, well testing and directional drilling to well cementing and stimulation, artificial lift and well completions; and consulting, software and information management. Schlumberger's operating revenue was $19.23 billion in 2006.
"Framo has long demonstrated its capacity to innovate and has now become a worldwide leader," says Imran Kizilbash, the president of Schlumberger Reservoir Characterisation. "We have worked with Framo through the three-phase measurements joint venture and our increased stake will allow us to strengthen our co-operation in the subsea technology field."
Ole Steine, managing director of Framo adds: "Since 1983, we have developed unmatched technologies and experience in the subsea multiphase pumping business. We see this move by Schlumberger as recognition of the highquality solutions developed by Framo, and an opportunity for our dedicated team to continue and expand our market exposure."
Schlumberger will begin consolidating the results of Framo Engineering in the first quarter of 2008, as the company looks ahead to a future filled with opportunities.
Framo Engineering AS
Products: Boosting and enhanced recovery systems