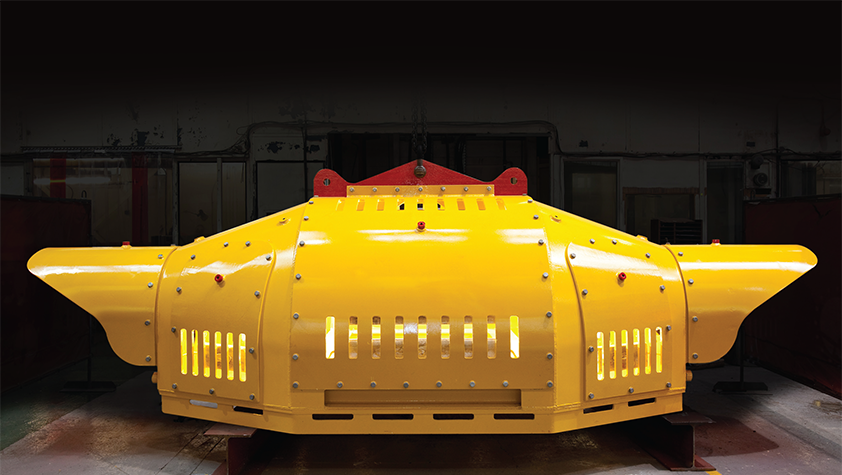 Continuous improvement
"In business we say that you've got to be like a chameleon and adapt to your surroundings," begins Jamie Brown, managing director of metal products manufacturing firm Francis Brown.
"That is very much what we do. We look at what industries we're in that may be declining and which ones are prospering, then position ourselves to go with the more prosperous markets. Oil and gas has been one of these vibrant markets for quite a number of years now and will remain so for the next two to three decades, as far as I can see. Our success is down to an ongoing process of improving skills, facilities, and other resources as well as the experience we've built up."
Francis Brown was founded in Stockton-on-Tees, in the North East of England, in 1903 and over more than 100 years has developed expertise in creating metal products for the oil and gas, marine industrial, and chemical sectors. Its skills range across the production process from design and fabrication to machining, assembly, and installation. Throughout its history the company has remained an independent family-owned business working closely with both suppliers and customers to remain at the forefront of the most active markets of the age.
The range of products available from Francis Brown today includes: pressure vessels and process equipment including heat exchangers, pipelines, pig launchers, and tanks; plate and structural fabrications for pipe supports, access steelwork, architectural steelwork, skids, and even complex structures; and a full range of material, welding, and machining services. It also has the experience to undertake project and maintenance management, documentation services, and – most recently – an emergency rapid response team service.
"We've grown over recent years and weren't able to react as quickly due to the size of the organisation," explains Jamie. "More recently we've enhanced our in-house machining capability and restructured the management team so that we can take advantage of the rapid response requirements our clients sometimes need. The structure of the organisation has been re-addressed so that we have a channel now where we can react very quickly to some emergent projects in which the customer has a shutdown project, or a vessel that needs emergency work carried out. We call this our rapid response team.
"The team was created in the second half of 2012 and we're now getting word out to the customers. It is already starting to deliver on its capabilities. The past few months have seen the rapid response team build up quite a good track record of emergency projects where we've successfully executed quick turnaround fabrications to customers needing timely support."
Francis Brown's current facility is a 3000 square metre workshop that was first occupied approximately five years ago. During those five years, the number and scope of the company's projects has grown steadily. Shift patterns were reorganised to take full advantage of the factory's capabilities, but today Francis Brown has reached saturation point in terms of the work it can safely execute. Fortuitously, however, several nearby buildings recently became available and the company snapped the opportunity up.
"They are literally within 50 yards and we are now in the process of extending into those," Jamie says. "The next phase of growth for the business we see lays in repeat work, where there is greater numbers of batch quantities. We believe this batch order work will prove more reliable for us in the future but recognise that we need to introduce lean manufacturing techniques to make the work more efficient and cost effective. The plan with the new factory is to set up jigs and a more production line type of facility – rather than the bespoke manufacturing environment we're used to – in order to achieve this."
The new facility will be at the heart of Francis Brown's plans for continuing to push for more work in the oil and gas industry. "Over the next three years we are looking to grow the business by another 20 per cent and very much see a future of growth in oil and gas, particularly in the subsea sector," states Jamie. "We want our customers to recognise that Francis Brown believes its in our interests to help them cut the costs of their fabrications, and we can support them to do that through lean techniques and value-added discussions, which the new facility will us help achieve."
Francis Brown
Products: Pipes, tanks, metal fabrications