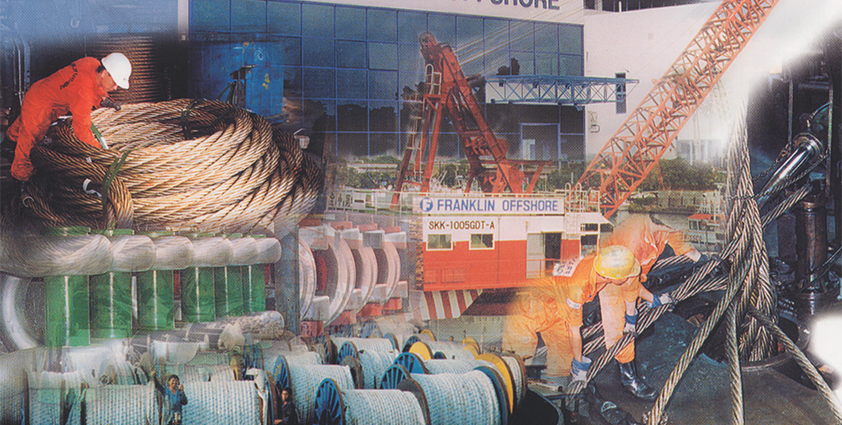 Franklin Offshore Europe BV
Adding value
With the aim of maintaining a leading position in the oil and gas market through a programme of global investment in new strategically located service centres, Franklin Offshore supports this goal with a collection of products and services specifically designed for the international offshore exploration and construction industries.
A leading provider of integrated mooring and rigging services to the offshore oil and gas industry in South East Asia, Franklin Offshore offers total solutions to support its customers' offshore mooring and rigging requirements.
The Franklin Group is headquartered in Singapore and its companies are strategically located around the world in Singapore, Australia, South Korea, Malaysia, Azerbaijan, Qatar, the US and the Netherlands.
This allows the Group to provide regional sales, manufacturing and marketing services and thus effectively offer global solutions to its many international clients.
In all the work it carries out, the Group is totally committed to providing excellent equipment that meets or exceeds the strictest quality standards required, as well as a comprehensive range of value added services. A fundamental aspect of the company's business is its Health, Safety and Environment policy.
In all its operations, Franklin Offshore's objective is to pursue the highest possible performance standards. Each and every one of its employees is instilled with the values of proactive individual involvement, personal accountability and continuous self-improvement. A core belief of the Group is that there is never a job that is so important, or a service so urgently needed, that it could be undertaken without all the necessary safety elements being taken into account. This commitment is one that has been found to be in the very best interests of Franklin Offshore's customers, its employees and the communities in which it works.
Key to the success of Franklin Offshore Europe BV since its formation in 2009 is the excellent range of products it manufacturers and the services it provides. Covering a number of core industry disciplines, these products include steel wire rope extension lines, deep-water swivels, FR sockets and spooling machines. Amongst the services the company offers are inspection or refurbishment of anchor chains, the inspection of lifting and mooring equipment and the provision of offshore personnel.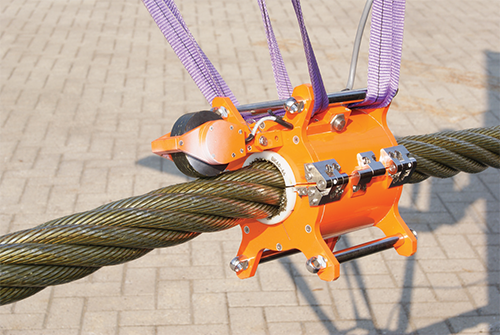 Franklin Offshore can manufacture cable laid slings that range between five and 25 inches in diameter, all of which are made in accordance with international guidelines and standards. Along with this the company also owns and operates a fleet of hydraulic spooling winches used in the removal or installation of steel wire ropes. These spooling machines are located strategically in key service areas around the world, providing customers with an immediate response when needed. Rope installation services include overall project management, document procedures, the installation of the main winch wire and constant back tension that is applied during the installation process.
The mooring services the company has become renowned for include the installation of both temporary and permanent mooring systems, as well as the provision of services identified on a project-by-project basis in line with individual customer needs. Being able to provide specific solutions or implement the entire system requirements of an offshore project, Franklin Offshore utilises its experienced, hands-on marine personnel to complete various tasks. The company's project capabilities include mooring consultancy, the load out and preparation of systems, suspended calm buoys, jack-up positioning, FPSO and workboat moorings and engineering and feasibility studies.
In order to give its customers a truly complete service, the company is also able to offer inspection and logistics support. The inspection of lifting and mooring equipment plays a major role in the safety, and environmental aspects of the oil and gas exploration industry. A paramount requirement is that each piece of equipment is verified for continued safe use. Regardless of whether this relates to a small shackle or a heavy-lift crane, each item requires a safe, comprehensive inspection before it can be certified for use in the field.
Being able to provide either short-term, project specific or long-term total logistics support, the company uses a combination of its experience, expertise and its investment in its facilities, cranes and employees to offer a complete package that allows clients to become operational quickly and efficiently, reducing time delays and costs of inefficiency.
Ultimately, Franklin Offshore understands and acknowledges that human resources are fundamental to the success of its business, and its most important asset is its people. By investing significantly in training programmes, the company remains steadfast in its commitment to achieve the highest standards of workmanship in everything it does, and this has helped to make Franklin Offshore what it is today.
Franklin Offshore Europe BV
Services: Mooring and rigging