Cleaning up
"In Franzefoss we say 'We want to be close to the customer'," begins Andre Kausland, plant manager for offshore waste.
This simple statement sums up the aspirations of the business, which since it was established in 1919, has strived to provide total waste management solutions for every type of waste. As such, Franzefoss carries out recycling of hazardous waste, iron and metals waste, industrial waste, offshore drilling waste, polluted water and slop, waste paper and plastic, and tank cleaning at many locations across Norway. These activities are executed through the Franzefoss Recycling AS division, which was established in 1995 as a 100 per cent subsidiary of Franzefoss AS.
"My division is focused on offshore drilling waste through the co-ordination of tank cleaning, and processing of hazardous waste, but we also have good communication with the other plants and departments within Franzefoss to help customers with their specific needs. In the offshore market we have two major customers, Schlumberger-MI.Swaco and Halliburton, and aim to provide a total solution for every type of waste. We pride ourselves on our quality, and the security that we offer customers in knowing that their downstream waste is being handled correctly," describes Andre.
Franzefoss Recycling's biggest activity in the oil and gas market is concentrated around its thermal treatment facility at Eide Sotra, outside Bergen. This entails the treatment of cuttings, mud, slop, and polluted water with the facility currently boasting eight thermal machines, and a water treatment plant using both chemical and bio processes. Alongside this, Franzefoss Recycling has plants in Stavanger where it performs tank cleaning and handling of dangerous waste, and elsewhere in Norway, such as Knarrevik, which offers a wide scope of related services. The company also has the assets to offer its customers tank storage services at locations along the west Norwegian coast.
At this time, Franzefoss Recycling is in the midst of a 30 per cent capacity expansion programme at its Eide facility, which will see its treatment permit increase from 120,000 tonnes to 160,000 tonnes per year. Elaborating upon the drivers behind this, Andre says: "One of the reasons why we are expanding is to have a greater production capacity in line with the increased activity on offshore drilling operations. Our customers need a good turnaround on containers, from receipt to emptying and cleaning, in order to then redeploy these containers in a new operation. One of the main challenges that we are experiencing is the number of drilling operations taking place at the same time, and with many operations also being delayed, we then face peaks in the volumes of drilling waste coming ashore."
As with its previous equipment, the new thermal units for the plant are being delivered by NOV Brandt Soil Recovery, which Franzefoss Recycling has been working with since 1992 in order to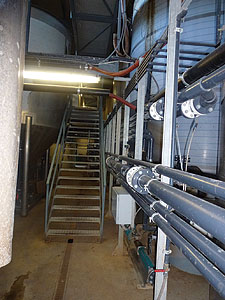 have the best possible processing machines. "The benefit of these machines is that we can mix mud and slop with cuttings for a good production," notes Andre. "Three quarters of the energy needed to run the machines is also generated from recycled oil from the production process itself. Including planned maintenance, the machines have an uptime of approximately 94 per cent, with the plant running 24 hours a day, 365 days a year."
These units will also be employed at Franzefoss Recycling's new plant at Husøya, Kristiansund, which is currently under construction. The reason behind this development is to relieve some of the pressure on the company's Eide facility, and also meet the need for local treatment in Kristiansund, and the coming market further to the north of Norway. This will save money for the customer on transportation, and benefit the environment as well. Beginning with three thermal units for cuttings and muds, and a water treatment facility, it is hoped that the Kristiansund site will have a treatment capacity of 50,000 tonnes a year.
With these investments responding to the growth in the market, and drilling activity, over the last two years, Franzefoss Recycling also has further plans in mind for capitalising upon this: "We also want to develop an area at Eide for the coming industry which will benefit from our waste handling expertise and location, such as direct access to the sea from our own quay. At present, we have 40 acres of land ready for rent or for companies to build businesses upon, and given that the overall plant at Eide is around 600 acres, we can expand that further to gain a larger share of the upcoming industrial activity," outlines Andre.
"Production and storage capacities, and a good turnaround on containers, are the most important concerns for our customers. Therefore we intend to use our credentials in these areas to remain the market leader in Norway for the treatment of drilling waste, with regards to capacity, price, and quality and safety, as well as meet the need for treatment wherever new activity springs up," he concludes.
Franzefoss Recycling AS
Services: Offshore drilling waste recycling