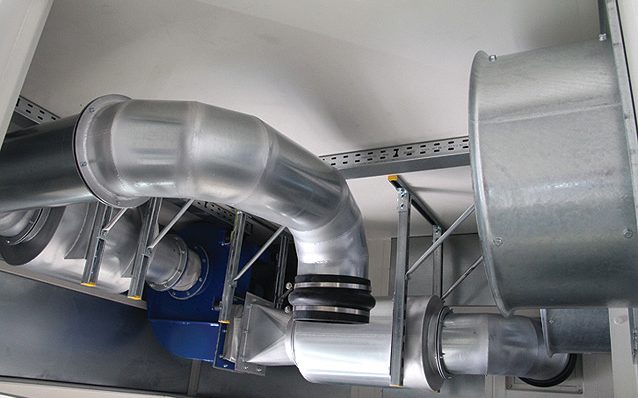 Frerk Aggregatebau GmbH / Germany
A powerful solution
With over 50 years of industry experience, Frerk Aggregatebau Germany has developed a leading reputation in the manufacture of electric power supply systems across a broad range of applications.
The company was founded during 1964 and has operated at its current location in Schweringen, Northern Germany since 1978. During this time the business has accumulated a great wealth of experience, which enables Frerk to offer modular power supply solutions, from initial concept through to handover. Furthermore the company provides service and technical support for the entire life of the delivered system if required.
The professionalism of Frerk construction means that not only does the completed system meet the customer's individual needs, but is also produced in accordance with the necessary standards making it safe to operate even under the most difficult usage and environmental conditions. Since moving into its Schweringen headquarters the company has experienced a significant step-up in its capacity, beginning with the construction of a new production facility in addition to its existing four and a further four state-of-the-art test bays. This was completed in 2001 and followed by an additional production bay during 2005 to expand the plant's total production area to 11,000 square metres. Further expansion to 25,000 metres followed during 2008 and most recently in 2011, Frerk installed a new 1500 square metre storage building and additional office space. Finally, a 2100 square metre production bay for the reconditioning of used Caterpillar generator sets was also erected.
The company's current product line extends to generator sets with an output of up to six MW per unit in both low and medium-voltage ranges.
The applications for these vary from black-start engine generator sets to emergency power solutions and combined heat and power (CHP) packages.
Frerk power generating systems are available in natural and biogas, diesel, heavy fuel and crude oil as well as dual fuel configurations, enabling the client to select the most appropriate design for the most economic fuel utilisation.
Frerk only packages engines and alternators from first class manufacturers. These are selected on an independent basis in line with the best fit for the customer's requirements. "Our main focus is on modular containerisation, preferably in standard ISO dimensions to simplify worldwide shipment. For those power generating systems where standard ISO container dimensions do not provide sufficient operation and maintenance space, Frerk is able to develop special container designs," explains Sales and Project Director Mr. Claus Bormann. "These allow the company to meet the target of simple and economic transport, as well as to supply all of the equipment necessary for operation at the job site, which has been installed and pre-tested."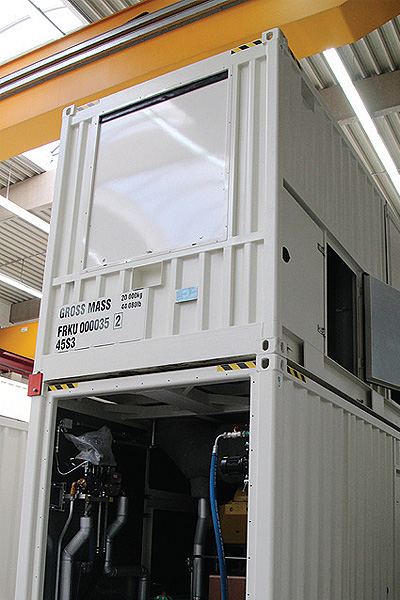 Through the development of bespoke power generating systems, Messrs. Frerk has established itself as a market leader in innovative design solutions. Furthermore in light of decreasing resources accompanied by the increasing price of fuels, Frerk is able to supply alternative fuels and power generating systems to provide clients with an economic power generation solution.
Within this application the company is able to provide systems including natural gas powered engines connected to combined heat and power units fed from any gas pipeline; biogas powered engines connected to combined heat and power units fed from sewage, landfill or biogas plants; associated gas from oil production powered engine generating electricity for the grid; dual fuel generating sets running on 50-95 per cent natural gas and five per cent pilot diesel; heavy fuel oil (HFO) powered engines generating electricity for the grid in case there is lack of power because one water turbine power station does not provide sufficiently; and crude oil powered engines generating electricity for the grid.
"HFO (heavy fuel oil) systems used to consist of heavy duty medium speed marine engines that were originally designed and manufactured for burning HFO with a viscosity of up to 700cSt. Because this fuel is given very little refinery treatment, the selling price is lower and transport efforts are marginal and therefore fuel oil costs are low," Claus says. "Treating the HFO with special separators and viscosity control and regulating units can make the fuel made suitable for engines. The entire power station inclusive fuel treatment device is designed and installed by Frerk, preferably in a modular container design or alternatively in local erected turnkey powerhouses."
Similarly the crude fuel oil systems provided by Frerk are in general based on the same power generating packages as for HFO. However, because crude oil is usually taken directly from the well, without any refinery process, further treatment is required to make the fuel usable in systems, such as filtering, separation, viscosity control and regulation. Additionally further precautions, such as explosion proof components are incorporated to the power generation units.
Out of this portfolio Frerk manages a special process to design and fabricate modular containerised HFO power generation systems for rental use.
The challenges in delivering this equipment to the rental market include developing systems that can be simply and economically transported by both road and sea in CSC certified containers. Likewise the simple and rapid erection of power station equipment on site, plus 'plug and play' concepts are vital to ensure rapid deployment. To provide a fully inclusive package, the systems provided by Frerk also include low fuels costs, standardised components for ease of operation, as well as rapid and low-cost maintenance.
"All of the above design solutions can be achieved by installing HFO burning Caterpillar 9CM20 engine powered generator sets, each 1650 kWe, in 40ft super-silenced containers, with combustion and ventilation air treatment units including a horizontal outdoor radiator and exhaust gas silencer integrated into each," Claus says. "One additional 40ft container is installed on top of the basic generator set container onsite. Both ready equipped containers are tested for function and performance to meet the specific conditions of the job site at Frerk's special test facility in Schweringen. Following the test, the two containers will be disconnected, all openings will be closed by means of claps or doors and then shipped abroad for easy re-assembling at the site. Once on site usually a maximum four working days will be sufficient to erect and commission the fully operational power station."
Recently Frerk has won a project to design, fabricate, test and finally install three nos. 9CM25 powered medium speed heavy fuel oil 750 rpm generator sets. Each set is a 2600 kWe at 50Hz, 6.6kV, and will be installed in a local power house to provide electricity for a marine fuel farm in Indonesia.
"Frerk Aggregatebau will provide all of all systems components inclusively as well as the necessary installation materials on a turnkey base," Claus details. "For optimum installation of the auxiliary systems, as many of the systems components as possible are modular prefabricated and skid mounted to minimise any local installation efforts, welding and machining processes. Packaging power stations in this way will also ensure the customer will receive maximum quality, even if the power station is to be erected at remote locations."
Over the course of the past five decades, Frerk Aggregatebau Germany has established itself as a premier supplier of power generating systems. Its bespoke systems, project planning and aftersales support services have made the company a leader in the field of on-site power generation that is trusted by clients in projects across the globe. During the coming months and years, through its dedication and proven industry experience, Frerk Aggregatebau will continue to serve its clients and ensure the effective supply of power, wherever it is needed.
Frerk Aggregatebau GmbH / Germany
Services: Power generating systems