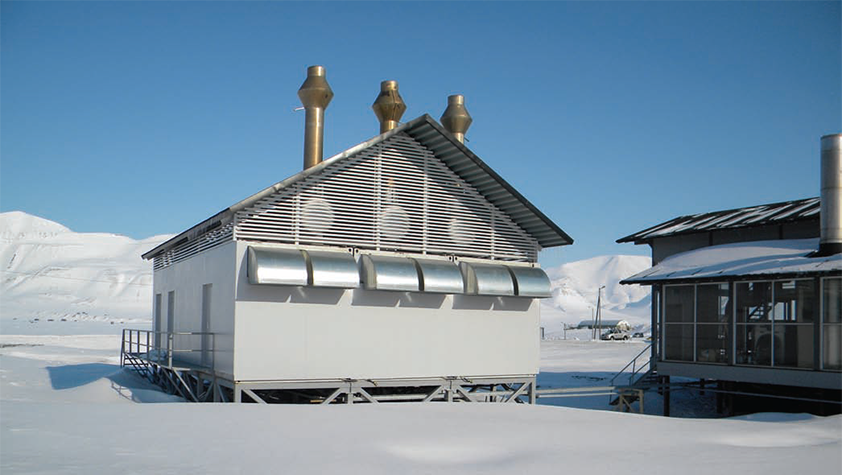 Plugged in
Frerk Aggregatebau GmbH has been building electric power supply systems for many different fields of application for almost 50 years.
During this time the business has accumulated a great wealth of expertise, which today sees it offer complete power supply solutions, from initial concept through to handover. This professionalism means that not only does the completed system meet the customer's individual needs, but it is also produced in accordance with the necessary standards, making it safe to operate even under the most difficult usage and environmental conditions. Furthermore, Frerk provides service and system support for the entire life of the system if required.
Having operated from the same site in Schweringen, Germany since 1978, over the last 13 years Frerk Aggregatebau has seen a huge step-up in its capacity beginning with the construction of a new production facility in addition to the existing four, with four up-to-date test bays in 2001. This was followed by another production bay in 2005 to expand the total production area to 11,000 square metres, and a further increase in 2008 to 25,000 square metres. Most recently in 2011 Frerk Aggregatebau put in a new 1500 square metre storage building, office space, and a 2100 square metre production bay for the reconditioning of used generator sets.
The company's current product line extends right up to engine generator sets with an output of up to six MW in both low and medium-voltage ranges. The applications for these then vary from black-start engine generator sets to emergency power solutions, and CHP (Combined Heat and Power) packages. Frerk Aggregatebau uses only engines and generators from leading manufacturers in its equipment units, which are selected on an independent basis in line with the best fit for the customer's requirements.
"Our main focus is on containerising these systems to offer plug-and-play solutions to our different markets," describes sales and projects director Claus Bormann. "The advantage of this is that we can pre-test and finalise everything in our test bays prior to delivery so that the customer gets a complete, certified unit. This also minimises erection time at the site."
He continues: "We have the highest possible flexibility as a company, taking standardised generator sets as a base to create a completely tailored solution including elements such as explosion proof equipment and fire fighting systems. It also means that we are able to develop low volume series production for our returning customers, as we have done in our rental solutions for Caterpillar."
Having worked with them at a local level since the 1980s, Frerk Aggregatebau's relationship with Caterpillar has grown steadily ever since, which saw it secure a framework agreement with the manufacturer in 2004. The company also works with other engine manufacturers, as well as engineering companies and EPC contractors, and end users directly.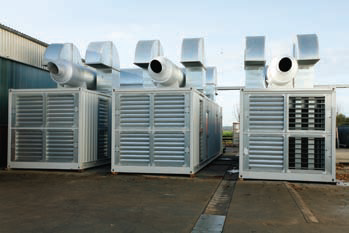 The container-based solution is one that has transferred well into the oil and gas sector, where Frerk Aggregatebau is mainly working as a supplier of emergency power diesel engine generator sets. Elaborating on this line of the business projects manager Jürgen Knecht says: "In total oil and gas represents about 30 per cent of our overall turnover through a wide range of projects from offshore platforms to onshore production or gas treatment facilities. At the moment we are working on several contracts for this market segment, including new projects in the Middle East and Persian Gulf.
"Typically oil and gas is a challenging environment with the potential for extremes of high and low temperatures, corrosive atmospheres, and small space restrictions, so in most cases the equipment we supply has to be ATEX explosion proof certified and have CO2 gas fire fighting systems installed," he continues.
One example of these specialist requirements being met through Frerk Aggregatebau's services is the arctic generator set container the company developed to cover the total outage of the main power station supplying oil and gas fields in the far east of Russia. This emergency power system was installed in a soundproofed 40-foot container equipped with electric heaters for the -45 °C ambient temperature.
"We have also designed our rental fleet units with a 50 °C ambient capability, which required us to calculate all the airflows inside such a system. We achieved this by first creating a prototype unit based on our design department's calculations, and then tested it within our dedicated bays to see exactly what happens to the system under such conditions. This then allowed us to revise any issues in relation to the flow of air," describes Claus.
This all-round capability and flexibility towards the customer have been crucial elements of Frerk Aggregatebau's ability to weather the global financial crisis. The economic situation has also seen the company work in view of new segments such as heavy fuel power stations and incorporating medium speed engines.
"In general our strategy is to develop tailored plug and play units further, and to be an interesting partner to our customers," concludes Claus. "We also want to increase our involvement in niche markets such as oil and gas or heavy fuels. Another strategic aim is to multiply our global footprint with new production facilities outside of Europe in order for us to be closer to our customers. We have not yet made a final decision on which region we will look at first but both Asia and the US hold many opportunities for us."
Frerk Aggregatebau GmbH
Products: Power generating systems