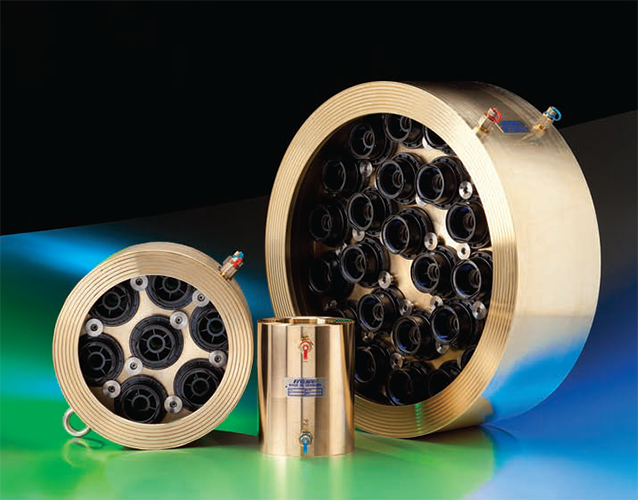 Cool runnings
Frese's history began in 1944, when Borge Frese acquired a modest foundry in a Slagelse basement, the town in Denmark where the company is still headquartered today. Beginning with local customers in need of small machined metal products, Frese soon began to develop a strong reputation and an increasingly wide customer base as clients came from all over Denmark for products such as aluminium pots and pans, door knockers and bronze candlesticks. From these humble beginnings, Borge began to extend the foundry, and soon made space for the production of valves; from that moment, development was rapid, with the company becoming a specialist in the supply of valves and components for industries such as commercial HVAC, shipping and offshore.
Frese is a combination of a high-tech foundry facility producing castings in stainless steel and nickel-aluminium bronze and an innovative valve manufacturer, focusing on the development and production of dynamic balancing valves. Today, still under the helm of Borge Frese's descendants, Frese AS is the global leader in manufacturing dynamic balancing valves for the HVAC market; this includes heating, ventilation and air conditioning systems. An innovative alternative to traditional hydronic balancing methods through the use of static balancing valves, dynamic balancing valves provide a system with efficient and accurate flow limitation as well as differential pressure control, which means design flow conditions are achieved at all times, regardless of pressure fluctuations.
Frese has been operating within the marine industry since 2002 as a provider of dynamic balancing valves for heating and cooling systems used on various applications, including submarines, cruise ships and shipyards. One notable product within the Frese range is the Frese ALPHA high corrosion resistant (HCR) wafer dynamic balancing valve, which has been developed for utilisation in a number of arduous systems to deliver the distribution of accurate and efficient flow. Suitable applications include seawater cooling, filtration and water treatment.
To minimise the flow and maintain a constant differential pressure, the ALPHA HCR flow cartridge is installed inside the valve housing, which thus ensures the design flow rate is achieved, regardless of fluctuating pressure conditions. Moreover, the ALPHA HCR is silent during operations when the system is live and is removable for easy maintenance and system flushing. Other benefits include an improved response to water hammer, ease of installation, and a quick and easy selection for customers, as only flow data is required. Applications for the Alpha HCR dynamic balancing valve include seawater district cooling (SWDC), ballast water treatment (BWT), seawater air conditioning (SWAC), seawater reverse osmosis (SWRO) and ocean thermal energy conversion (OTEC).
Although Frese is a leader in its field, the company does not rest on its laurels, and instead operates with a commitment to continual improvement, resulting in the development of new and improved products that simplify installations and make service work increasingly easier. Fully in control of itsown resources, the company works in-house on all processes, from research and development to production. Key to the company maintaining its world-leading reputation as a pioneer in automatic balancing is R&D, which ensures it will always be prepared for future requirements and world patents for its unique solutions. In addition to R&D, other operations carried out at its production facilities include the production of prototypes, tool production, casting of larger sized products, assembly of finished products, pre-shipment testing in its certified laboratory and packing and labelling.
With a reputation for excellence, Frese has worked on major projects in a range ofbusiness segments, such as airports, commercialbuildings, hotels, shopping malls and residential areas. However, the company is keen to offer its expertise and high quality range of HVAC systems to ship owners and operators within the maritime industry. One example of the company's strengths in this business segment is its work with Royal Caribbean International's 2500 passenger cruise vessel, Jewel of the Seas. With an enormous atrium, rising 11 decks, the vessel also features a full day spa and gym, lounge entertainment, conference facilities and the highest number of outside cabins in the RCI's entire fleet.
Because the cruise ship was travelling between areas that face extreme temperatures, such as Fort Lauderdale, Florida, and St Petersburg, Russia, Frese was required to deliver a perfect heating/cooling system that was unproblematic, noiseless and maintenance free. To meet this demand, Frese selected automatic balancing valves to ensure the hydraulic balance of the heating/cooling circuit and the right temperature was in place on board at all times.
With the introduction of the ALPHA HCR wafer and flow cartridge to the market, Frese is certain to increase its customer base in the shipping industry, as customers not only benefit from the advantages of this new product, but also the company's commitment to meeting future market demands through continuous innovation.
Frese
Services: Foundry and valve manufacturer
Issue 122 July 2015