Freudenberg Oil & Gas Technologies Vector Products
New frontiers
In January 2013 Vector Technology Group was acquired by Freudenberg Oil & Gas Technologies, forming a global solutions provider of innovative seal solutions, differentiated seal products and high integrity connection systems to serve the global oil and gas industry.
Freudenberg is a family-owned group of companies that was founded over 160 years ago and is active on the global stage. Its 16 business groups operate in various markets and in various sectors of industry, always driven by the company's cornerstones of creativity, quality, diversity and innovative strength. In addition, reliability and responsible conduct rank among the basic values of the company.
"We provide solutions to challenging applications, developing proprietary materials and performing in-house product verification as well as independently accredited industry approvals," says Chris Lee, global director of commercial and business development. The Vector range forms the core offering of the business' metal sealing solutions portfolio with the brand continuing to be highlighted in connection with the products that established its high value reputation.
"The market is challenging, but through our strong product range, the demand across all product lines remains high as we focus on offshore and subsea applications," Chris points out. Vector products and sealing technology are used in some of the most demanding applications in oil and gas, including offshore oil and gas platforms, FPSOs, refineries, riser and swivel applications, flowlines and subsea installations, and petrochemical plants. With an extensive product range that includes the SPO Compact Flange™, the Techlok Clamp Connector™ and the ROV operated Optima Subsea Connector™, its products are sold through locations in Australia, Brazil, Canada, Malaysia, Norway, Singapore, the UK, the UAE, West Africa and the US.
The acquisition and successful integration into the Freudenberg Oil & Gas Technologies business has brought a wealth of benefits, as Chris explains: "We have been able to increase our global footprint with the introduction of manufacturing in Malaysia, and the introduction of manufacturing and the relocation of our organisation into a new facility in Houston, US. We are also expanding our site in Wales, UK, into a newly refurbished larger facility as a result of significant investment, which supports the Freudenberg guiding principle of long-term orientation. An increased global footprint, access to funds and existing engineering expertise within the wider Freudenberg Group are highly beneficial as we move forward."
The Vector SPO Compact Flange™ has been used across the globe since 1989, both offshore, onshore and subsea, offering significant weight and space savings over conventional flanges and leak-free joint integrity. Ultimately this has positioned the product as the most effective, environmentally friendly piping joint available today. Its double sealing action prevents hydrocarbon releases, addressing health and safety issues. "There has been an increase in appetite for the SPO compact flange subsea range SPO-S™, specific for subsea diver related applications.
"The popularity of our Optima range is also growing, and this year has seen us deliver a large bore, 36" twin lead screw Optima connector for a project in the Northern North Sea, a step functional change in approach to large bore connection systems. The Vector Optima was developed in collaboration with some of the industry's major operators. By taking into account the clients' need for operational simplicity, the product was developed using minimal parts, which ensures that make up times are kept to a minimum. With innovation playing an important role in the company as a whole, each product is an example of the approach.
"The innovation and flexibility provided by our people and products has been a significant strength for the business and is definitely the leading criteria for our success. Typically we take our proven core products and we provide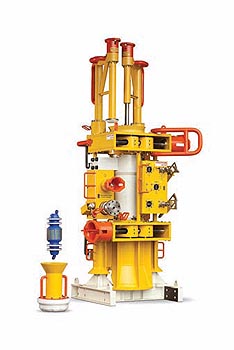 solutions for specific, challenging applications. Freudenberg Oil & Gas Technologies has a terrific history in research and development (R&D), and providing significant funding, through healthy reinvestment for R&D to support its products," highlights Chris. Significantly the investments have been seen in the formalisation of an R&D department in high integrity and metal-to-metal segment of the business.
In line with its ever-increasing global footprint and market leading position, the business also invests heavily into training with several mechanical and electrical apprentices employed at the various stages of development. "We also have four mechanical engineering graduates focussing on high technology modelling such as FEA and CFD, and we have established a terrific relationship with Swansea University Engineering department, working closely together developing mechanical engineers to MsC level who fit into our business. We believe we can offer exciting challenges, as well as making a huge difference to their education.
"Globally, there remains a strong appetite in the FPSO market for our products, such as in Korea where there are many construction projects. As well as the Asian market, the Gulf of Mexico offers potential and is again a growing sector for our subsea business. By Q4 2014, along with the manufacture of the SPO™ and Techlok™ range we will have introduced integration testing for our Optima™ subsea products in Houston, to support the growing demand for our products in the region," says Chris. The business' efforts in design and innovation were acknowledged in May 2013, receiving a recognition award from Technip for MWCS subsea project, in which it delivered safety systems to the Gulf of Mexico spill safety conglomeration.
Keeping a firm grip on its vision, the business looks to evolve the historical buy and build strategy of Freudenberg Oil & Gas Technologies into an integrated build and buy process, leveraging current technology and product portfolios through new product development, technology, high integrity connection systems and discreet product acquisitions. "Freudenberg is committed to partnerships with customers, and believes in a long-term orientation, financial strength and the excellence of over 37,000 associates in 58 countries around the globe. We aim to achieve industry recognition as a leader in diverse sealing technology and differentiated sealing solutions focused on the upstream oil and gas segment," concludes Chris.
Freudenberg Oil & Gas Technologies Vector Products
Services: Manufacturer of seal solutions and connection systems