Fine lines
FRIEDRICH VORWERK Group is a pipe laying and plant construction organisation based in Germany that, for more than 50 years, has delivered high quality and innovative projects domestically and throughout Central Europe.
About 70 per cent of its business is dedicated to pipe laying, with plant construction comprising the remaining 30 per cent. It has several subsidiaries located around the country, each dedicated to different tasks, but the group in total offers a complete range of services from design and calculations through to commissioning of pipes and plants.
Names on FRIEDRICH VORWERK's client roster reveal the business frequently works with some of the biggest companies in the Central European gas industry including E.On, Open Grid Europe, Gasunie, Wingas, and ExxonMobil. Whilst much of its work is within Germany itself, regular projects are undertaken in surrounding nations such as Denmark, the Netherlands, and Poland. Because of its expert quality developed over 50 years in the business and highly competitive pricing, the company gains access to many opportunities and to some of the region's most significant projects.
Managing director Torben Kleinfeldt discusses one such opportunity for FRIEDRICH VORWERK on the NEL pipeline: "NEL will connect the second stream of Nord Stream to the Central European grid. It first picks up the gas in Lubmin, landfall of the Nord Stream, before transporting it through northeastern Germany towards Hamburg before crossing the Elbe. It then passes nearby our headquarters and runs toward Achim, near Bremen, where it is tied into a very large underground storage cavern. NEL is a joint venture between Fluxys, Gasunie, Open Grid Europe, and Wingas; we are responsible for executing the construction of the line between the Elbe and Achim. The total length is approximately 120 kilometres.
"At the start of the project it was organised into six lots. We won our first three lots at the end of 2010, then executed a further two lots in 2011. The project has been delayed quite extensively during its life due to problems with right of way, particularly in the eastern part of the pipeline, but we nonetheless continued executing work during 2012. A total of about three lots were completed last year. Now we have a major rerouting in the area of Winsen to be undertaken, leaving approximately 35 kilometres still to be completed."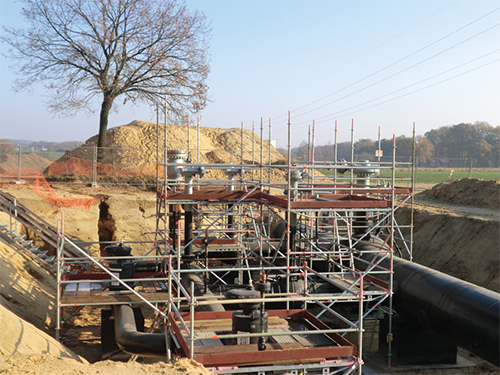 Once this last portion is completed, FRIEDRICH VORWERK's responsibilities on the pipeline will be completed. Nord Stream is Europe's largest gas pipeline project and being a major contributor to NEL represents a significant success for the company. The coming in of Nord Stream to Germany has also generated a number of related pipeline and plant construction projects that have helped FRIEDRICH VORWERK's business performance excel. Following a challenging recession period in 2008 and 2009, the last three years have seen excellent and steady rates of business for the company, particularly in plant construction.
In 2012, for example, FRIEDRICH VORWERK completed its first compressor station project for Gasunie in the northwest of Germany in which it revamped one of the stations along the network operator's pipeline. FRIEDRICH VORWERK also worked on a project for Open Grid Europe to build a 32 kilometres, 40-inch pipeline in Bavaria. Apart from these and other oil and gas projects, the company is involved with city sewerage services and has completed a large number of pipeline works in this sector throughout 2012 as well.
The business also established a new subsidiary in 2012. "We founded European Pipeline Services, a 50/50 joint venture with another company," explains Torben. "The company deals exclusively with pressure testing and pigging. We chose to do this because there are really only a couple of companies within Germany that can execute larger pressure tests on pipeline and it was always a major cost factor in our projects. Deciding we were capable of doing it ourselves, we teamed up with our partner and founded a subsidiary that would enable us to carry out these services."
Alongside a new capacity for pigging and pressure testing, FRIEDRICH VORWERK has also begun manufacturing pressure reduction station equipment at its VORWERK-ASA GmbH site in Herne. Such equipment includes inlet filters, filter separators, and heat exchangers. Engineering is carried out in-house and regulated by FAT, delivered, and then installed in-situ by the group. FRIEDRICH VORWERK sees this as an important avenue of business for the future and has begun in strong fashion with the signing of a frame contract to deliver heat exchangers to Gasunie in the Netherlands. The agreement will begin in 2013 and last five years, during which time the group will seek out similar contracts in Germany and Europe.
These two developments are just the beginning of many wide-ranging possibilities for FRIEDRICH VORWERK. Torben concludes with his outlook on what the future may hold for the group: "You can never be sure what the next five years might bring, but moving into the Polish shale gas market is something we might tackle. We are also involved in the first power-to-gas project for E.On; we are unsure how the market will evolve but it is a field where we might like to develop and now we have experience in building plants. Another area we are looking at is LNG, but that might be a development for the future. We are a strong partner for gas services and it doesn't matter to us whether it is power-to-gas, biomethane, shale gas, LNG – we want to support our clients."
FRIEDRICH VORWERK Group
Services: Pipeline and plant construction