From traditional to alternative fuel, U.S. Energy delivers a comprehensive portfolio
The energy transition is underway. However, it's not a debate over refined products versus renewables. Instead, the energy transition encompasses a broad evolution in the supply and consumption of energy. U.S. Energy is a North American-based company with deep roots in the energy market that is embracing change to satisfy needs both today and tomorrow.
As a vertically integrated energy solutions provider, U.S. Energy offers refined products, alternative fuels, and environmental credits. Its comprehensive portfolio of assets paired with risk management, financial services, and advisory insights offers customers realistic, executable strategies that satisfy their economic and environmental goals.
U.S. Energy was formed in 2023 by bringing together U.S. Oil, a 70-year leader in retail, commercial, and wholesale fuel distribution; supply and trading; logistics; and terminal operations of refined products and renewable fuels, with U.S. Gain, a leader in sustainable energy solutions, known for its portfolio of renewable natural gas (RNG) development and distribution sites. This consolidation enables the company to offer a broader range of solutions, such as gasoline, diesel, biodiesel, renewable diesel, ethanol, RNG, hydrogen, electric charging, and environmental credits. Mike Koel, President of U.S. Energy, shares the company's history and merger process with us.
Extensive services
"Our customer purpose of 'Finding a Better Way' came to fruition when our founders opened Schmidt Brothers Oil Company in 1951, later renamed U.S. Oil. In 1963, we purchased our first oil terminal in Wisconsin, which started our now 35-plus terminal network. In 1974, we began trading products with major oil and later established an in-house trading floor. As demand for renewables strengthened, U.S. Gain (a sister division to U.S. Oil) was established to develop a natural gas fueling station network for heavy-duty fleets. In 2016, we invested in our first renewable natural gas (RNG) landfill as an offtake partner to supply RNG to natural gas fueling stations. We have grown that portfolio to more than 40 projects and 50 stations. Then, in the last four to five years, we have been actively working on expanding our services to include renewable diesel, sustainable aviation fuel, hydrogen, electric vehicle (EV) charging, and forestry development projects," explained Koel.
"In 2023, merging U.S. Oil and U.S. Gain became a clear advantage, realizing operational synergies and forming a wider energy portfolio. This merger cohesively unified our engineering, operations, compliance, marketing, strategy, and innovation teams, strengthening our value proposition. In the coming years, I expect further opportunities to surface that optimize internal processes and a go-to-market approach, making us even easier to do business with. We're known for our portfolio of solutions and our ability to creatively solve problems. As a family-owned business, we have the flexibility to think outside the box to 'find a better way' for our partners and customers. We make fast decisions and customize deal structures for the needs of each opportunity. I expect this to continue strengthening as a unique differentiator," noted Koel.
U.S. Energy has offices in Wisconsin and Texas. Its asset portfolio includes 35+ refined product terminals, 40+ RNG facilities, 50+ natural gas fueling stations, and two forestry projects. Tenured in commodity trading, supply, logistics, and compliance, U.S. Energy operates across the United States and parts of Canada.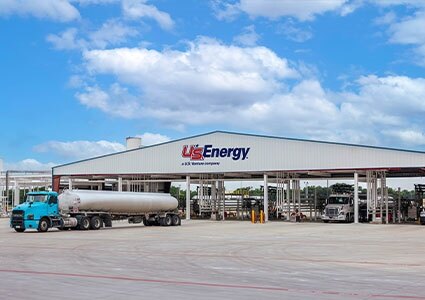 Standout solutions
Like many energy providers, U.S. Energy diligently tracks headwinds facing the refined products industry. "Regulation of transportation emissions and electrification mandates have our refined products and alternative energy teams working closely together. Many organizations are evaluating how to participate in both traditional and alternative energies. This is where our creative problem-solving comes into action. We work alongside companies to assess investment opportunities, technology readiness, funding programs, and implementation strategies to facilitate the smooth integration of alternative energy. We offer supply stability and infrastructure buildout capabilities," said Koel.
Koel went on to note that when there's a headwind, an opportunity typically exists. He highlighted several innovation projects that U.S. Energy is focused on weaving into its portfolio. Volt Vault™ is a mobile charging solution powered by natural gas that is disconnected from the grid. It enables fleets to charge without infrastructure readiness issues. The company has plans to build hydrogen fueling stations and partner on hydrogen production sites, using RNG as a feedstock when possible. Recent investments have U.S. Energy well-positioned to offer renewable diesel and, soon, sustainable aviation fuel. These platform additions will continue the diversification of U.S. Energy's portfolio.
"I do want to be clear – aside from growth in the alternative energy space, we firmly believe demand for refined products will be a strong business case for U.S. Energy decades into the future. We plan to invest in new terminal assets in strategic regions. Also, we continue to expand our logistics capabilities through new rail transload facilities with railcars available that shippers can utilizeto support the movement of their goods throughout the supply chain (including energy, lumber, steel, food, etc.)," said Koel.
Evolving energy
U.S. Energy stands at the forefront of the evolving energy landscape, offering innovative solutions from traditional refined products to alternative fuels and environmental credits. With its unique capabilities, family-owned entrepreneurial spirit, strategic vision, and innovation pipeline – the company is well-positioned to serve energy market needs today and into the future.