Setting standards
Formed in Kazakhstan in 1998, FSDS has developed a solid reputation as a provider of subsea services in areas such as the Caspian Sea, Black Sea and Sakhalin Island over the last 16 years.
With a broad spectrum of expertise in subsea activities from simple vessel husbandry to more complex subsea construction projects, the company is relied upon for its capabilities by oil and gas majors including Shell, Exxon and Petronas, and the Kashagan field development consortium. "FSDS was established to support the development of the Kashagan project in the Caspian Sea and was originally a joint venture between Frazer Diving and a local
entrepreneur with a firm called Sak Diving. Originally the joint venture was called Frazer Sak Diving Services, until the local entity brought out Frazer Diving in 2003 and proceeded as a single independent firm," explains John Bolton, project and general manager of FSDS. "Since then we have expanded our services even further in the Caspian Sea to Turkmenistan, Russia, and Azerbaijan and the Black Sea, as well as the Middle East and now Far East Russia."
Currently operating in Kazakhstan, Turkmenistan, Azerbaijan and Russia, FSDS' vision is to become a leading provider of solutions within the subsea sector for the oil and gas industry. With well-defined values, the company operates in a safe, efficient and cost effective manner to deliver the best solutions to its customers. In addition, it guarantees the provision of high quality equipment and controls to promise safe and efficient operations, while also ensuring personnel work in an environment that is both challenging and rewarding. "We hire and train predominantly from the local areas we operate in, so for example in Kazakhstan and Russia we have approximately 40 IMCA accredited divers, seven IMCA accredited supervisors and seven IMCA accredited diving systems. The local personnel we use both as divers and in our management structure are a huge asset to us; we find them to be highly proactive and motivated, which helps us to achieve standards expected of us in these geographical areas," highlights John.
Proud to be an IMCA accredited company, FSDS benefits from taking on projects in areas with very few competitors boasting the same accreditations. On top of this, it has also accumulated a management team with international experience, a strength that attracts global entities in the oil and gas industry. "Other companies that are accredited don't have the same knowledge and experience that major oil firms prefer," says John. "Moreover, we have internationally recognised safety management systems and quality management systems in place, such as ISO 9001 and OHSAS 18001; these are managed efficiently to meet the satisfaction of global firms that require a higher degree of management and compliance than a local company may want. In Russia we comply with Russian Federal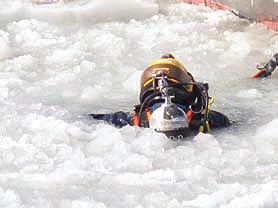 Legislative requirements as a company and in the provision of subsea services, which are somewhat different from other areas."
As the oil and gas industry moves further north in colder climates, FSDS has the knowledge and experience to ensure the most demanding of projects results in success. "We can provide sub-zero temperature diving in areas such as Russia and Kazakhstan; we dive all winter round in these areas, in ice and temperatures as low as minus 20 degrees. This is an area we are keen to continue developing to ensure we are able to support oil and gas exploration in the Arctic," highlights John. "At the moment we are testing and developing equipment and our diving techniques to provide enhanced assurance of reliability for cold water diving. For example, the divers equipment we use on our personnel's body and equipment on deck can be used in temperatures as low as minus 20, even minus 30 degrees. We are building our own classed air diving system, which are specifically being developed for our future strategic plans to go where the oil and gas industry needs us in the sub-zero temperatures."
Well established in the Caspian Sea, the company was awarded a three-year contract to provide near shore and offshore diving services for Sakhalin Energy Investment Company, a consortium set up for developing the Sakhalin oil and gas development in Sakhalin Island, Russia, in August 2012. Known as Sakhalin II, the project includes development of the Piltun- Astokhskoye oil field and Lunksoye natural gas field offshore Sakhalin Island, as well as associated onshore infrastructure, and is managed by Sakhalin Energy. "We provide 365 days a year call out services for Sakhalin Energy's emergency intervention; we also provide planned inspection, repair and maintenance (IRM) services for the upkeep of their existing infrastructure and are developing techniques for emergency pipeline intervention for our client. Furthermore, we are providing IRM diving and ROV services for Exxon Neftegasin Sakhalin."
While continuing with operations in Sakhalin Island, the company anticipates a prosperous year with a number of tenders in Russia and Turkmenistan coming to a close. "We are optimistic for a busy year with expected contract wins in the Caspian Sea throughout 2014. Meanwhile, the core focus for FSDS is the enhancement of our cold water diving capabilities and the expansion of our classed systems, with our first classed system being built now and the second later in the year. These are specifically being developed to coincide with our plans to expand into the Arctic, however we also plan to move to a warmer climate as a way of diversifying our services over the coming years," concludes John.
FSDS LLP
Services: IMCA accredited subsea service provider