Pumped up
Though it began in 1916 as a company selling cotton and steel products, Fuglesangs' business today is largely in the oil and gas sector, selling pumps, seals and other hydraulic solutions.
It remains a family company and is headquartered in Norway though it also has offices in the Netherlands, Singapore and the UK, with partnered branches scattered throughout the world.
In the 1980s, after a decline in the shipbuilding business that it was involved with at the time, Fuglesangs became a reseller of Chesterton seals. Many of these seals are standard throughout several industries, and it has been able to apply this experience to its current range of products: the pumps and hydraulics that make use of such seals.
Alexander Fuglesangs, the marine oil and gas division manager, explains how previous experience has helps the company today: "Knowing seals, we knew which pumps worked in what applications. Because there are tens of thousands of pump companies throughout the world, the key to this business is really to select the right pump for the right job; we spend a lot of time looking at sealing issues and pump selection, and that has made us stand out."
Whilst many vendors in the pumping sector are driven by cost alone, Fuglesangs aims to deliver a more comprehensive package that not only includes the provision of the item itself but also high quality engineering and maintenance services throughout the entire lifetime of a product. A high percentage of pump failures are the result of malfunctioning seals, and with extensive experience in this part of a pump's operation the company is able to grant competitive warranties and unit performance.
In August 2010 a contract was signed with Norwegian-based international engineering firm Aker Solutions to provide 40 pumping systems; this major contract is an example of the name that Fuglesangs has made for itself within the industry. Other major customers include Statoil, BW Offshore, Seadrill, Aibel, Odfjell Drilling, and Halliburton to whom the company has sold units for chemical injection operations.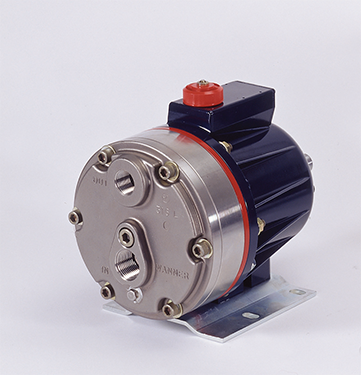 One of the company's major pump units is its new API610-standard model marketed in partnership with Deep Blue, the unit's manufacturer. Though constructed primarily at Deep Blue's plant in China, the factory has for years been involved with the country's nuclear industry and therefore is of high, rigorously tested standards. Furthermore it means that Fuglesangs is able to provide a top quality unit, and one that is a standard in the oil and gas industry, at low prices. With the API610 such an integral part of the industry, it is expected to become an increasingly important avenue of sales for the company.
The other growing market is that of subsea pumping. Alexander explains how the company is already capitalising in this area: "We were one of the first vendors in the world to have delivered hardware to projects involved with pumping rocks and drilling mud beneath the sea. The subsea slurry pump, for example, is a very new segment of the industry and one where we'd like to be a strong player."
Fuglesangs also has a large demand for its chemical injection systems, including orders from companies such as Halliburton and Statoil, and it has specialised in bringing light and mobile units to the market. Many of the application for these systems involve flammable liquids, and whilst many units currently provided by vendors make use of piston or shaft seals, Fuglesangs has brought a unique model that is hermetically sealed therefore removing risks associated with seal failure.
As Alexander highlights, however, there is more than just pre-manufactured solutions on offer: "We find there's an interest in standardisation from our customers but at the same time every project is different. There is a big challenge for example when several engineering companies are involved in a single contract, seaall of them throwing standards at you and carrying long lists of requirements, but we are accustomed to it and can deliver bespoke solutions even in those situations. I think it is deep within the mind of an engineer to not copy one another; they like to invent something new on every project."
Another advantage that Fuglesangs bares in the market is the quality it provides due to its size. Having remained a family-owned and run business for nearly one hundred years, it has remained a modest yet effective size. With a staff of 55, it is small enough to be able to give the attention and care a customer deserves whilst still big enough to handle projects globally due to being situated at several key locations around the world.
With its long experience in the offshore market, as well as collective wisdom gained from operating in a range of other industries, the company is confident on its ability to grow its share of the market. The demand for oil and gas continues to be huge and for companies like Fuglesangs that are pro-active in their growth strategy it remains sector with definite potential for expansion. Safety and environmental regulations are becoming stricter whilst customers' expectations on price become lower, presenting several challenges, but the company believes it is more than able to balance these two concerns whilst continuing to deliver the best service possible.
Alexander concludes that the future for Fuglesangs lays in gaining footholds in newly geographic regions: "We've been investing heavily the last few years and I believe we are now ready to grow into new areas. The company's growth tends to be more gradual but I see a definite continuation of that, adding offices in the Middle East and South America. Because oil and gas is our main area of growth, those two places are a natural expansion of what we are doing already."
Fuglesangs Ltd AS
Products: Well pumps and chemical injection units