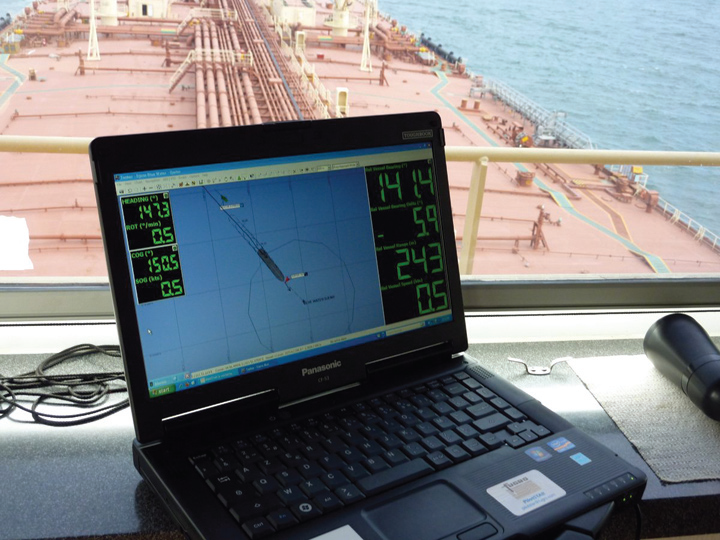 Subsea data anywhere
With roots dating back to the 1920s and the establishment of Wimpey Laboratories, Fugro Global Environmental and Ocean Sciences (GEOS) has evolved from a combined venture between Wimpey and the Fugro Group. Fugro GEOS was itself first established in 1994 and became a whollyowned subsidiary of the Fugro Group during 1996. Today Fugro GEOS represents a globalleader in the provision of meteorological and oceanographic (metocean) services for offshore and coastal engineering applications. Its clients are able to benefit from the talents, expertise and consultancy skills of 200 dedicated members of staff comprising experienced oceanographers, meteorologists, engineers and marine environmental scientists. These are further supported by fully qualified engineering, workshop, administration, development and information technology staff, who are able to meet the needs of the company's clients from its global network of offices within Australia, Brazil, Malaysia, Mexico, Norway Singapore, UAE, the UK and the US.
Commenting on the focus and competencies of the business, Global R&D Manager Mark Calverley says: "Measurement services have always been at the core of our business offerings.We have invested in sensors and equipment to create the largest commercial equipment pool in the industry, and this allows us to react to our clients' needs in a timely fashion. Clients use the measurements of environmental conditions, such as waves, currents and tides, to feed into offshore design and operational planning. We undertake the quality control of the measured data in-house and provide reports that are accessible to nonspecialists, as well as more detailed analysis for metocean engineers. We also analyse data to support engineering design activities from a combination of measured and modelled data, including our own regional and local models."
The portfolio of services offered by Fugro GEOS includes the design, engineering, commissioning and maintenance of permanent, integrated offshore monitoring systems for major oil companies. This involves the integration of metocean sensors with other sensors and instrumentation in systems that provide realtime data display as well as data storage for additional analysis. The data can be used to improve the structural integrity of design – particularly important in understanding the level of fatigue that infrastructure has actually experienced when compared against the design. These capabilities combined with its ability to measure structural responses through its online monitoring system allow Fugro GEOS to offer a holistic service, with which it is able to respond to its clients' concerns regarding wellhead fatigue. This led to the development of its 'DeepData' solution, which has been successfully sold to several oil majors. DeepData is an extension to existing response measurements that allow engineers to understand the actual structural behaviour compared against the engineering models used to predict fatigue, allowing safer, more reliable engineering and operation. Indeed further improvement of engineering operations is vital within the offshore oil and gas industry and as such, Fugro GEOS established a dedicated R&D team during January 2015 that has already engaged with a number of on-going projects.


The systems developed by Fugro GEOS have been proven in numerous projects around the world, including wellhead monitoring operations on behalf of BP in the Gulf of Mexico. Completion of the project was announced during June 2015 following a year-long project for BP Americas Inc, measuring BOP stack motions and calculating wellhead fatigue. The drilling campaign was conducted throughout 2014 at a water depth of 6000ft, utilising the Fugro Wellhead and Riser Instrumentation Service (WARIS). The client was provided with access to real-time subsea data to aid the decision making process throughout the project by transmission of motion spectra from the BOP stack and riser using standard hydroacoustic modems and the automatic processing of this data with topside environmental data to show levels of motion and fatigue and their correlation with sea states and ocean currents.
The main component within the system was the inclusion of DeepData subsea motion monitoring pods. These were deployed to positions on the BOP stack and riser via remotely operated vehicle (ROV) and were integrated with hydroacoustic modems with a battery capacity for at least one year of deployment. An additional topside system was supplied that included vessel motion monitoring systems and links to existing environmental monitoring systems. This was supported by the use of Fugro's onshore data delivery system to plot and display all of the processed data from the WARIS system. This allowed data to be accessed and utilised by BP engineers anywhere in the world. Commenting on the project, Stuart Killbourn, Principal Engineer at Fugro said: "This was a project with challenging timescales and some demanding engineering. By working closely with BP and with Fugro staff in our Houston office, we managed to create success for both companies."
Throughout all of its projects Fugro GEOS is committed to delivering the highest levels of quality, safety and service. It therefore ensures all of its services and systems comply with the requirements of its customers and relevant industry standards. Its quality management system is an integrated risk-based management system, which is accredited to OHSAS 18001 (safety); ISO 9001 (Quality) and ISO 14001 (Environment) standards. By delivering advanced and effective monitoring systems of the highest standards, Fugro GEOS is set to remain a vital force within the offshore oil and gas market and beyond for years to come.
Fugro GEOS
Services: Meteorological and oceanographic services
Issue 125 October 2015