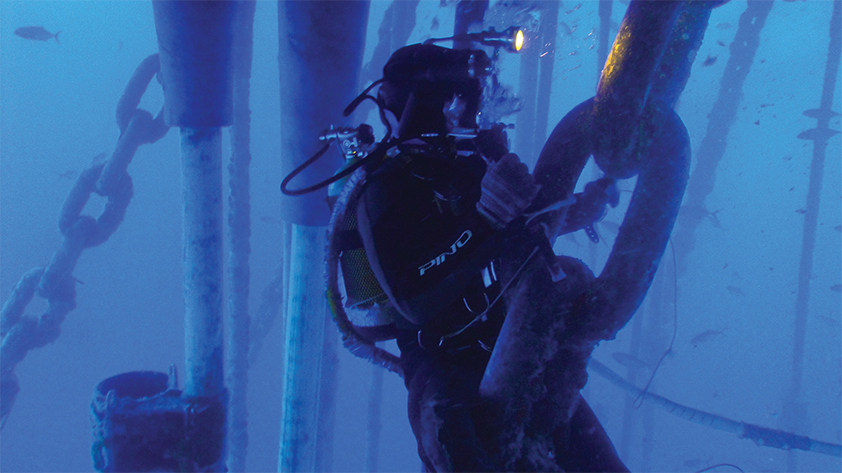 A history of growth
Fugro has been active in Brazil for more than a decade, and has been following the growth and development of its economy since then. Brazil is an exciting country with many challenges.
Initially Fugro operated in Brazil through local agents to perform geotechnical and seismic projects for Petrobras. In 2000, Fugro made its 'debut' in Brazil by acquiring the local airbone geophysics companies, which was operating four planes at that time.
Fugro made a significant step in Brazil in 2003 with the global acquisition of Thales Geosolutions group adding more than 300 Brazilian employees and offices in Rio de Janeiro and in Macaé, the main oil and gas centre of Brazil. The company then started to offer ROVs services and geophysical surveys, and new in Fugro´s portfolio were air and saturation diving services. The dive support vessel 'Toisa Sentinel' had been operating successfully in Brazil since 1994 and had achieved the remarkable number of 7000 dives without significant incident in 2010. Fugro started providing seismic services and reservoir characterisation from its processing center located in Rio de Janeiro in 2004.
In 2005 Fugro signed a Joint Venture with local company Oceansatpeg, which allowed Fugro to increase in size to more than 700 employees. In 2008 the partners properly merged and the company continued as Fugro Brasil (Submarinos e Levantamentos Ltda.). The business started to operate its own survey vessel, later renamed as 'Fugro Odyssey' and ROV and diving support was provided on ROV support vessels with different vessel partners. Successful projects were performed for the local oil companies Petrobras, OGX, the regulatory body ANP, and all other major oil companies established in Brazil. The company also conducted various campaigns for Petrobras with its geotechnical vessels 'Fugro Explorer' and 'Bavenit'.
Over the years Fugro´s other business lines had grown with the first 3D seismic project awarded by Petrobras, and marine seismic processing in the Rio de Janeiro processing center. In 2008 it was time to expand Fugro´s onshore geotechnical services with the acquisition of the local company, In Situ, including its head office in Curitiba and more than 100 employees.
The development of the oil and gas market in Brazil was the reason for Fugro's increased investments. In 2010 the company invested in a brand new operational base in Rio das Ostras, bordering Macaé, with more than 23,000 m2 of office and warehouse. That year also marked a milestone of the first Lidar airborne survey performed in the country for the governmental agency CPRM.
Its subsea services continued to grow significantly in 2011 with three major projects, providing ROV and survey services onboard ROV support vessels with vessel partners and diving works onboard a second dive support vessel. These were all long-term contracts for Petrobras, which secured a robust backlog for the coming years. In 2012 Fugro made a move into the near-shore geotechnical market and mobilised a drill jack-up rig to Brazil to acquire soil samples for Petrobras in Bahia state.
Fugro group is now operating in Brazil through four different companies. Fugro Brasil is specialised in ROV, diving and offshore surveys, using the latest technology to deliver high-quality solutions with a very large local content. Fugro Geosolutions is focused on the acquisition and processing of seismic data, using state-of-the-art seismic vessels. Fugro In Situ Geotecnia provides geotechnical acquisition and consultancy, including analysis of soil samples in its advanced geotechnical laboratory. Fugro Airborne is specialised in air and ground geophysical surveys.
Next challenges and areas of growth
Brazil is aiming to become one of the fastest growing economies in the world. The huge oil and gas finds, especially in the famous pre-salt blocks, are transforming the country into one of the world's leading hydrocarbon producers. In the next decades the growth of the oil and gas industry in Brazil is expected to generate a huge demand for Fugro´s Life-of-Field services, be it geotechnical, subsea or survey services. The existing oil and gas production and subsea infrastructure will demand a growing need for ROV, diving and survey related inspection, repair and maintenance work to keep up the production levels. The development of the pre-salt blocks, headed by Petrobras, will present its own challenges in terms of technology in more than 5km of water depth, logistics with fields over 200 km offshore, and most importantly finding adequately trained local staff.
The vast Brazilian continental shelf, with large frontier areas yet to be explored, will provide more opportunities for Fugro´s state-of-the-art technology, such as AUVs, Lidar, subsea metrology, remote positioning, deepwater geotechnical, and oceanographic data acquisition.
A new survey vessel 'Fugro Brasilis' will be joining the Fugro fleet in 2013 with a state-of-the-art design specifically developed to perform survey services, light geotechnical work, ROV support, and a fast-track mobilisation combined with safe operations. The construction of the 'Fugro Aquarius', an 83m-length ROV support vessel, is being carried out locally by Wilson Sons and it is scheduled for delivery in 2014. It will represent the next new step in Fugro´s investment in Brazil.
Fugro is well established to provide support services with good knowledge of the local market, a very high local content with over 1000 Brazilian employees, and the required safety and operational standards. Fugro is ready to benefit from the amazing challenges that the Brazilian oil and gas industry will present for the foreseeable future.
Fugro in Brazil
Services: Oil and gas industry services