Best in class
Having only been in operation for less than ten years, Fugro-TSM has already built an outstanding reputation as a leading independent subsea oil and gas service provider.
The company, which has offices in Australia, Singapore and Kuala Lumpur, offers the oil and gas sector a true multi-disciplinary range of safe, effective, responsive, client-focused field support services across the full life of a field, covering subsea intervention, subsea construction and decommissioning and abandonment.
The business was originally established in 2006 in Perth, Western Australia as TSMarine, and was acquired by Fugro in 2011. Only 15 months before this acquisition however, TSMarine management had completed a buy out of the Asia-Pacific interests of Aberdeen-based TSMarine Contracting Ltd.
The management and staff of this previous incarnation continue to work at Fugro-TSM, with current CEO, John Edwards, describing the purchase by Fugro as "an endorsement of the company's strength and growth in the region," and "an excellent outcome for our world class team." Today the business focuses its operations in the Asia-Pacific region, and supports the broader global Fugro Subsea business, with its headquarters remaining in Perth.
As stated, the company's management and staff remain a major element of its success, with its key and senior personnel having a wide breadth of knowledge and experience through their work in all of the important offshore regions around the globe. Alongside this undoubtedly strong resource base there are a number of key differentiators that separate Fugro-TSM from its competitors in the market. For example, the company has a deep understanding of the required systems, equipment and methodologies that are associated with subsea services, which enables it to provide clients with a turnkey, tailor-made solution to each individual request.
Similarly, where required, the business is able to seamlessly engage the capabilities of its parent company, Fugro, in the provision of subsea survey, geotechnical and construction services, which brings with it an associated knowledge of the critical factors associated with the safe, efficient management and execution of offshore projects.
This multi-disciplinary resource base enables Fugro-TSM to offer a range of services encompassing project management (engineering, drafting, logistics, cost control), vessel operations, ROV intervention, project delivery (construction, construction support, IMR, well intervention, subsea inspection and subsea abandonment), diving intervention and survey.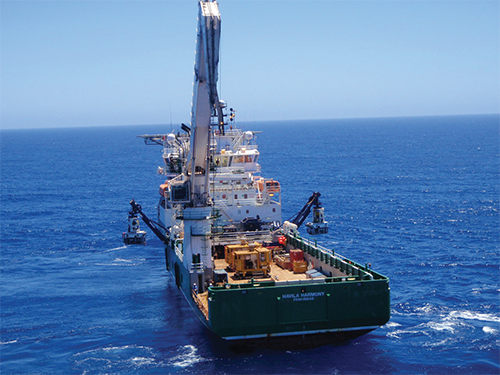 Fugro-TSM's approach to a successful project is based on its Best Practice and Best-in-Class ethos, through which the company provides the very latest DP2 intervention and construction class vessels, ROV systems and associated subsea equipment and capabilities. This represents its 'all under one roof' philosophy, whereby the business offers everything needed throughout the lifecycle of a field development (subsea construction & installation, rigless well intervention, subsea IMR and decommissioning).
In order to offer this level of service the company employs a fleet of the latest vessels ranging from 93 metres to 137 metres, complete with dedicated work class ROVs operating alongside a myriad of other specialised equipment. Representing the broad range of projects the company is involved with, each vessel offers a very versatile platform that can be easily adapted for supporting any number of offshore installation and marine operations in even the harshest conditions.
For carrying out subsea work Fugro designs, builds and operates it own large fleet of both work and observation class ROV systems, which use the best-in-class system components and are operated from strategically located bases around the world, working on drilling campaigns and subsea construction projects. In fact, the diverse nature of the company's ROV fleet encompasses capabilities in deepwater construction, drill rig support, IMR, construction support services, intervention and completion support, subsea engineering and platform inspection.
In addition to ROVs Fugro-TSM operates its own state-of-the-art subsea trenching systems, the Q1400 Trenching Systems. Consisting of a common trenching module, separate tracked jetting and mechanical cutting skids, and with a customised launch and recovery system rated to Lloyds sea state 6, the Q1400 has the capability to carry out high quality jet trenching in solids of up to 100KPA and mechanical chain cutting of soils up to 250KPA. Each trencher is also able to 'free fly' in jetting mode while operating in water depths of up to 3000 metres.
One constant that remains throughout all of Fugro-TSM's operations is its engineering excellence. The company's dedicated Operations Department offers clients a complete in-house service that designs and develops fit-for-purpose solutions for customers. Consisting of highly qualified and experienced engineers specialised in various disciplines and with capabilities in Deepworks simulation and visualisation, Orcaflex Modeling flexible lay analysis, Solid Works 3D modelling and SpaceGass structural analysis, this department regularly carries out installation analysis, structural analysis, design of all installation aids and equipment, installation procedures and associated project engineering.
Of course, alongside new projects, a key factor in oil and gas operations is the maintenance and care of existing equipment. Accordingly Fugro-TSM is a quality assured IMR consultancy and services provider for operators of plants and facilities, for both on- and offshore installations, as well as subsea equipment. Included in this service are inspection management, subsea inspection, cathodic protection, flooded member detection, alternating current field measurement, non-destructive testing and marine growth thickness measurement.
While the business continues to be successful in all of its major areas of operation, 2011/2012 has seen it witness considerable success in its home, Asia Pacific region. Since January the business has carried out a number of successful projects with major clients such as Woodside Energy Limited, Murphy Oil, BW Offshore and Technip. This impressive portfolio excellently demonstrates Fugro's range of services, encompassing operations such as support for flowlines and risers installations, replacement of mooring legs, chain stoppers and fenders, saturation diving/dredging, preparing pipelines for inspection, and cut and abandonment of two shallow water tripod platforms.
This success has led the organisation to look to the future, with it already envisaging the need for significant investment in further vessels and associated equipment in the coming years. In fact, if the company remains committed to delivering best practice and best-in-class solutions to its customers, there is little doubt that the Fugro-TSM name will come to represent the ultimate in quality and project delivery in the future.
Fugro-TSM
Services: Subsea construction services