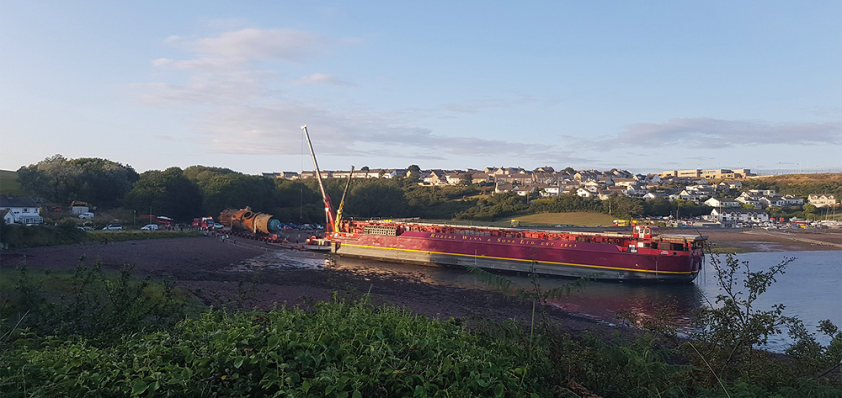 The Eden Project and EGS Energy Limited revealed in October that funding has finally been secured to drill the first well for their pioneering geothermal heat and power project. After a ten-year campaign to bring the clean, green technology to Cornwall, the partners said that the £16.8 million in funding will enable them to start drilling on Eden's site next summer.
The £16.8 million will pay for the first phase of the project – drilling one well, a research programme and a heat main, to prove the extent of the resource 4.5km down in the granite that lies beneath the Eden site.
This first well will initially supply a district heating system for Eden's Biomes, offices and greenhouses. It will pave the way for the second phase – another 4.5km well and an electricity plant. Completing the second phase will mean that Eden will be generating sufficient renewable energy to become carbon positive by 2023 as well as aiming to be able to provide heat and power for the local area.
Eden Co-founder Sir Tim Smit said that securing funds and thereby the chance to spark an energy revolution amounts to the biggest leap forward for Eden since it opened.
To deliver the plan, a new company, Eden Geothermal Limited (EGL) has been formed.
Project success
The final parts of a decommissioned oil refinery have been successfully exported to Pakistan from Pembroke Port in a six-week operation. The former Murco refinery in Pembrokeshire closed in 2014 and during the past three years over 13,000 tonnes of cargo has been transported over the quay in seven exports to southern Asia. During the project, 1690 tonnes worth of components were exported on the heavy lift vessel Regine and 1125 tonnes on the Maria. The largest lift weighed 315 tonnes and measured 21.3m x 8.8m x 8.3m.
In addition to these heavy lift vessels, the Terra Marique barge was positioned at Gelliswick Bay to load the parts that were too large to be transported by road and taken to Pembroke Port along the Milford Haven Waterway. This was a specialist operation as sand had to be dug out of the beach, a ramp built and parts were driven onto the barge when the tide allowed.
Chris Oliver, Operations Manager at Pembroke Port, noted that the site is flexible in accommodating numerous sectors, and that it deals with a wide range of cargoes on a daily basis. "But this was definitely one of the larger operations in recent years!"
Wave power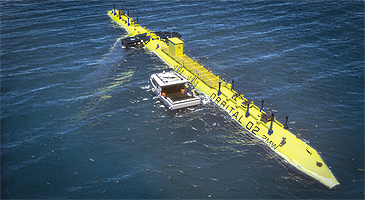 SKF has developed a power train for the world's most powerful tidal turbine, capable of generating 2MW, being developed by Scotland-based Orbital Marine Power. SKF has been supplying bearings and components to Orbital since 2011 but has now taken a further holistic step in its technical capacity, by developing the full power train system.
Michael Baumann, Business Development Manager, Marine and Ocean Energy at SKF, says: "We see great potential in floating tidal turbines, owing to their low costs to install and operate. We look forward to helping Orbital to commercialise its O2 turbine technology and contribute to increased generation of tidal energy."
The O2 is made up of a 73m-long floating superstructure that will support two 1-MW turbines at each end. With rotor diameters of 20m, it will have a total rotor area of 600m2 – the largest ever on a single tidal turbine to date – and will be capable of powering more than 1700 homes per year.
The turbine will feature 360° blade pitching, which will allow the safe, dynamic control of its rotors and will enable power to be captured from both tidal directions, eliminating the need to rotate the entire platform. These controllers will also support the installation of even larger blades on the turbine in future.
Clean energy mix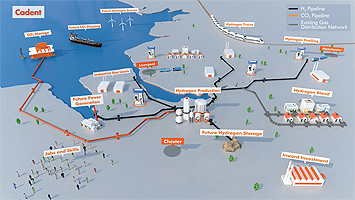 The North West of England is ready to deliver the UK's first hydrogen project within five years. HyNet is the most advanced hydrogen and carbon capture, utilisation and storage (CCUS) project in the UK which could see hydrogen blended into the gas grid and piped into homes and businesses by 2024.
The HyNet consortium is led by one of the North West Hydrogen Alliance's (NWHA's) newest members – Progressive Energy – with founding members Cadent and Peel Environmental also involved along with various other members.
HyNet could see hydrogen injected into the existing gas network across Manchester, Liverpool, Cheshire and Warrington, helping to decarbonise homes and businesses. It would also see hydrogen supplied in new pipelines to major manufacturing and power generation sites reducing the carbon footprint of industry while safeguarding jobs and delivering clean growth.
HyNet was awarded a total of £1.6m grant funding under UK Government Competitions for CCUS, Hydrogen Supply and Industrial Fuel Switching earlier this year to further develop the engineering solution for the project. The consortium is bidding for further funding to support the next stage of the project.
Plans submitted

Peel Environmental – part of Peel L&P – working in partnership with Waste2Tricity has submitted plans for a waste plastic to hydrogen facility at its 54-hectare Protos site near Ellesmere Port which would help reduce fossil fuel consumption and create jobs.
The £7m plant will use 'UK first' advanced thermal treatment technology developed by PowerHouse Energy Group at Thornton Science Park, next door to Protos. The pioneering DMG® (Distributed Modular Generation) technology could transform the way plastics are dealt with in the region. The plant will take up to 35 tonnes of unrecyclable plastics a day and create a local source of hydrogen which could be used to power road vehicles.
The facility would also generate electricity which could be provided to commercial users via a microgrid at Protos, helping to reduce reliance on fossil fuels. Peel Environmental is looking at developing a closed loop solution at Protos where plastics are recycled on-site with the leftover material used to create hydrogen.
The development would see a further 14 full time permanent jobs created at the Protos site with over 100 jobs created in the North West during fabrication and construction.
In Brief
Mind the gap
New research from intelligent energy optimisation platform, Lucid, has demonstrated a trust and transparency gap between consumer and supplier within the UK energy sector. The report, delivered in partnership with PwC, found that 74 per cent of consumers would have greater trust in their energy supplier if they were offered access to a more transparent cost breakdown.
The research comes as Lucid announces itself within the UK energy sector, aimed at enabling energy retailers to improve their customer relationships through its robust and secure platform, which enhances customer engagement, reduces the cost to serve, and increases profitability.
Amazon getting greener
Amazon has announced three new renewable energy projects in the US and UK.
Amazon's newest renewable energy project in Europe will be the largest corporate wind power purchase agreement (PPA) in the UK, located on the Kintyre Peninsula, Scotland. Once complete, the new Amazon Wind Farm will provide 50 megawatts (MW) of new renewable capacity with expected generation of 168,000 megawatt hours (MWh) of clean energy annually, enough to power 46,000 UK homes. Amazon's newest renewable energy solar projects in the US will be located in Warren County, North Carolina, and Prince George County, Virginia.
Once complete, the three new Amazon renewable energy wind and solar projects will provide 265 MW of additional renewable capacity and are expected to begin producing energy in 2021, supplying energy to the company's Amazon Web Services data centres, which power Amazon and millions of AWS customers globally.