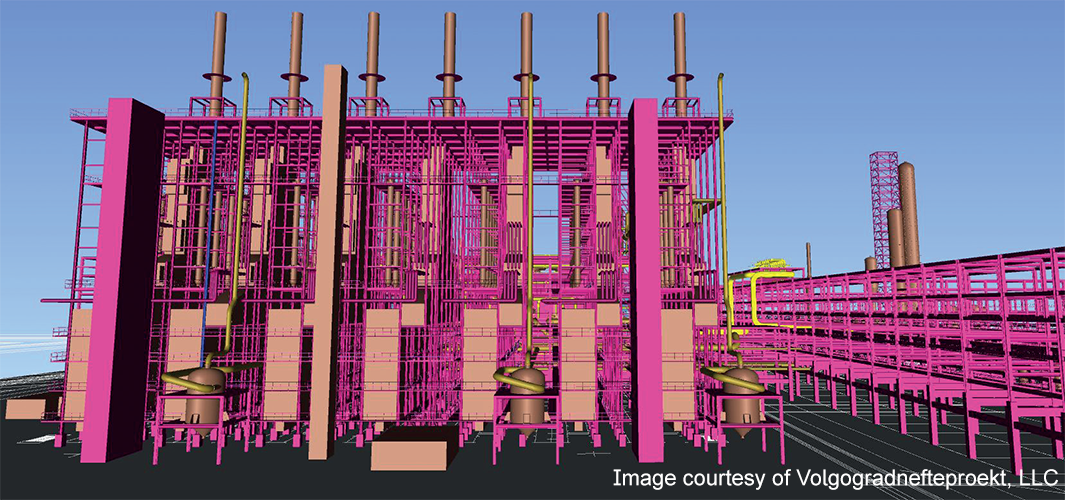 The ethane-containing gas processing complex (ECGPC) consists of a gas processing plant, a gas chemical complex, and transport infrastructure
Volgogradnefteproekt, LLC leveraged advanced technologies to support design, construction, and operations, creating a digital twin
d them review, compare, and assemble a 3D model containing elements created with different design applications
Their digital twin of the facility for operations was developed during the design stage, achieving a savings estimate of more than $5.5 million
Project overview
PJSC Gazprom, a natural gas provider in Russia, wanted to produce an ethane-containing gas processing complex (ECGPC). The integrated project would consist of a gas processing plant (GPP), a gas chemical complex (GCC), and road infrastructure near the Ust-Luga village of Kingiseppsky in the Leningradskaya Oblast, near St. Petersburg. The large scale and complexity of this project required the collaboration of an international team located across the globe including the Netherlands, South Korea, China, and Russia.
Volgogradnefteproekt, LLC (VNP) was tasked with delivering this large-scale gas processing complex.The GPP will create ethane for use by the GCC to produce commercial polymers. This gas chemical complex is unique, however, in terms of both the volume of raw materials and products processed. Polyethylene production requires large amounts of water (130,000 cubic metersper day), so the project needed to maximize the reuse of water. Since the plant is in an area where it rains frequently and is very humid, VNP was required to design the facility to collect and treat rainwater to use it in the production process. All industrial wastewater and gray water needs to be directed to treatment facilities to replenish the water supply used for industrial needs. Implementing these measures will prevent the facility from dumping contaminated water into local rivers and cut the need for continuous water extraction from external sources by almost 50 per cent, helping to reduce the environmental impact.
Challenge
To make this large-scale, highly technical project a success, VNP recognized that they had to push the boundaries of technology. With team members located across several countries, they had to find a way to share data among each other seamlessly and cost effectively. They looked for a company that would offer software with cutting-edge collaboration capabilities to communicate with all project participants, as well as applications they could use to create a digital twin of the operational facility. They needed a management system that could handle a large amount of information, including visually planning the construction, procurement, and documentation development, and monitoring and controlling the construction progress. Furthermore, VNP needed software that would support the implementation of facility commissioning, analyze changes and potential changes, and determine the impact these changes would have on construction, procurement, and the schedule.
To meet their information management goals, VNP needed a multifaceted BIM solution with 4D construction modeling, enterprise asset creation, and engineering data management. However, they needed the right software to help them effectively leverage these systems and data, while providing a way to control the progress of work, analyze the as-built facility, as well as make changes and prepare the necessary reports. They also needed to ensure that the software featured a design capacity to produce three million tons of commercial polymer per year, all while communicating across various countries.
Breakthrough
VNP realized that Bentley could provide the technology to meet the challenging information management and collaboration requirements, as well as develop a digital twin of the facility during the design stage – while considering the requirements for the facility's future operation digital twin. They created and curated a digital twin to provide an integrated and dynamic environment for globally dispersed project participants to collaborate. Bentley's iTwin Services were used in the project delivery phase to review, compare, and assemble a 3D model containing elements created with different design applications, including AVEVA, TEKLA, and Bentley applications.
ProjectWise was used for collaboration, engineering data management, and as the single source of truth for the project to plan and manage the construction, as well as SYNCHRO and ProjectWise to create a single system for work planning and acceptance. VNP will deliver the final 3D model of the facility as an iModel and use AWP to plan and manage the construction. Lastly, AssetWise ALIM will be used in the future to create a digital asset for the operations phase.
"We work out all the processes in the digital world before we implement them in the real world," said Sergey Golub, head of Volgogradnefteproekt's integrated design and auditing department. "Therefore, the future possibilities of digital twins are unlimited and will allow us to eliminate potential errors in the physical world. It is the digital models that unite participants during decision-making and decision implementation, regardless of the number of participants and their location. This is the international language of interaction."
Outcome
VNP's ambitious use of advanced technologies for information management and project delivery is yielding noteworthy results. All the necessary materials are being received by the time that they are needed at the construction site, reducing potential downtime by ten percent to 15 percent. Each construction documentation package is prepared by the time the corresponding work begins in accordance with construction packages, potentially reducing the labor costs of developing documentation by five per cent to ten percent. Installation tasks are assigned, and work is accepted, in accordance with construction packages, leading to a predicted process acceleration of ten percent. These improvements helped ensure streamlined collaboration and communication across a globally dispersed team.
A digital twin of the facility was generated as part of the design and construction process without additional labor costs or accounting associated with creating it after the facility is complete, saving an estimated $5.5 million. The digital twin is not only a twin of the facility itself but also of the organizational processes that are implemented during the physical replication and construction of this facility.
VOLGOGRADNEFTEPROEKT Founded in 2006, Volgogradnefteproekt, OOO provides professional architectural services in the Architectural, Engineering, and Related Services sector. The company is headquartered in Volgograd, Russia.
BENTLEY SYSTEMS Bentley Systems provides software that advances the world's infrastructure. Its software solutions are used by professionals and organisations of all sizes for the design, construction, and operations in a range of industries, including roads and bridges, rail and transit, water and wastewater, public works and utilities, buildings and campuses, mining, and industrial facilities.
For further information please visit: www.bentley.com/en