Exploring opportunities
Since its inception on August 24th 2011, Gabon Oil Company (GOC) has grown into a 130-plus employee company and formed several partnerships with oil and gas multi-nationals such as Perenco and PETRONAS. Created by the Presidential Decree No. 1017/PR/MMPH, GOC is whollyowned by the government of the Republic of Gabon. Its creation signaled the ambition of the government to become a more active player in the domestic oil and gas sector. The company's growth strategy is based upon the following four pillars: acquiring producing assets, reviving marginal fields, taking over operatorships of license-expiring oil fields and participate in new exploration ventures. GOC has laid out a vision to become Gabon's most admired company.
Although GOC today is primarily an upstream-focused company, it made its first mark in downstream, as Serge Toulekima, CEO of GOC begins: "In August 2012 GOC formed a partnership with Vitol SA to market the State's crude oil." By the end of 2013 GOC had lifted a total of ten cargoes corresponding to 6,727,321 barrels of crude oil; this was followed by a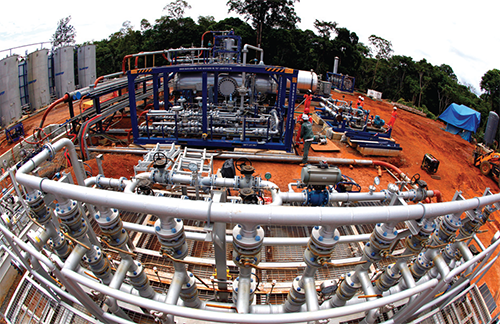 further eight cargoes being lifted in 2014 for a total volume of 5,113,062 barrels. "The sale proceeds that we obtained from international market were paid to the Public Treasury typically 30 days after the loading dates, as per standard industry practice," explains Serge. "We have also demonstrated that we can be competitive against the big trading houses like Shell and TOTAL."
In December 2012, GOC signed a Production Sharing Contract to develop Remboue oil field, which was previously operated by ADDAX Petroleum but was abandoned in 2009 due to falling oil price. "This is no mean feat, but we have managed to rejuvenate the old site and has successfully installed an Early Production Facility. We have completed a workover campaign which re-activated five wells and are currently making preparation to test these wells.
"Hopefully this Remboue project will cement our reputation as a full-fledged E&P company, a low-cost pioneer, and a credible technical partner for any company who wants to invest in Gabon. It is critical for Gabon to continue to invest in these marginal oil fields. Doing so would help to address the country's production decline and allow more time to find discovery in deep offshore, which is something everyone is hoping for."
Meanwhile, GOC is also partnering with Samsung C&T to construct a brand new refinery with a capacity to process 60,000 bbl/day of crude oil. This $2.3 billion project is expected to turn Gabon into a net exporter of petroleum products in the region. It is designed to maximise production of high value products such as gasoline and diesel while reducing the production of fuel oil to less than three per cent; 35 per cent of the refined products will be consumed domestically, while the rest will be exported.
In addition to these developments, GOC made history in January 2013 when it took over the operatorship of Obangue field and became the first Gabonese company that produced hydrocarbon. "Between 2013 and 2014, we produced 2.1 million barrels of crude oil, reducing the field operating costs to 15.7$/bbl when the country's average was 25$/bbl. Although Obangue was returned to ADDAX Petroleum in early 2014, GOC had demonstrated that we could operate a difficult oil field without major HSSE incidents. We had grown our in-house technical capability and successfully preserved the interests of the State," said Serge.
With most of Gabon's existing and producing fields on the continental basin, the country is now urged to go further and explore new frontiers – the deep offshore zones – to gain a new era of oil growth. This is one of the objective of the New Hydrocarbons Code introduced by the government during the final quarter of 2014. Subsequently, nine new PSCs were signed for exploring the deep offshore domain and GOC is granted the option to acquire up to 15 per cent equity in all new exploration PSCs.
Although Gabon is currently the fifth largest oil producer in sub-Saharan Africa, GOC is not resting on its laurels, and instead continues with its goal of becoming one of the leading energy company in Africa. To do this, the company will not only produce oil, but will contribute positively to provide an improved future fortoday's generation as well as the next. A feat it will achieve through the development of a more competitive national oil and gas industry and by supporting major social and infrastructure projects; the company will also be a trustworthy business partner, a responsible corporate citizen and the employer of choice for major talents in the industry.
"Our ambition is to become the engine that propels Gabon into an emerging economy by 2025. We aim to do this by improving the competitiveness of the oil and gas industry and ensuring GOC is your best partner for growing your business in Gabon," concludes Serge.
Gabon Oil Company
Services: Oil and gas exploration and production
Issue 125 October 2015