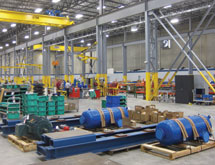 There are not many firms that have lasted more than 100 years and become the leaders of their markets, but Gardner Denver Inc.'s Nash Division has beaten the odds, Vice President and General Manager Vince Trupiano says. "[Our] background goes back to the Henry Ford era and Model T days," he declares.
The Bentleyville, Pa.-based firm is among the world's leading suppliers of liquid vacuum ring products for vacuum and compressed gas applications. Trupiano says the company's history goes back to 1905, when founder Louis H. Nash started the Nash Engineering Co.
In its early days, Nash developed vacuum stream heating systems and sewage collection systems for U.S. cities, along with vacuum pumps for pulp and paper. In the 1960s, however, the company started focusing on industrial markets in addition to commercial markets.
When the United States slipped into a recession in 1982, the firm began investing more in research and development. However, the gamble paid off for Nash Engineering; since 1984, the firm's sales have grown as it has introduced new products with customer-driven features and benefits.
In 2004, Gardner Denver Inc., a manufacturer of industrial equipment, purchased the firm and made it its Gardner Denver Nash Division. Today, Trupiano says, the company's products include vacuum pumps and compressors, engineered systems and steam ejectors.
"We serve a broad spectrum with our equipment," he says, noting that its main industries include oil and gas, chemical, nuclear, geothermal and conventional power, mining, wastewater treatment and other general industries.
In addition, the company's reach is worldwide. "We have a dozen different manufacturing, packaging, and service facilities around the world," he says, noting that the firm can leverage its technologies in such destinations as Brazil, China, Europe, Russia, India, South America, South Africa, the Middle East, Australia, Singapore and Korea.
Returning to the Roots
Trupiano joined Gardner Denver Nash in 2010. "I've been in the engineered systems industry for about 10 years beginning at UTC with Pratt & Whitney," he says, noting that his background also includes 17 years starting with Ford.
He says he was drawn to Gardner Denver Nash because of its long history, leading technology and global footprint. Also, he was quite familiar with its products. Early in his career, while working as an engineer at one of Ford's fuel metering plants, it had a fleet of Nash vacuum pumps operating on test stands.
"I knew the Nash name and the pumps were reliable," he says. "I went back to my roots [when I came here]."
Trupiano praises the company's staff, including its regional sales and operating teams. "[They are] really passionate about their business around the world," he says. "They completely embrace a common vision for Nash and Gardner Denver, and they operate very autonomously, but constantly support one another as a global team."
Under One Roof
This year, Gardner Denver Nash moved into its new divisional headquarters and North American operations facility in Bentleyville. Trupiano notes that the 101,500-square-foot structure has expanded the company's capabilities.
For instance, the facility allows the company to lift heavier loads to higher hook heights with multiple overhead gantry cranes. "With our drive through grade level docks, we can live load our packages, which weigh 20 to 30 tons," he says, adding that the new building also allows the company to move its operations from a smaller, less capable facility in nearby Elizabeth, Pa., into "a world class facility.
"We're combining [four] sites into one, which include the operations, distribution center, divisional offices, R&D and marine products, which serve the U.S. Navy," he says. "All of that [has come] under one roof for North America."
The new site also allows Gardner Denver Nash to better serve its clients in the Marcellus Shale region. "We were able to pick a great location for our customers," Trupiano says.
Driving Forward
Gardner Denver Nash has plans to grow in the future, Trupiano says. This will be managed by gaining larger shares in the oil and gas, and chemical markets with new products. "We will also be continuously growing our aftermarket and service capabilities to better serve our customers," he says.
The company also plans to grow sales and share in growth markets for use of its products, Trupiano says.
"[We want to] grow in our offshore and other upstream oil and gas businesses, inclusive of developing markets, such as India and Russia," he adds.
Lastly, Nash is also integrating a multi-stage and high speed blower systems line into the new Bentleyville site by year's end, adding 15,000 square feet of manufacturing, test, warehousing and office space to the site. EMI