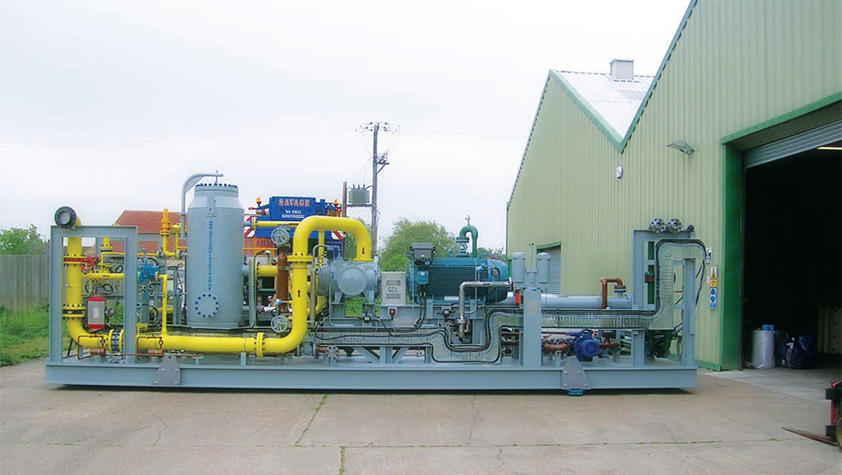 Compressed success
Gas Compressors Ltd (GCL) is a dependable, independent compressor packaging company, which specialises in the design, manufacture and commissioning of large and medium sized, custom built/bespoke gas compressor, booster and blower packages for worldwide use.
The foundation stone of the company is its flexibility, as it is not tied to any particular sub-vendor, compressor manufacturer or compressor technology, but instead supplies the most suitable type of machine for every project. Indeed, its top quality, unique, packages are a source of pride to GCL and it is careful to provide the customer with their exact requirements, including delivering on time and continuity of care throughout each project.
Founded as a small one man operation just 13 years ago by current managing director Rupert Easter, GCL today employs a team of 40 staff, which includes design, manufacturing and engineering personnel, with years of experience and the ability to optimise machine selection, and thereby allow customers to gain maximum economic advantage.
"The concept behind my founding the company still remains today," confirmed Rupert. "We design and build custom compressor systems for various applications, and we source components from all over the world, from lots of different manufacturers so that we can comeup with the best technical solution for any given application. We use lots of different compression technologies in our machines including blowers, rotary vane-, screw-, reciprocating- and centrifugal-compressors. We can design units to operate from vacuum to hundreds of bars of pressure, and with flow rates from 10 m3/h up to 100,000 m3/h. Typically our maximum power is 7.5 MW / 10,000 hp although larger is possible in certain types."
This list of technology perfectly illustrates GCL's company ethos, flexibility of choice. "There aren't really any other companies identical to us, specialising in custom design and totally different concepts," said Rupert. "I will design something that hasn't been built before whereas competitors have pretty standardised packages. We do some of that but are winning more business in the one-off type field. So we will source items such as compressors from large, well known companies like GE, as well as smaller mechanical components, such as motors, pumps and electrical instruments, but all the process and mechanical design is done in-house, and we build the vessels, pipes and structural steel, perform the testing and create all the electrical control panel and power control panels."
This sort of design-led bespoke package requires working closely with clients, and this is an area where GCL excels. "Once we have got an order, we work in partnership with a customer to come up with a completed design that we are happy with from a process and mechanical perspective and they are happy with how it fits into their footprint and what they want it to do," said Rupert. GCL also ensures clean and clear communications between all parties and a methodology of teamwork from end user to supplier ensuring precise, efficient and timely build and delivery. The team is available to speak with customers 24 hours a day when necessary, and always tries to respond within 24 hours to any query. It also provides maintenance, spare parts, training and local support.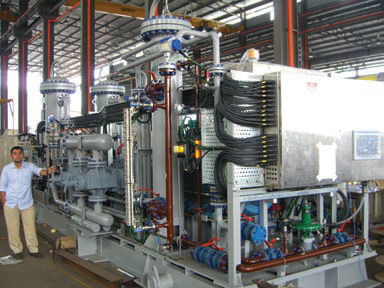 This high quality service is in demand in both the oil & gas and power sectors, with typical applications for GCL products including: fuel gas boosting for gas turbines and gas engines, gas recycle, wellhead, associated gas, sour gas, vapour recovery, gas storage, boil off gas and pipeline gas. Its also produces machines for industrial gases, such as nitrogen, oxygen, CO2 and SF6.
Customers from around the world utilise these systems and GCL has a client list that features names such as Rolls Royce, INA, IGSA, Perenco, Jacobs Engineering, Salamander Energy and BP. One of its most recent projects is with John Zink, a flare gas recovery company, which is part of a very large development in Turkey. "We are manufacturing eight twin stage rotary vane compressors for flare gas recovery for that contract and overall that is a massive scheme to be part of, and will take a year for us to complete," said Rupert. "Usually we estimate six months for our orders to go from design to delivery, which is very fast for our industry – but this one is more involved and will take more time."
Turkey is an area where GCL is seeing a lot of business activity, as is Russia. "We are getting a lot of enquires from Turkey, and the country seems to be buzzing at the moment so we are keen to tap into that," added Rupert. "Although to be fair the market is strong generally everywhere currently, there are a large quantity of projects going ahead around the world in which we could be involved. We would also like more work on the Indian subcontinent but that hasn't quite come to fruition as tenders in India especially seem to be too tied up with politics."
When he founded the company, Rupert contracted out fabrication to other companies but it was always his vision to bring this in-house. Today GCL has its own factory where his staff manufacture all vessels, piping, structural steel, controls and electrical and software under one roof. Rupert foresees further expansion on the horizon: "I would like bigger facilities, as we have got a 15,000 sq ft factory at the moment and are essentially finding that too small so are considering some sort of move, but staying close to where we are now. Ideally, I would like to build a brand new factory from the ground up, around five or six times bigger than this, designed to our exact specifications."
He concluded: "This is our short-term ambition as there is so much growth and impetus in the market that I would like to be able to embrace it when it's available. The number of jobs we could secure is substantial and we are talking large sums of money overall, so really these are quite exciting times for us."
Gas Compressors Ltd (GCL)
Products: Bespoke gas compressor systems