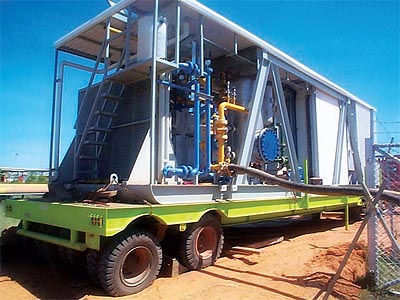 The pressure generation
Gas Compressors Ltd (GCL) was founded in the spring of 2000. From the earliest days, the ambition was to operate the business as a fully integrated facility.
Recognising that success could only be built on a foundation of design expertise Rupert Easter, CEO, explains: "From the outset our focus was on the design; the build was subcontracted to outside steel fabrication companies. After ten years of operation we extended our capabilities, developing a large in-house manufacturing facility in 2010." It is a step opposite to the direction which many companies take as they seek to outsource. "I wanted the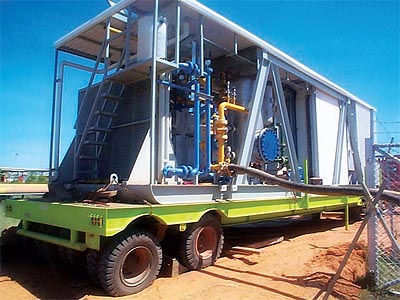 business to take control of quality and manufacturing scheduling, and from our large facility in the county of Kent, UK we are able to do this.
"We are a gas compressor packaging company, which essentially entails the design of gas compressors, skids and packages and construction that includes fabricating pipe, vessels, skids and structural steel. We have developed close relationships with a variety of manufacturers of equipment such as motors, compressors and heat exchangers, and our finished products and solutions attract customers from oil and gas, power generation and several other markets. Specialising in engineering and draught work we employ six AutoCAD Inventor draughtsmen, five electrical and mechanical engineers, various other office staff and 25 shop floor welders, fitters and electricians. We design and build each package, undertaking everything from basic to detailed design of vessels, calculations, manufacturing of vessels and piping and also design and build control panels, systems and electrics, with associated controls software. In fact, the only activity we currently outsource is the final painting of the units."
From its headquarters and facilities located in Tonbridge, UK, the company operates worldwide, with current production contracts set for delivery in Turkey, Thailand, Russia and Iraq, and recently completed projects in Croatia, Congo and Brazil. The customer base includes a good proportion of the world's oil and gas majors, large EPC contractors, refineries and power plants.
Rupert explains that over the past year, the gas compression market has been growing very strongly and continues to do so: "As our workload continues to increase, we are looking at solutions to grow in line with the market." Typical applications within the oil and gas industry include flare gas recovery, fuel gas boosting for turbines, recycling in gas processing plants and refinery applications.
"One of the challenges we face more now is the process of how to build bigger skids and how to deliver them. The units are often too big for transport on road as a single item, so we are often required to design and build them in a way that they can be dismantled after factory acceptance tests and then reassembled on site. In that situation we follow the delivery to site and supervise the rebuild before carrying out further site acceptance tests." GCL has several ongoing projects in Russia, Asia and the Middle East, and a wealth of previously completed projects.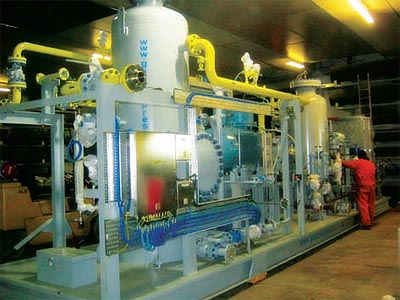 In December 2012, the business reached a major milestone, picking up its largest order to date. The project is for eight large skid units with air coolers and buildings to be used in flare gas recovery, one of GCL's biggest and very much growing markets. Each compressor system features a twin stage rotary vane compressor, and the units are destined for incorporation into the total flare gas recovery upgrade that is underway at three major refineries within Turkey. "We have already delivered more than 40 full truck loads to the project," highlights head of sales, Tony Silk.
"All of our clients comment on the quality of our work, particularly our welding. We have always sought to employ the best welders in the industry. In our fabrication facility we currently work under an all TIG welding process, which although is time consuming, the quality of the finished product is fantastic."
GCL is an authorised packager for the following compressors: Gardner Denver, GE and Tuthill blowers, Ro-Flo rotary vane compressors, Howden, GEA Grasso and Vilter oil flooded screw compressors, GE and Knox Western reciprocating compressors. Other compressors available through GCL are oil free screw compressors, centrifugal compressors and diaphragm compressors.
Drivers can be electric motor, gas engine, diesel engine or steam turbine. Gas turbine drives are to be offered in the future. The business has recently employed a new operations director, Lee Clift, with a strong background from the oil and gas industry. The drive behind the appointment is the development of the production operation undertaken by the business. By enhancing the profitability and efficiency, Rupert looks positively towards the expansion of production and company size over the next three years: "We have got a lot of big projects in the final stages and we believe we are in a position to win several more large projects. We were recently successful in a tender for a project in Southern Iraq on a fuel gas project which is now in the early stages, and we are confident that future orders for flare gas recovery projects and shale gas will come in this year."
New enquiries should be directed to Tony Silk, who can be reached through info@gascompressors.co.uk and directly at +44 7714 951251
Gas Compressors Ltd
Services: Worldwide provision of sales, design, manufacture and commissioning of large and medium sized gas compressors, blowers, vapour recovery units, from small up to 20 MW size, and all pressures and compression technologies