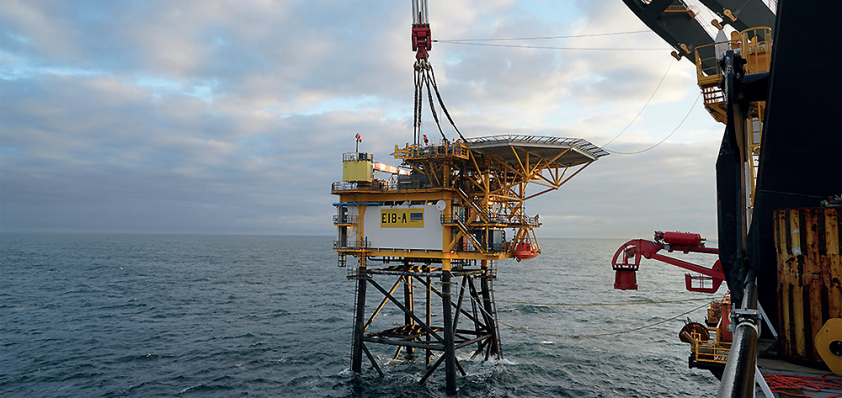 Gas field comes on stream
Wintershall Noordzee B.V. (a Joint Venture of Wintershall Dea and Gazprom EP International) has successfully started gas production from its operated Sillimanite field. Discovered in June 2015, the unitised gas field stretches across the UK and the Dutch Continental Shelves and is located approximately 200 kilometres off the coast of Den Helder.
As part of its sustainability programme, the company also, for the second time, recycled the topside of its recently decommissioned E18-A platform, formerly P14-A topside, in the Sillimanite project.
"With first gas from Sillimanite we once more underline our ability to successfully explore for hydrocarbons and transfer development projects successfully into production. As Sillimanite will increase the amount of gas produced in Europe, it underlines Wintershall Dea's capabilities as Europe's leading, independent gas and oil producer," says Hugo Dijkgraaf, Chief Technology Officer and Board Member at Wintershall Dea.
Partnership extended

PD&MS Group is going to continue to support a leading North Sea operator with engineering operations across its assets in the UK Continental Shelf (UKCS), after securing a new contract for a further three years, with options to extend by a further two years.
Commenting on the deal, Simon Rio, PD&MS Chief Executive said: "Being awarded this three-to-five year contract renewal is testament to the consistent high quality of work our teams have been delivering on their assets over the past two years.
"Our joint openness and collaboration has allowed us to apply value-adding and sustainable working practices and we look forward to working in partnership with them and providing engineering expertise to maximise recovery and support the energy transition agenda."
The new scope follows on from the successful completion of a two-year campaign with the E&P organisation, where PD&MS has delivered a range of modifications and capital projects including new wells, caisson repairs and replacements, as well as an accelerated scheduled lifeboat upgrade.
PD&MS VP of operations and projects, Liam O'Neil added: "Our fit-for-purpose approach has proven well suited to our client's strategic objectives and principles, and has established us as a trusted and reliable partner. One of our core values is to engage directly with our partners and we feel that the learnings we have implemented together over the last two years sets us up for even more success over the new contract term."
Local support

Killingholme-based Fussey Engineering has been hired to supply and install steel framework and cladding at the National Grid 400kV substation site adjacent to the Ørsted's newest offshore wind farm, Hornsea Two.
The steelworks, which will involve the construction of an annex building adjoining the National Grid substation, includes around 30 tonnes of locally sourced steel. Construction of the building annex is anticipated to complete on the 1st April, and once complete, it will house the switchgear to control the feed in to the national grid.
Supplying the needs for National Grid is principal contractor Siemens Energy, who awarded the tendering works to Fussey Engineering. Senior Project Engineer for Siemens Energy UK, Lee Laffey said: "Not only was there a logistical advantage of having the steel framework supplier so close to the site works with regards to carbon emissions, the expertise provided by Fussey's and their proven track record in providing a quality product together with a qualified workforce able to work within the constraints of a live electrical substation made this a double win for Siemens."
In Brief
Research reveals failures
New DNV GL research based on more than 1000 failure cases has revealed that tubes and piping are the most failure-prone components in the oil and gas and maritime industries. Fatigue and corrosion are the most common failure types.The accumulation of more and better data and learnings from failures can be applied in the front-end engineering design phase of development projects to engineer more robust assets. During operations, learnings can enhance optimisation of inspection, repair and maintenance for more efficient and safer use of capital and people.
Bendy energy
A new bendable supercapacitor made from graphene, which charges quickly and safely stores a record-high level of energy for use over a long period, has been developed and demonstrated by UCL and Chinese Academy of Sciences researchers. While at the proof-of-concept stage, it shows enormous potential as a portable power supply in several practical applications including electric vehicles, phones and wearable technology.
Top award
The solar division of electronics specialist LG Electronics, has been awarded the Top PV brand in Europe in the Module category, for the seventh consecutive time. The annual independent survey by Bonn-based market research company, EuPD found LG Solar had the top brand perception and management in the PV Industry.
Michael Harre, Vice President of the EU Solar Business Group at LG Electronics was delighted to win the award again, and highlighted the businesses' philosophy – to combine innovative and high-quality technology with a partnership approach that is tailored to the requirements of installers and users.