Crossing borders
Gasunie is a European gas infrastructure company, with a network that ranks among the largest high-pressure gas pipeline grids in Europe – it consists of 15,500 kilometres of pipeline in the Netherlands and northern Germany.
Each year, Gasunie transports about 125 bcm of natural gas, offering transport services via its subsidiaries Gasunie Transport Services B.V. (GTS) in the Netherlands and Gasunie Deutschland GmbH in Germany. In fact, Gasunie was the first independent gas transport provider with a cross-border network in Europe.
In addition to gas transportation, Gasunie also offers gas storage facilities (Gasunie Zuidwending), the pipeline to England (BBL) and the LNG terminal Gate at Maasvlakte. In addition, it facilitates and stimulates the green gas market through its subsidiary Vertogas.
Due to the reliability and strategic location of its network in relation to growing international gas flows, the Gasunie network forms the heart of what is known as the northwest European 'gas roundabout'.
This roundabout consists of infrastructure belonging to GTS and Gasunie Deutschland, which serves both home markets, as well as linking to different 'junctions'. Together, the whole system ensures that gas can be easily transported between Russia and the UK, from Belgium to Denmark, and even Qatar to Rotterdam as LNG.
In 2012 there was a significant sign that the European gas roundabout is playing an increasingly important role in the European gas market – trade on the Dutch gas trading exchange TTF (Title Transfer Facility) grew by almost 20 per cent.
Echoing these positive results was Gasunie's own 2012 annual report, which highlighted solid results for the organisation in that year. Net profit amounted to 359 million euros, and operational activities in the fields of safety and security of supply also achieved good results. Total costs fell by two per cent in the past financial year, partly due to a multi-year efficiency programme.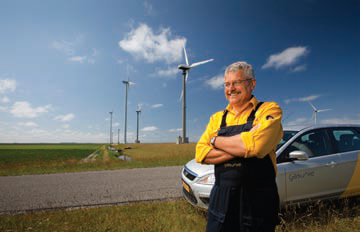 Over the past two years there has been a raft of exciting partnerships, agreements and developments at Gasunie, including the signing of a joint declaration in 2012 between Energinet.dk (Denmark), Fluxys Belgium and Gasunie, which is aiming at 100 per cent carbon-neutral gas transmission in their networks in 2050. In 2013 GRTgaz of France and Swedegas of Sweden joined the initiative. Gasunie believes that gas infrastructure is key to proactively help develop the solutions required for the realisation of a low carbon scenario for Europe.
Another noteworthy highlight is Gasunie's involvement with the newly established North Sea Power to Gas Platform. This has been formed to further develop the concept of Power-to-Gas (P2G): the conversion of renewable power into gas. P2G will play an increasingly important role in Europe's future energy system, as it reduces temporal surpluses of renewable power by converting these surpluses into gases.
Furthermore, in 2013 Gazprom and Gasunie inked a document that stipulates co-operation between the companies in exploring the possibilities for the Nord Stream gas pipeline expansion as well as setting up other infrastructure projects to secure gas supply for northwest Europe and the UK.
In March 2013, Gasunie and IntercontinentalExchange, a leading operator of global markets and clearing houses, announced the launch of ICE Endex, following receipt of competition clearance by the Office of Fair Trading (OFT) in the UK and the declaration of no-objection from the Dutch Ministry of Finance. Just a month later in April 2013, 19 major transmission system operators (TSOs) from seven European countries, including Gasunie, announced the launch of the new PRISMA European Capacity Platform at the FLAME conference. From that day, day-ahead capacity at various European interconnection points was offered through the platform. The announcement of the TSOs came less than a year after signing a Memorandum of Understanding at 2012's Flame Conference.
The creation of the PRISMA joint capacity platform is a major step towards creating the EU internal gas market. It proves that when European network operators work closely together towards a joint goal and bundle their experience, the involved partners can succeed in implementing the future European market rules two years ahead of their time.
It is clear that during his tenure at the company as CEO, Paul van Gelder has led Gasunie through a remarkable transformation, and kept the company on track through turbulent times. The company is now strong both operationally and financially, and Paul has now decided to look for a new challenge. He commented: "Gasunie is a unique company with very professional employees. It has been an honour to lead this company and contribute every day to safe and reliable energy supply in the Netherlands and Germany, one of the most important pillars in our society and economy. I'm convinced that Gasunie will continue to make a significant contribution to an energy mix that is not only cleaner, but also affordable in the long term."
Gasunie
Services: Gas infrastructure company