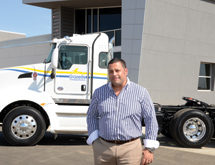 Gazelle Transportation Inc.
Gazelle Transportation Inc. looks to become the nation's premier crude oil transportation company and believes it holds the key to achieving that goal because of its dedication to on-time hauling and safety.
The company was founded in January 1993 and is recognized as one of the industry leaders in providing safe, reliable and competitively priced service to the oil and gas industry. Gazelle transports crude oil by truck from California, Texas, the Rocky Mountains area, New Mexico and Wyoming. "Our commitment to safety, our people and providing customers with quality service is what sets us apart," President Ron Lallo says. "Our customers expect oil to be hauled on-time and most importantly, our customers are seeking safe, incident-free service."
A new 8,000-square-foot office was custom-built for Gazelle this year in Bakersfield, Calif. Gazelle operates a centralized dispatch from there, which makes it unique and its operations run more efficiently. "This is our home and brain center of our organization," Lallo says.
Safety First
Gazelle operates and maintains its facilities and equipment to meet or exceed regulatory standards. "All our equipment is the newest, most cutting-edge equipment and we have collision-prevention technology in the trucks for the drivers, who also go through extensive training," Lallo explains. "Everything we do is focused on making sure our people get home safely every day. And when our people are safe, our customers are, too."
Safety will also be a major focus for oil companies and independent producers. Regulatory agencies and the communities where the trucks travel through also put added pressure on and expect transportation companies to operate safely, Lallo explains. "We want those members to know that when they see a Gazelle truck in their towns that it's running safe and responsibly to keep people and the environment safe. We want to be safe and responsible partners."
Every driver hired is trained on the specifics of driving the company's trucks and taught the basics of the oil and gas industry. Gazelle employees take personal responsibility to also be aware of and comply with all environmental requirements and go beyond those to be good neighbors, Lallo explains.
The major challenge Gazelle is facing today is securing qualified drivers to operate its trucks. "Good drivers are hard to come by," Lallo says. "It's a major, major issue and that's why we spare no expense on trucks and safety."
The company's headquarters and locations around the country offer gymnasium access, comfortable driver rooms and wellness programs to keep driver retention high. Technology is also state-of-the art and proprietary, Lallo says, but is used for fleet maintenance, tracking trucks, increased productivity and operational planning.
Booming Business
The oil and gas industry is booming and Gazelle wants to make sure it is taking advantage of every opportunity that comes its way. It's looking to become recognized as the nation's premier crude oil transportation company, Lallo says. Gazelle received the 2013 West Coast Trucking Company of the Year award from the Oil and Gas awards. "All our growth has been organic because of our great relationships with the best crude oil-producing companies," he adds.
Gazelle is looking to expand its services into additional crude oil regions and is targeting Bakken, N.D., Woodford, Okla., Barnett, Texas, Haynesville, La., and Utica, Ohio. "We are definitely a growth-oriented company," Lallo says. "Our long-range vision is to have a presence in all the crude oil-producing regions where we can provide long-term, sustainable service."
However, because of the major skilled driver shortage, Gazelle's number of drivers has dictated its growth.
"We could be three times the size we are right now, but we aren't interested in growing for the sake of growing," Lallo says. "We want to keep the roads safe and be responsible."
The company is constantly reviewing resumes and hiring drivers, and it expects it will add 30 drivers by the end of 2013 to fill the demand. "Our trucks bring drivers in and our existing drivers are the best recruiters we have," Lallo says. "If we keep them happy, it breeds success among driver ranks and solicits people from outside."