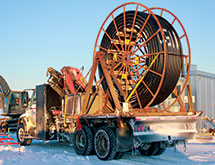 Gazelle's Group of Companies
Kleenex, Q-Tip and Dumpster: these three brand names have become so synonymous with their particular products that they're often used to describe any facial tissue, cotton swab or large garbage container, regardless of the brand. For oilfield professionals in Alberta and beyond, the brand name Insulation Snakes is just as much of a household name and general descriptor for any product used to wrap around and insulate pipe.
"There are companies who have imitated us, but no one has a better or more diverse product line than we do," says Brian Impey, president of Gazelle's Group of Companies, the brand's owner.
Impey developed Insulation Snakes shortly after founding an oilfield maintenance company in 1985. One of Impey's early clients required him to insulate its wellheads and surface piping, a task he accomplished at the time by going to the hardware store, buying rolls of insulation and plastic, and taping them onto the well's piping.After being tasked by his client to develop a better way to insulate the wells, Impey developed and patented a product that was removable, reusable and economical. The basic Insulation Snake was fiberglass insulation inside a long plastic tube that could easily be wrapped around pipe. In the years that followed, the product line grew to more than 25 variations, many of which are available in different widths and sizes."The industry over time recognized the value of the product, and it grew in sales and widespread use, to where it is now the standard for insulation in the oilfield for that type of application," Impey notes. "We've always been an innovator, and our products continue to have a higher quality than the knockoffs."
In addition to its oilfield products, Gazelle's also produces snakes for use in the commercial and mobile home/residential sectors. The company recently introduced a new product in colors other than the traditional black, which often attracts birds and other animals because of its resemblance to a garbage bag. The new colored snakes also include a rodent repellent built into both the insulation and the plastic to discourage creatures from nesting inside the Insulation Snake™.
Integrity First
Gazelle Group's Insulation Snakes business unit is one of the company's three main divisions. Gazelle Oilfield Services Ltd. is an oilfield maintenance and equipment rental provider that also offers road maintenance and new facility construction services. Canline Pipeline Solutions provides turnkey pipeline remediation services including liner installation and new pipeline installation.
Impey attributes the success of The Gazelle's Group of Companies to their ability to build relationships with suppliers and clients. "A successful person has relationships that come through trust, and trust comes as a result of honesty and integrity, and that's really the key to any relationship, not just business," he says.
Impey says he maintains a high level of integrity and honesty in his private life, as well. "I'm a God-fearing man with a wonderful wife and seven fantastic kids," he says. "As far as work goes, I what I do because I have a wonderful family and great staff and need to support them."