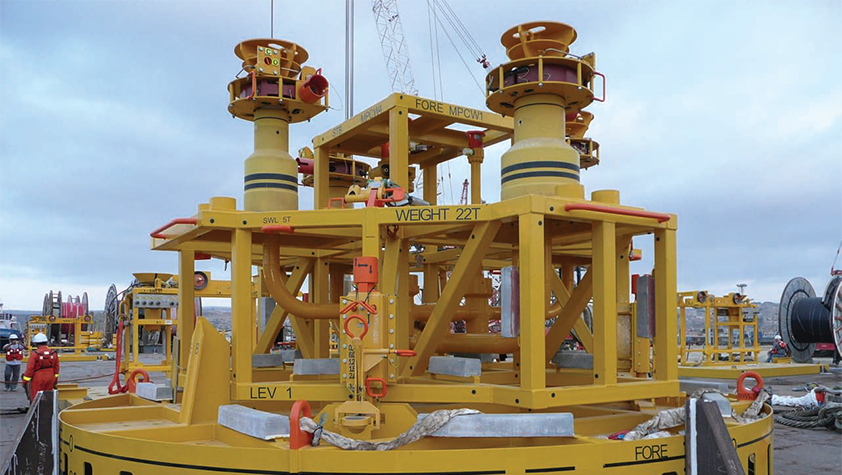 Revolutionary approach
Facing a surging global demand for critical subsea oil and gas production equipment as the energy industry also deals with a shortage of skilled engineers, GE Oil & Gas is expanding its Structured Products Portfolio of pre-engineered subsea product lines to dramatically reduce the time it takes to design, deliver and deploy vital subsea production equipment to customers, meet evolving equipment needs, and tackle the challenges faced by offshore companies.
Traditionally, large super-major oil and gas companies have long required more customised subsea equipment, going back to the early days of subsea exploration and production in the 1980s when companies were developing their own individual, project-by-project operations and in an era when fewer government regulations existed. Only after subsea activities became more commonplace did these niche project specifications start to cause problems in terms of project delivery times.
Flash forward to the 2000s. With more offshore companies now needing faster equipment delivery times to meet their urgent project timetables and with the global energy industry facing a shortage of skilled engineers, GE introduced its Structured Products Portfolio to include more standardised, prefabricated products, while also still offering customised components when required by a customer.
The company first utilised the Structured Product approach in the development of more standardised subsea production trees to complement its more customised product lines.
GE's subsea manifold systems are the latest to join its Structured Products product family. Conventional manifold systems were designed as modular blocks that were customised to meet a customer's individual configuration requirements and design options. GE Oil & Gas has more than 20 years of experience in this segment and has deployed more than 100 custom manifolds around the world. The new subsea manifold offering can be more quickly deployed to meet a diverse range of applications. The new manifolds option can help reduce manifold delivery times by up to 50 per cent, depending on various project factors. Meanwhile, GE's new manifold offering can still be reconfigured to meet individual project conditions, up to a fully customised solution if customers prefer.
The Structured Products approach represents a significant evolution in how GE designs, delivers and deploys its subsea product lines on behalf of customers. Previously, GE would meet with customers in advance to discuss their specific project requirements and then design customised product solutions for them.
But now GE also can offer customers the option of a pre-engineered tree or manifold solution that can meet a variety of project conditions. The goal of 'product structuring' is not to make something different but, rather, to optimise the execution model by avoiding special adaptations while also working proactively, ahead of time, to develop something that is pre-designed and pre-aligned with a customer's needs.
Initially, GE focused its attention on smaller, independent companies that require detailed solutions but also are more comfortable using more standardised equipment when compared to the larger super major companies, which preferred the more customised approach until they, too, began to recognise the economic benefits of becoming less dependent on customised systems.
Instead of rolling out the programme independently, to foster early industry acceptance of its new Structured Products strategy, GE has collaborated with a number of key customers to design and evaluate the new subsea manifold option for a number of projects, including off the coast of Angola. These companies could also expand their discussions to include offshore projects in Asia, the Gulf of Mexico and Brazil. So far the initial response from customers has been very positive as they recognise the logistical and cost-savings gained by reducing their dependence on customised technologies.
Looking ahead, to make the Structured Products Portfolio initiative work as effectively as possible, GE recognises the need to work with customers to meet their quality inspections requirements in a way that does not impede the streamlined delivery schedule. GE is committed to building customer confidence in its new streamlined supply chain strategy; in contrast to the current model in which the customers need to be able to inspect components all the way back to the steel mills where forgings are taking place. If this process can be improved then it's a 'win win' situation for GE, for the customers and suppliers that will all be in the same boat, pulling in the same direction.
In addition to reducing their project delivery times, offshore companies also are looking for more standardised equipment that is easier to operate in the face of a continued global shortage of skilled engineers. The lack of sufficient personnel with subsea project experience means customers cannot develop the desired volume of projects that they would like to at the pace they want to maintain under the current labour supply conditions. This skilled workforce shortage has become a major driver in generating customer interest in expanded standardisation of products specifications and document requirements.
Also driving this move to greater acceptance of standardisation is the fact that customers are also looking to lower their own operational costs by requiring their engineering employees to more closely examine the cost-benefit ratio of selecting a customised solution over a more standardised approach.
In addition to helping its offshore oil and gas customers streamline their own project installation schedules, the new Structured Products strategy also enhances GE's competitive position as a leading supplier of subsea components as the industry seeks ways to streamline their engineering, manufacturing, and delivery supply chain delivery times and costs.
GE recently embarked on a modernisation and expansion of its UK subsea equipment production facilities, including at its subsea headquarters site in Aberdeen, as well as in Montrose, Scotland. The upgrades will support GE's smooth rollout of the Structured Products Portfolio by giving the company more flexibility to adjust equipment production schedules at a given facility. In short, GE's Structured Product Portfolio represents a productivity game-changer in the subsea segment from both an engineering capacity and supply chain optimisation perspective.
GE Oil & Gas
Services: Advanced oil and gas and offshore technologies and services