Pushing boundaries
With roots dating back over 130 years, Geka Bouw (GEKA) has a rich history of national and international expertise in delivering projects for ports and terminals on both land and water. As no single project is standard, GEKA is proud to rise to the challenge of providing the right bespoke solution to clients, encompassing the company's key values of safety, courage, flexibility, decisiveness and reliability. The company was established in 1885, representing one of the oldest piling companies in the Netherlands and today operates as a wholly owned subsidiary of CFE Netherlands BV – a leading professional player in infrastructure and industrial works.


Through its knowledge and proven industry track record, GEKA is able to serve clients within the private, government and semigovernment sectors. GEKA represents a versatile business operating within a variety of industry disciplines, ranging from concrete and industrial construction, hydraulic engineering structures and foundation techniques to the maintenance and inspection of civil and hydraulic engineering projects. By encompassing its own in-house engineering department, GEKA is able to design, calculate and draft turnkey design and construction projects from under one roof. The combination of the company's long history of expertise, its team of highly skilled individuals and state-of-the-art machinery, allows GEKA to contribute ideas and build solutions that provide clients with full peace of mind.
The broad range of engineering and construction projects undertaken by GEKA includes several infrastructure works with Dutch ports. For example, the company was involved in providing a new jetty for the Rubis Terminal in Rotterdam during 2015 and was further recently awarded a large contract to renovate weir complexes located on the river Lek. The German conglomerate Siemens won the order to upgrade the weirs at Hagestein, Amerongen and Driel in the Netherlands with operational, control and network technology.
The order itself is valued at around €100 million and will involve the modernisation of three weir complexes on the Dutch Nederijnn and Lek rivers. The weirs were originally developed between 1960 and 1970 to act as barriers across the rivers to regulate the discharge of water. The intention of the Dutch weir complexes was to ensure that the water depth of the river was kept at a constant level. During instances of excess discharge of water from the Rhine, the weirs are opened to channel the excess water to the sea at a much faster pace to avoid overflows. Under the terms of the order, Siemens is responsible for replacing technical installations and moving systems at the complexes, as well as upgrading the facilities for remote operation. Work is expected to be completed during 2021 and will be carried out by Siemens in co-ordination with partners GEKA, BSB Staalbouw and Knook Staal – en Machinebouw.
The design calculation and building of hydraulic engineering structures represents one of the principle activities undertaken by GEKA. The company has successfully completed the construction of ocean and inland waterway jetties, fender piling and quay mills. GEKA is able execute operations ranging from smaller projects through to larger, more complex works. This is undertaken by the company's own fleet of equipment, including crane pontoons, cranes, vibration hammers and other equipment, as well as its teams of pile-driver operators and welders. These allow GEKA to carry out works completely independently and without the need to outsource work.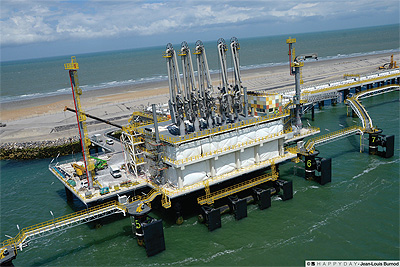 Concrete and industrial construction is another important discipline in which GEKA is active, partly because of its connection with its international parent company CFE. Examples of completed work within this sphere of operations include, the construction of engineering structures such as sluices, bridges and viaducts; tank farms; impermeable floors; loading bunkers; as well as work on railways, bridges and underpasses. Furthermore GEKA is one of the longest established pile-driving companies in the Netherlands. Throughout its history it has continually developed new ideas to resolve foundation issues and has delivered foundation works on land and in water using wet and dry piling, tubular piles, sheet piles and combi-walls.
Since the company was founded GEKA has enjoyed great success and developed strong relationships with its clients. During the past five years it has experienced a number of significant milestones, including the move to its new premises in Kildade in Dordrecht, which is shared with CFE. The relocation to Kiladae allowed for greater sharing of specialist skills between GEKA and CFE, resulting in the award of several major hydraulic engineering projects. These included the construction of LNG piers at the Maasvlakte in Rotterdam and the building of mooring facilities for the Pioneering Spirit at the new Maasvlakte 2, which were technically demanding works, that GEKA was able to meet and complete successfully.
Throughout 2016 and beyond, GEKA will seek to be involved in the maintenance and development of many more of the world's piers. This will involve the delivery of the company's niche skills to new clients in new markets globally. With its proven track record GEKA has demonstrated that it is flexible, innovative and reliable, which is why many of its clients have remained loyal to the company for a long time and why GEKA is confident that it will add many new clients to its growing portfolio over the coming years.
Geka Bouw
Services: Engineering and construction