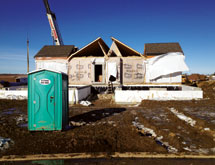 Genco Bakken Development LLC
Before 2008, Joe Genovese was developing land in southern California, Nevada and Arizona. "Then everything went tops-turvy in that part of the world, so we came up to the Bakken area just about three years ago this month," recalls Genovese, who now is president of Genco Bakken Development LLC. Currently in the promised land of shale oil development, instead of sitting vacant, the homes in his developments cannot be built fast enough.
Genco Bakken Development presently is working on two developments in North Dakota – Northern Lights in Minot and Lukenbill Estates in Williston. The developments offer the speed of modular home building without the appearance of prefabrication. Currently, the first 80-acre parcel of the 155-acre Lukenbill Estates is being developed into 210 13,000-square-foot lots.
"It may bump up to 300 lots in the spring if we decide to put a twin-unit product out there instead of straight single-family units," Genovese says. "We have a modular home builder partner – Champion Homes out of Troy, Mich. – that is providing the houses and doing the set work. So we build the lots and do the infrastructure – water, sewer, storm drains and roadways. They dig the foundations and do the garages or whatever the homebuyer wants, and they set the homes accordingly."
The Price Is Right
Genovese still struggles to bring in his projects at a good price point. "We think our competitive advantage is that we're making a nice margin and still able to keep the costs well below the current market value," he says.
Modularity enables housing to be built in a factory in approximately four weeks. From the time an order is sent out for a house to the time it is built, set and ready for occupancy currently is 85 days, although Genovese hopes to reduce that to 70 days.
Modularity Not Apparent
Homes in Lukenbill Estates are entry level, whereas many of the homes planned for the 400-acre Northern Lights in Minot – which is a $400 million master planned community – have stone faces, decks, patios and dormers.Genovese expects to have sales of the homes in Lukenbill Estates completed by the end of 2014. Construction of approximately 3,500 apartment units, duplexes, triplexes, single-family detached and custom homes is scheduled for completion at Northern Lights by 2017. Currently, the first 110 acres of the site are being developed, with approximately 250 twin home units named Stateboro and a 245-lot single-family detached development next to that named Idlewild.
For the future, Genco Bakken Development Group is planning two developments in Nevada in Winnemucca and Elko that are near gold mines. The company also is beginning projects in both Mandan and Grand Forks, N.D.
"We are going to look for good opportunities to buy the land right and do development at costs that are conducive to making a decent profit on it," Genovese concludes. "We've been pretty well-received to this point."