Lay of the land
Founded in 1992, Geokrak's ambition was to introduce a Western style of geological services to the Polish market.
Whilst momentum was initially slow as the market adapted to these types of services, by 1994 Geokrak had embarked on its major contract working on a coal bed methane project for Amoco. From this starting point the company has grown its reputation in the field of geological services, mud logging, core analytical services, environmental studies, mapping, desorption, and well site services.
Geokrak has also expanded outside of its home market into other European countries such as the UK, the Netherlands, Denmark, Germany, Hungary, and even France and Ukraine. "At every stage of development in the company we have gained very good partners in Western Europe such as Petrolog in the Netherlands, GeoData in Germany and Kirk Petrophysics in the UK," describes chief executive officer Jan Purchla.
"These partners introduced us to Western standards of service, which gave us an advantage compared to other Polish companies as from the very beginning we co-operated closely with other operators to learn from them and introduce them to the Polish market, and vice versa," he adds.
Of course, in terms of the oil and gas industry, the greatest area of Geokrak's business is concerned with well site geological services for deep drilling. This encompasses design, mud logging, and geological supervision and co-ordination during drilling. Together with its various partners, Geokrak has participated in projects beyond Europe into areas as diverse as Tunisia and North Africa, the Middle East, Saudi Arabia, Oman and Chile in South America.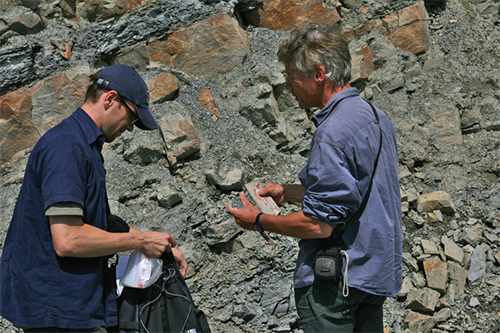 Within the field of geotechnical engineering, Geokrak offers a full package of investigative designs, appraisals and evaluations, and in situ testing procedures to provide a complete sampling profile. Alongside this geological mapping and digital analysis is a key area of the company's activities. Combining modern technologies such as GPS and archive material like satellite images, Geokrak can produce results in accordance to the operator's geographic information system (GIS).
One of the more unique aspects of Geokrak's portfolio, in terms of the European market, is its focus on desorption services. Having began this work in the 1990s based upon the methods learnt from Amoco, Geokrak has developed this technology further in the measurement of gas content in shale and coal beds, which is critical in making an estimation of the potential reserves. "Today we have our own state-of-the-art equipment and procedures, so this is something special that we can offer to the oil and gas industry," explains Jan.
"We take shale or coal samples, place these into canisters which are then heated to reservoir temperature, and we then measure the levels of gas released. With the developments we have made in our equipment though we can provide very accurate measurements to our clients, and are also working on our lost gas calculation method to further improve this," he continues.
Geokrak also offers exceptionally high standards in its other services like well site geology and mud logging. In order to maintain this, the company invests heavily in the training and development of its personnel, including geological courses in the UK and co-operating with Stag Geological. Over the last two years Geokrak has also spent time improving the precision of its quality control across all of its services, and is moving forward in an investment plan for its laboratory facilities.
These services have received a welcome boost in recent years following the worldwide boom in unconventional gas exploration, as operators strive to locate viable new energy reserves. As such, Geokrak has received requests for different tenders from all over the world for its desorption services. The company also covers a major share of Poland's shale gas operations with its well site geological services, mud logging, and desorption capabilities.
"We are fortunate in Poland that there still remains a very good attitude towards shale gas exploration, backed by the support of the government," describes Jan. "We see shale exploration as a major opportunity, not just for Poland, but for Europe as a whole, for the geological sector and other areas of industry like pipelines. Yet at present the UK and Poland are the only two European countries to continue with shale gas exploration. We are aware of the environmental concerns over this type of production but strongly believe that within Poland exploration can be controlled and managed in such a way as to not have a detrimental impact on the environment."
Whilst the huge potential for unconventional gases may be agreed upon, there remains the question of whether exploration into reserves like shale gas will have a viable outcome. With this in mind, Jan concludes with Geokrak's strategy beyond this single line of activity: "Moving forward we will continue to develop our service in the direction of conventional and unconventional hydrocarbon exploration. However, we are aware that we are still at the early stages of shale gas exploration, and whilst we believe this can be produced in Europe, we have to be prepared for all eventualities. Therefore we will also continue to diversify our activities and develop new sectors such as geothermal energy to provide services there as well."
Geokrak sp z.o.o
Services: Geological services