Masters of the forge
The origins of today's George Dyke Forgemasters can be traced back to its namesake – the late Mr. George Dyke, who was born in Birmingham in 1826 and later moved to live in Willenhall where he worked as a bolt maker.
He would be very proud to see what the company that bears his name has become today, over 180 years after his birth. Now regarded as a market leader in forged products, the company is able to meet all types of forging requirements, having the in-house capability to be able to produce drop, press and upset forgings. As an associate company of the Dowdeswell Engineering Group, George Dyke is also able to support this core business with a range of hot metal pressings, cold pressings and finishing processes. Furthermore, forgings can be offered in a wide range of materials, including all grades of carbon and alloy steels, stainless steels, non ferrous (aluminium) and micro-alloyed steels.
Added to these services are a range of finishing processes, such as turning, milling and threading, and an in-house heat treatment facility, which is able to meet the latest requirements of the petrochemical standard API6A and features normalising, annealing, sub critical annealing, hardening and tempering, and carburising.
The company also offers variety of testing capabilities – non-destructive testing (NDT) and mechanical testing to the current and latest British and American ASTM standards including ultrasonics, magnetic particle inspection and dye penetration (stainless parts).
All of these services are united under George Dyke's commitment to 100 per cent customer satisfaction. Its BSI and ISO 9001:2008 accreditations are testaments to this but the goal is to go beyond what the average customer would expect from a company holding such attainments.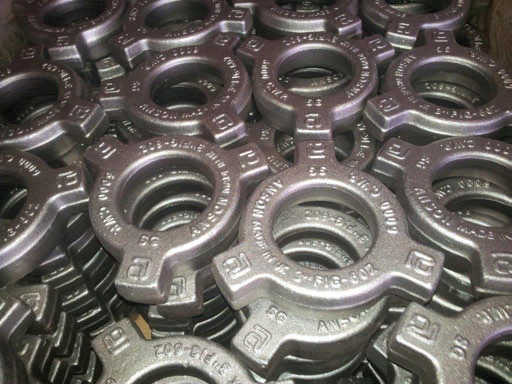 Part of this approach embraces offering clients detailed assistance with identifying the most appropriate materials and finishes for their forgings, and George Dyke welcomes dialogue at the quotation stage to improve the possibility of finding a 'best case' scenario to applying forging techniques to customers' products. The organisation can also assist with sampling to enable customers to trial forgings ideas prior to full-scale production.
In order to ensure that it is able to meet the needs of an increasingly diverse and sophisticated customer base, George Dyke is committed to continually investing in new plant and equipment, as this enables the business to expand its range of forging applications and provide greater scope for customers to source components and parts with greater durability and greater variety.
However, it doesn't neglect the conventional systems either – and as a result its in-house die and tool manufacture capability ranges from state-of-the-art CAD/CAM high-speed precision machining to traditional methods. Many of the newest pieces of equipment are less than two years old and include two new CNC machining centres (one purchased in 2014), power hammers, clipping press, band saw and high speed machining centre. Through this on-going investment in new equipment, George Dyke is able to support the most demanding of industry needs, and it has been able to expand its market from the UK to include the European Union, US and Canada.
Essentially all of these customers require a metal component of some sort, and typically these are required for hardwearing, heavy-duty applications (although the company does also manufacture and supply a range of security devices through its branded 'KEEP IT' range such as hitch locks for trailers and wheel clamps for caravans.)
In the early days of the business agriculture made up a large percentage of George Dyke's client base, but this changed as the company diversified over the years, expanding into other markets including petrochemicals, commercial vehicles, construction, mining and utilities. The petrochemicals side of the business especially has seen recent growth, and as highlighted the last time Geoge Dyke featured in European Oil and Gas, Gary Smith, managing director, noted this area is one to watch: "Looking a little further ahead over the next three to five years I would like to see George Dyke progress to become well-established in the North American petrochemical markets," he stated.
Nevertheless, the company is always keen to show even more potential new clients exactly what it can provide, and to do so often has a presence at major industry exhibitions – last year it exhibited at the Subsea Technology event in Oslo, and Subcon in the UK, and in 2014 it is attending ONS in Norway, one of the world's major meeting places for players in the oil and energy industry.
Now almost two centuries since it was established, George Dyke has become a major name, working at the forefront of the metal forgings industry. The company is the embodiment of a dedication to combining high quality products, good service and delivery, with a realistic market price. Its success is reflected in the recent need to move to a bigger facility and take on more staff to meet an ever-growing order book. By being able to identify modern requirements for forgings and respond accordingly, it has been able to grow into one of the biggest remaining forgemasters in the United Kingdom, and hold a place on the world stage as a premier supplier of metal forgings.
George Dyke Forgemasters
Services: Metal forging specialist