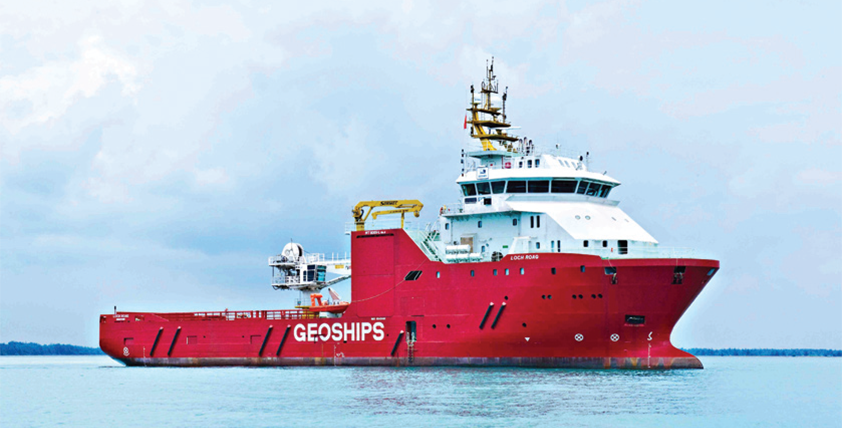 Growing strongly
GEOSHIPS, which is headquartered in Aberdeen, provides a range of specialist marine and supporting subsea contracting services to clients in the offshore oil and gas, and offshore renewable energy industries.
The company, which currently has one vessel in operation with another due to arrive later this year, has a strong project management ethos based around working with strategic partners to provide innovative, one-stop-shop marine services.
"The GEOSHIPS Group is a relatively young organisation in the shipping and vessel management industry, but one which has a senior management team and board made up of highly experienced individuals who have been involved in a number of different areas of the marine industry," explains European regional manager Richard Smith.
"The company has extensive knowledge of the marine and shipping market, which is complimented by a team of individuals who have hands on experience of operating vessels at sea in specialised markets, such as subsea construction and related activities," he continues. "We believe that this experience and knowledge gives us an edge over traditional vessel owners as we can appreciate the needs of our clients and adapt our offering to meet their requirements. Our expertise extends to the crew that we employ on our ships and their ability to understand and execute our projects professionally."
GEOSHIPS uses its own vessels to support underwater operations in varying conditions, from shallow 'splash-zone' waters to deepwater projects in depths exceeding 3000 metres. Its
range of services is broad and covers a full spectrum that includes marine and subsea operations in support of other contractors and strategic partners, integrated cable and transmission solutions such as lay burial and support, IRM of all categories of subsea facilities and hardware, diving and ROV support operations, project planning and management and project cargo delivery.
Its fleet ranges from 80 metres class DP-2 ROVSVs and DSVs to 160 metre class DP-1 transportation/construction support vessels. "GEOSHIPS operates new vessels that are built to the highest standards and crewed by, what we believe to be the best marine crews in the industry," says Richard. "Fleet expansion is very important to GEOSHIPS, and as such we have an expansion strategy underway and are working on new designs, some of which will change the way that traditional activities are performed, as well as the current construction of a VS470 Mark III vessel, which is expected to be delivered early 2013."
As Richard explains, continuous expansion is an essential part of GEOSHIPS' growth strategy. The company's newest vessel, the Loch Seaforth, which is 158 metres in length, 36 metres wide and has a deck space of 4750 square metres, is expected to be the first of its kind operating in the North Sea in terms of both size and overall capabilities. "The Loch Seaforth is a deck cargo vessel that is ideal for project cargoes, including offshore windfarm equipment such as monopiles and transition pieces, through to cable lay projects and other oil and gas related activities such as transporting spool pieces, manifolds and flexible reels," Richard elaborates.
The arrival of Loch Seaforth provides a welcome boost in that it results in GEOSHIPS planning to recruit a further 40 offshore staff. The new jobs, which will be for the onboard operation and maintenance of the vessel follow the recent trend for expansion within GEOSHIPS. For example, in the past year the company's onshore staff numbers have increased from ten to 18 personnel, with offshore crew increasing to 80. The further expansion mentioned by Richard means that GEOSHIPS will continue to increase its staff numbers, looking to have around 300 personnel, including marine crew, in the next three to four years.
All of these new personnel will contribute to GEOSHIPS' ongoing success, playing an important role in boosting the key strengths of the company, which Richard describes as "providing our expertise to the offshore markets and providing the best service offering we can. These are the key qualities that we always try to maintain. Being a small organisation we also have the ability to act fast and respond to the needs of our clients almost as soon as they happen. Ultimately, we value each of our clients and always go the extra mile to make them welcome on our vessels. We appreciate that the people working from our ships should be comfortable and feel welcome onboard, and we take great pride in providing this environment for them."
This approach, combined with its continued strategy for growth should see GEOSHIPS maintain its reputation within the industry, and looking to the future Richard remains confident: "We are a young company, but we have learned a lot, and continue to learn as we look at new markets and new business opportunities. We are preparing for extensive growth and in the next three to five years expect to be fully established in both Singapore and Australia, as well as see our core market in Europe grow further."
Geoships Group
Services: Offshore solutions