Bore more, burn less
Based in Ontario, Canada, GeoSource Energy is a design-build firm helping its clients to 'bore more' and 'burn less'. Established in 2004, the company harnesses the power of sustainable geothermal energy, sourcing it and offering it to customers as an alternative to conventional natural gas.
"In 2004, there was a downturn in the natural gas sector and I realized we needed an alternative heating source. Geothermal heat pumps were a very clear winner," explains CEO Stanley Reitsma. "What followed was the creation of GeoSource, a company in the business of geoexchange, which involves using renewable energy stored just below the earth's surface to help provide hot water for homes, or to heat and cool a building. By boring into the earth and installing heat exchangers, we can extract or reject heat to or from the near subsurface, and therefore provide a low-emission heating and cooling solution.
"As illustrated in our logo, our model is about accessing energy from the ground," Stanley adds. "All, or most, of the energy we need is right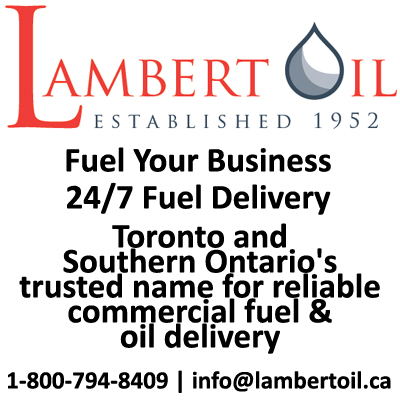 beneath our feet and if we can just plug into that, we won't need natural gas or other less environmentally friendly methods to heat our buildings.
"As a company, our core business involves drilling and putting in the geoexchangers to depths of 850 feet. Our niche is underbuilding construction, where we drill prior to a building going up. We also do all the piping that brings energy from the borehole to the mechanical room, where we pressure test the system before turning it over to a mechanical contractor."
A family-run business, GeoSource is owned and operated by the three Reitsma brothers – one a former mining exploration helicopter pilot, one the previous owner of a heavy landscaping, retaining wall company, and Stanley, an ex-university professor with a PhD in Civil Engineering. The siblings' varying backgrounds and complementary skillsets have helped the firm grow from a small drilling operation to an organization with a reputation for excellence from Windsor to Ottawa.
Having started with a single rebuilt old rig, GeoSource has transformed its drilling capabilities over the years through the regular introduction of new, technologically advanced machinery. In 2009, the company purchased its first rotary rig from Novamac in Quebec, a piece of equipment that lent GeoSource a huge competitive advantage, and as a result, the firm added a second rotary rig a year later.
Rig fleet expansion
Despite global economic downturns in 2008 and 2012, as well as the challenges of 2020's Covid-19 pandemic, GeoSource continues to grow. Today, the company operates seven rigs, with an eighth on its way very shortly.
"The next step in the rig development process was the facilitation of angled boreholes including rod handling," Stanley reports. "We've got three of them right now and a fourth one is being delivered soon. A big selling point is that these latest rigs allow mast oscillation, so the mast rotates side to side as well as in line with the machine, which means you can drill in multiple orientations from one rig position. This equipment enables us to drill projects on very, very tight sites in terms of surface area availability. We are now targeting the retrofit market of office buildings and condominium towers too and so we need to be able to drill our geothermal boreholes underneath buildings, from the side. We've done a few of those, and this is our go-to machine now for that kind of work.
"Going forward, we are trying to standardize everything as we get to a point where we can scale up. We want all operators to be able to move between the different machines as we add new purpose-built equipment that is better than the last, in our push for more reliability and better serviceability."
GeoSource's significant drilling capabilities have established the foundation upon which the business has grown into a full turnkey geothermal design-build operation for institutions like hospitals, universities, colleges, schools, municipal buildings, and airport terminals, as well as multi-residential private sector developments, such as condo towers and assisted living facilities. Among the firm's recent projects is the installation of geothermal solutions at a zero-carbon hospital building in Cornerbrook, Newfoundland.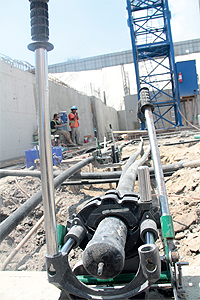 Strong relationships
"At Cornerbrook, we are drilling 375 boreholes to 600 feet," Stanley reveals. "It is the kind of project where you need multiple rigs for a period of time, while maintaining the rest of your business and keeping your other clients happy. We have a lot of capacity at GeoSource, which means we can take on large projects like this that a lot of our competitors are unable to do. There is probably only one other drilling contractor in Canada with our capacity and they are in Alberta, so it really sets us apart.
"Closer to home, we have just been awarded a very large project for the University of Toronto. It involves drilling 375 holes at around 810 feet. This will be the largest single geothermal field in Ontario, once complete, and it will feed one of campuses in the future with heat pump technology, as opposed to boilers and cooling towers.
"On the private side of things, which is probably the bigger side of our operation, we regularly work with around eight to ten developers and recently, many of them are choosing geosystems for their large buildings over conventional energy because of environmental construction codes like the City of Toronto's Green Standard," Stanley states. "Currently, geothermal energy makes up around five per cent of the market space for condominiums, but that looks like it is going to increase to around 20 or 30 per cent. The market is growing quickly, and so the volume of work for us is really picking up."
As a smaller, established company competing against large, cash-rich contractors entering the geospace, GeoSource has always focused on fostering strong relationships with its clients, built upon the quality, reliability, and longevity of its work. Constantly looking for ways to improve, in 2018, the company added a dedicated engineering department to help with design elements, such as the sizing of bore fields and the optimization of mechanical systems. Having outgrown its original Caledonia site, GeoSource is also in the early stages of planning for the construction of a brand-new and improved facility, complete with a shop, warehouse, offices, and space for the potential introduction of a strategic partner in the future.
"We have always made a huge effort not to sacrifice quality in the search for more profitability," Stanley declares. "We look at GeoSource as a long-term business, not a company driven by quarterly earnings or something like that. It's an approach that has moved the business forward and we remain dedicated to producing systems that operate as designed, resulting in happy clients. It means that today, most of our work is repeat business and we continue to have the opportunity to work with contractors like PCL and EllisDon, which are some of the largest in Canada."
With no sign of GeoSource's growth slowing down in the near future, the company is now preparing to announce a new utility partner that will act as a long-term owner and operator of the firm's geothermal assets. The initiative aims to lower capital expenditure for developers and increase the flexibility of GeoSource's offering. As a result, in the next few years, Stanley expects to see GeoSource encounter new opportunities that will lead to even greater expansion.
"Working with a patient-capital-type utility is going to lower risk and allow a lot more projects to go forward and reach the hurdle-rate expectations, so that is a big factor behind this new utility partner decision," Stanley says. "Overall, we still expect substantial growth over the next period. We comhave been drilling 500 or 600 bore holes a year, which equates to around 1000 to 1200 condominium units a year at 1000 square foot each unit. We are now ready to start working in the range of 2000 units a year and we anticipate that we will get to 4000 or 5000 units over the next three years or so. This is the kind of growth trajectory that a partnership between GeoSource and our new utility partner could achieve."
GeoSource Energy Inc
www.geosourceenergy.com
Services: Turnkey geothermal design-build, own, operate services