Generating excellence
With a history dating back to 1874 when the company was founded in Amsterdam, Geveke Werktuigbouw BV has developed a leading reputation as a trusted supplier of technical pump and service solutions to the oil and gas industry.
Geveke was last year acquired by the Japanese industrial group, NIKKISO Ltd and continues to operate as an independent company within the organisation. From its Amsterdam headquarters Geveke manages offices within its native Netherlands as well as Belgium and Malaysia. The company is divided in two business units comprised of Geveke Pumps and Geveke Compressed Air Technology. This model of an internationally operating company with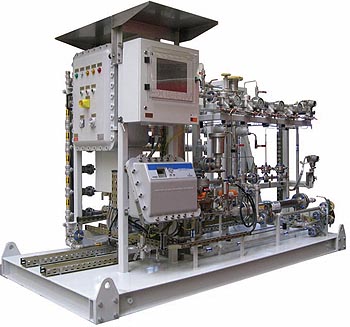 dedicated technical divisions fits well with the NIKKISO business model and allows for close collaboration with NIKKISO and other entities within the group as Geveke business unit manager, Robert Hessen elaborates: "Over the years we engaged in several takeovers and management buyouts, but the most recent event was the takeover of the company last year by NIKKISO Ltd, based in Tokyo. NIKKISO is also the owner of one our key principles, the LEWA Group in Germany. NIKKISO and LEWA are both internationally operating companies and through that network as well as product development we hope to find good synergies so that we can increase the company's footprint worldwide with the packages we build."
Since 1979 Geveke has supplied chemical injection packages to a range of clients, primarily based in the oil and gas sector. To date it has delivered in excess of 1000 packages to international markets in both standard and bespoke solutions. Today the company's comprehensive product portfolio includes chemical and specialised methanol injection systems; chemical transfer, odorizing and nitrogen generation systems; IRCD distribution panels; instrument air solutions and produced water systems. In addition to these packages, Geveke also regularly designs less common systems that are produced to address unique problems or deliver an unusual solution. These include ejector packages, water injection packages, CO2 snuffing packages, filtration units, sealing systems and seal barrier systems.
One of the latest and increasingly sought after packages supplied by Geveke is its range of nitrogen generators, which have a wide variety of applications in the oil and gas industry such as tank blanketing; decreasing fire or explosion risk; oxidisation avoidance; buffering of gas compressor seals and start-up purging. In co-operation with Parker, one of Geveke's principals, Geveke is able to deliver nitrogen generation systems in standard and uniquely designed packages. "Through a principle partner we can deliver standard off-the-shelf nitrogen generators, however within the oil and gas industry there is an increasing requirement for bespoke packages and these custom-made packages have to comply with all sorts of regulations and control issues. We build custom-made packages based on the requirements of our customers, and to the specification of design authorities like ABS or DNV."
Nitrogen generation packages supplied by Geveke are based on the Parker Smartfluxx membranes. These membrane modules are highly permeable, which allows the benefit of operating at lower compressed air pressures and air temperatures resulting in minimised energy consumption. In addition these membranes do not require heaters or pressure vessels to contain the membranes. The equipment is supplied with an oxygen analyzer to allow for simple measurement of produced nitrogen quality, which is available at purities of between 95 per cent up to 99.5 per cent at varying pressures and capacities. "We are also working with our partners for units operating at even higher purities and with higher efficiencies, as well as at increased volumes and capacities," says Robert. "We are also further developing the control panels as in the past these generators had quite basic control systems. Today nitrogen generators are programmable logic controller (PLC) operated and have touch screen control panels with a graphic display, which shows the complete operation of the system including all of its automatic valves and process monitoring transmitters." In combination with these nitrogen generation packages Geveke supplies instrument air compressors, dryers, nitrogen and air vessels, and nitrogen boosters and compressors.
Presently Geveke serves globally recognised brands such as Shell, SBM Group, MODEC and Petrobras on the international market. Over the coming months the company will continue to focus its efforts on delivering world-class products and innovate aftersales and commissioning services to it clients, as well as seeking to increase its global footprint in the wake of its association with NIKKISO. "In many cases for clients this is new technology so we are on hand to help with start-up and commissioning and to provide other services through delivering service contracts," say Robert. "The requirement for safe environments on platforms is increasing, meaning that nitrogen is replacing air in several cases so we see good opportunity in this. Increasingly remote and technically difficult to produce gas and oil are driving more processes that require nitrogen, so we see a lot of opportunity for future growth."
Commenting on the strengths of the company as it prepares to work with the NIKKISO group of companies to develop products for the future, Robert concludes: "As we develop new products we can move further into the UK, Asia, and the Middle East, where we were not as active before. As a company we can translate the requirements of the customer to an effective working technical proposition and we have direct, short lines of communication. We have a strong understanding of our customers' requirements and long industry experience, which allows us to meet challenging requirements while remaining competitively priced."
Geveke Werktuigbouw BV
Services: Pump packages and services