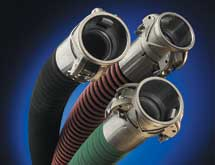 GHX Industrial has always been recognized in the energy industry for its quality fluid transfer and sealing products. But in recent years, the Houston-based company has expanded its reach to cover a gamut of markets and a broader geographic scope. Despite its rapid growth, CEO Dan Ahuero says GHX remains committed to offering customized, value-added solutions to serve individual customer needs.
With 24 locations across the U.S. Gulf Coast, California, Nevada and Pennsylvania, GHX offers an inventory of products including gasket materials, hoses, fittings, fasteners and expansion joints. The fabricator/distributor sources from highly reputable manufacturers such as Eaton, Gates, Flexitallic, Garlock and Veyance – formerly Goodyear. It was among the first companies to develop the roll form method of heat exchanger gasket manufacturing, and Ahuero was on the original committee that wrote the hose assembly guidelines for the Association of Hose and Accessories Distribution.
"Many of the companies in our sector will have a central manufacturing location where they disseminate the finished products out to their branch locations," Ahuero notes. "GHX, on the other hand, has the knowledge, equipment and skilled work force to offer customized service at the local level. Fabricating locally on a just-in-time basis reduces downtime and increases throughput at the end-user level."
Value-added Service
A combination of organic growth and strategic acquisition has introduced GHX to a variety of new markets including marine, mining, military, and food and beverage. Its products are applicable to the maintenance, repair and operations segments of almost every industrial market, Ahuero points out. "These products don't have infinite life, so the replacement market is the biggest part of our revenue," he says.
The company utilizes RFID technology that enables it to track maintenance cycles, testing requirements and other data its customers need to run their businesses. The data is uploaded to a Web-enabled database that customers can access to review their maintenance cycle or receive email alerts when it is time for an item inspection. "It's technology that not many people are utilizing, and we find our customers are catching onto the value of having their information in a database that notifies them proactively when critical assets need to be tracked for maintenance purposes," Ahuero says.
"We've also installed sophisticated hose testing departments in most of our locations because testing is a critical component of hose applications," he adds. "If there is a major outage or turnaround in a plant, we will provide trailers full of inventory for customers to use, and we will replenish inventory as often as required to make sure proper inventory is maintained on site, thus reducing their order frequency and downtime."
Extraordinary Growth
GHX was founded by Herb Crawford Sr. in 1937 as Houston Gasket & Packing Co. By 1967, the company had six locations throughout the Gulf Coast. That year, Crawford asked Ahuero's father, Ivan, to open a branch in Corpus Christi, Texas, and later offered him a shareholder's position. Dan Ahuero joined the company in 1978 after gaining experience as a manufacturer's representative for General Electric. The two Ahueros and a third partner bought the business from the Crawford family in 1992 and opted to consolidate all of its businesses under the name GHX. The company continued to make acquisitions and grow organically, quickly doubling its revenues. Its rapid growth caught the interest of investment firm The CapStreet Group, which acquired GHX in 2007.
CapStreet provided GHX with the resources to acquire a number of companies that complemented its business model, which enabled it to expand its market base to serve new clients as well as its geographic footprint. In five years, its annual revenue has jumped from $30 million to more than $100 million. At the start of 2010, the company had 11 branch offices; by year's end, it had 24.
It now has comprehensive coverage of the Gulf Coast, access to the agricultural and mining markets on the West Coast and entry into the Marcellus shale plays in Pennsylvania.
Looking ahead, GHX plans to integrate all of its newly acquired companies under the GHX brand and continue its aggressive expansion, Ahuero says.