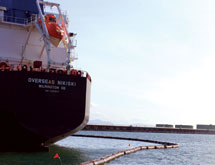 Global Diving & Salvage Inc.
The West Coast's largest commercial diving company is continuing to expand its reach in the United States and internationally.
Established in 1980, Global Diving & Salvage has expanded its capabilities beyond its origins as a diving contractor into new markets and service lines. Today, the Seattle-based company offers three main services: marine construction, offshore diving operations and casualty/emergency response.
The Seattle-headquartered company also operates offices in San Francisco; Anchorage, Alaska; and Houston. All four regional offices employ a full compliment of office staff, operations managers, diving equipment and personnel.
Global Diving & Salvage's oil and gas-related work includes decommissioning, offshore equipment inspections, and repair and maintenance on operating or inoperative offshore platforms. The company has experience on several types of vessels including floating production platforms, four-point moored vessels, lift boats, barges and dynamically positioned vessels. Other industry-related services include pipeline tie-ins and wellhead installations.
The Houston office opened in 2011 in response to client needs, as it was previously serving the area out of the Seattle office and saw an increased demand for its services along the Gulf. This kind of responsiveness and care for its clients is one of Global Diving & Salvage's hallmarks, President Devon Grennan says.
"The overarching message we want to give to our clients is that we don't think of ourselves as a service provider, we see ourselves as a partner to our clients," Grennan says. "Sitting down with our clients, being honest with them and partnering with them is critical to the success of our projects, and we take great pride in our work."
The company's privately held status gives it the internal flexibility to seek work in different markets, which has helped in light of the slowdown in the offshore oil and gas industry.
"We've been able to weather the economy quite well through our different regions and service lines," Grennan says.
Drawing on Experience
Outside of the oil and gas industry, Global Diving & Salvage's marine construction division is known for its work on aqueducts, dams, bridges, harbors, reservoirs and similar projects. The company's emergency response division is called upon for salvage operations, vessel and cargo recovery and hazardous material removal, among other services.
Global Diving & Salvage's staff uses a number of specialized pieces of portable equipment to do its job, including four saturation diving systems. These systems are capable of diving up to 1,000 feet below the surface, Grennan says.
While the company's fleet of equipment certainly helps it distinguish itself from competitors, the people using that equipment give Global Diving & Salvage an even bigger advantage.
The company actively looks for staff members with backgrounds in rigging, fabrication and construction trades. It builds on that experience through an internal training and competency model that includes skill evaluations and staff development programs.
"Our diving personnel have a level of expertise, qualification and well-rounded experience that we continue to build on project by project," he adds.
Global Diving & Salvage is expanding its competency scheme to include training that would allow its staff to meet international quality standards. The company performs work in the Middle East and Far East, and hopes to expand its global footprint even further.
"Our vision is to continue to look closely at our strategic service lines and regional footprint, and look toward more of an international market," according to Grennan.