A universal answer
Founded in 2006 and headquartered in Belgium, Global Gas Solutions (GGS) is skilled in the development of custody transfer metering and process control systems for natural gas, industrial gases, oil and LNG.
GGS, an independent company, offers a wide range of solutions from consultancy to supplying turnkey systems. Its task is to serve customers with reliable solutions for custody or noncustody fluid measurement, filtration and/or pressure reduction in the energy sector, as well as project management and engineering in the petrochemical industry.
Peter Himschoot elaborates on the young company's background and workforce: "Global Gas Solutions was founded by Karl Aerts and I, with both of us acting as managing directors. It is an innovative company and, though young, it's built on years of experience gained within a well-known Belgian supplier of natural gas metres and stations. Our employee level grows by 200 per cent every year; we currently have15 engineers, who are experienced in specific niches such as mechanical, electrical and
instrumentation, gas quality and analysis, PLC, SCADA/Supervisor, project management, and document control.
"The main goal of GGS is to build long-term relationships based on trust and technical strength with customers all over the world. The best example of our excellent service is the amount of return orders we elicit from almost all our customers. Know-how, flexibility and integrated quality control guarantee fast, tailor-made jobs that are specific to customers' needs. Special attention is placed upon quality management; GGS was proud to receive the ISO:9001 quality document and, in order to perform on-site installations and installation supervision, we also have the OHSAS:18001 certificate."
While many companies strive for revenues in the billions and thousands of employees, GGS aims to remain modest, controlled and free from investors – yet highly determined and ambitious. Operating independently is a priority, as is retaining continuity in terms of workers throughout the course of a project. "We are 100 per cent privately owned, so we can grant our customers full flexibility and quick replies on their queries," Peter asserts. "Within GGS a project is handled by a dedicated project team without continuous shifts of people; the engineers who start a project will finish it and, as such, are able to support our commissioning engineers during start-up. This is a major advantage that keeps site activities to an absolute minimum and leads to trouble free start-up of our systems/stations. Though we're small, we're not afraid to go in direct competition with rivals, often bringing contracts in our direction. By handling all projects ourselves without support from banks, we can guarantee our financial health."
GGS has diversified its customer portfolio through the years, gaining experience in offshore and onshore projects, as well as in supplying border metering stations, main industry metering stations,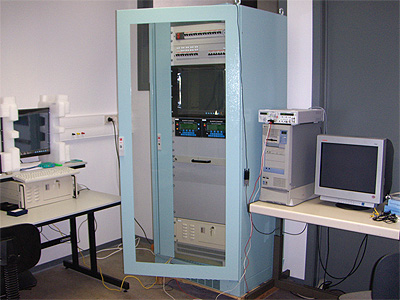 landing facilities for major natural gas grid owners and offshore installed metering stations on LNG Regasification vessels for Exmar. This, and the fact the business was recently awarded a contract from GOLAR Norway for the same work, makes GGS a world leader in this market. Its customers are end-users, EPC contractors and ship builders, and the company operates internationally, with systems running everywhere from Belgium to Kuwait. Reflecting on GGS' client base, Peter comments: "Customer care is a key strength and our highest priority whilst completing projects. We feel that many existing companies are losing or forgetting the importance of good customer relationships as they're mainly focussing on revenue, profit and internal reporting. Unlike us, they simply don't make the time to 'nurse' the clients."
Securing the GOLAR contract on the back of the Exmar project is just one of the reasons GGS has had reason to celebrate recently. Revealing the company's latest developments in terms of work, Peter says: "GGS has just been awarded a turnkey project for Fluxys in Belgium and we are also delivering the complete gas treatment plant for a bio ethanol plant and a hybrid solar plant for Abener Abengoa. We are active in the offshore market and want to focus more on this, as it's a sector that demands a high level of support – which is precisely our strength. With several extremely skilled service and commissioning engineers in the workforce, we can serve the client as required."
With thoughts turning to how the business will progress in, what looks likely to be, a prosperous and exciting future, Peter discusses GSS' plans, which mostly revolve around expansion. The company will strive to be an established player in the international custody fluid transfer industry, growing through the trust and respect of numerous worldwide engineering companies and end users. "Owing to the continuous growth we're experiencing, GGS is building new premises in Belgium with more space for skid construction and testing facilities," Peter concludes. "Furthermore, we're expanding GSS' agencies; we already have agencies in the Middle East, India, South America, UK and South Korea, and we are planning to add several more in the coming years."
Global Gas Solutions
Services: Process control systems