Distinguished supplier
Since Global Marine Systems Limited was last featured in European Oil & Gas Magazine during January 2014, it has continued to strengthen its position as a leading supplier of specialist subsea cable installation, and it has also witnessed exciting developments that will allow the business to further define its place as the premier subsea cable installation solution throughout 2015 and beyond.
The roots of the company date back to the 1850s, giving Global Marine a 160-year history that ranks it as one of the longest serving organisations in the subsea cable installation market. During this time it has distinguished itself through the execution of a number of industry firsts, including the delivery of a contract for Uninett – a non-profit that supports Arctic Circle research
institutions with highspeed networks. The new networks delivered during 2014 provided network support to the Ny-Ålesund research station, which is the world's most northerly research community. Indeed, Global Marine has nurtured a proven track record in cable installation across a number of applications both within and outside of the oil and gas industry, as CEO, Ian Douglas elaborates: "In reality 2014 was a great year for us from an operational perspective. We had a number of projects, three of which were quite large and that was an opportunity to showcase our skill in the installation of cables in telecoms, oil and gas, and through a charter to our JV company, SBSS in offshore power. So for me it was a great example of how the future looks, with our main activities being diversified across these three markets."
Following a highly successful year on an operational level, 2014 also proved to be a landmark year for the company when it was announced in September that the business had been purchased by the New York listed investment fund, HC2. The acquisition of Global Marine by HC2 is a reflection of the focus that has gone into growing the business over the last decade and a strong indicator of confidence surrounding the company.
The acquisition has been warmly welcomed by the Global Marine team and lent the company even greater resources with which to maintain its leading position as the premier name in subsea cable installation. "The purchase by HC2 has been very good for us," Ian adds: "It has given us a very long-term view of the world and also a lot of stability, which has been great. It is an investor group that is committed to buying and growing businesses, which is of great benefit to us as a capital-intensive business. It is important to have a shareholder that is committed to supporting us." As such, Global Marine is in a firm position to execute new projects and grow the business heading into 2015, as Ian continues: "We have a strong pipeline of upcoming work in both installation and maintenance in the North Sea, West Africa and East Asia, and this gives us a strong commitment to strengthening our team. We increased our headcount by around ten per cent during 2014; most notably this was around strengthening our solutions development and project engineering capability, i.e: the people who actually go out and design the solution both before contract award and who then actually put together the detailed engineering once we have won the contract."
In addition to its own success in delivering groundbreaking services on a turnkey basis, ranging from design and planning through to installation and finally lifetime support and maintenance, Global Marine is also a jointventure partner to some of the largest players in the offshore and telecoms industries. For example, during November 2014 Global Marine and Huawei Marine undertook successful sea trials of second-generation RPT 1660 R2 Repeater and BU 1650 R2 Branching units in the Atlantic Ocean. The new RPT 1660 R2 provides an optical loop back facility for performance monitoring and accurate fault location. The upgraded product supports up to six fibre pairs and incorporates a unique 4×4 pump redundancy architecture, further enhancing reliability and performance parameters. The BU 1650 R2 enables fibre pairs to be routed to multiple destinations in a submarine communications system either through direct routing of fibres or through an optical add-drop function, which facilitates sharing of bandwidth. Multiple terminals can be connected supporting up to eight fibre pairs from each port. A new bipolar power supply and power switching function provides the necessary configuration options during system operations and maintenance, which enables the Branching Unit to function even when cable faults occur. Such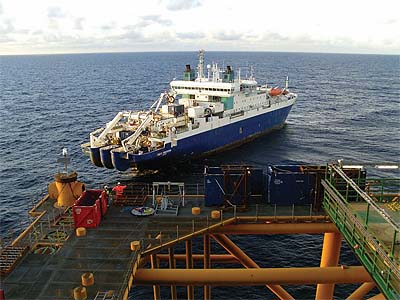 functionality is further enhanced with a dual polarity remote earthing design providing additional system powering flexibility.
Further to the RPT 1660 R2 Repeater and BU 1650 R2 Branching units, Global Marine has recently achieved another industry first with the introduction of the first digital submarine cable x-ray Camera, DXr1 developed in conjunction with leading UK radiography company, JME. This digital x-ray camera will supersede traditional film based cameras and eliminate wet chemical processing. The camera itself retains a rugged design while incorporating fully digital technology, which reduces equipment repair time by eliminating the film processing stage and allowing image assessment to commence as soon as the first image is available. The digital images are stored in a dedicated folder on the vessel server, and are immediately available to the assessor to assess them with special software incorporating a range of drop-down tools such as wall-thickness and inclusion gauges.
Digitalisation and the deployment of fibre optic infrastructure is an increasingly important development within the offshore oil and gas industry. The ability to transmit data quickly and efficiently is of growing interest to operators looking to enhance their operations and reduce operating costs. Within the North Sea for example, Tampnet selected Global Marine during 2014 to extend its offshore fibre network. "We discovered in telecom that when we were able to increase capacity and install fibre cable, it is possible to give people a very large internet 'pipe' if you like and people will find a way to use this additional capacity," Ian concludes. "Operators are able to take data from the well in real-time and send it to people in Houston, Stavanger and Aberdeen, for example, and this means that you do not need as many people out on the platform. Another thing that is very interesting, which is happening in the North Sea with Tampnet is that they are using the platforms as hubs for mobile networks, so when your support vessel comes into the field you can give it a 4G data card that allows it to become part of a private wireless network. We will continue to support various activities across the industry, particularly as people start to realise the capacities and the efficiencies that digital communications can bring, and then to leverage those benefits to make fields more efficient."
Global Marine Systems
Services: Subsea cable installation