Digitalisation solutions
As a global leader in subsea cable installation across a number of industry sectors, Global Marine Systems Limited boasts a pioneering history that dates back as far as the mid-1800s. Over the course of its 165-year history the company has been responsible for a number of industry firsts, including the installation of the world's first international subsea cable. The cable stretched between England and France and was installed on 29th August 1850 by small paddle-driven stream tug called the Goliath. Bringing this forward to the 21st century Global Marine still strives to deliver challenging projects, in 2014 achieving this by installing the world's most northerly fibre optic cable system linking the island of Svalbard deep within the Arctic Circle.
Today Global Marine continues to provide highly regarded and sought after engineering and underwater services that respond to the installation, maintenance and burial requirements of its clients. During the course of its impressive history the company has developed a comprehensive legacy in both deep and shallow water operations all over the world. The near future brings with it an exciting opportunity for Global Marine to develop both its existing services, as well as to take its specialist capabilities to new markets globally. The company is already widely considered to be a subsea cable expert offering extensive end-to-end solutions to multiple offshore industries including oil and gas, telecoms and deep sea research.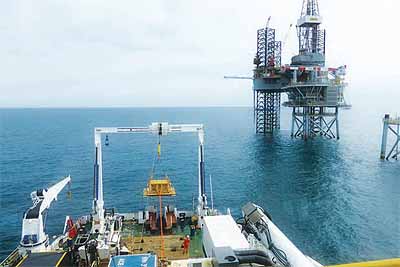 "We consider Global Marine to be a diversified company, because even though at our core is an impressive track record in telecom marine installation and maintenance, the company has grown over the years to undertake increasingly more work within the oil and gas and offshore power sectors," explains Director – Sales and Commercial, Nicola Broom. "A great example of this is the recently signed contract with The Prysmian Group for the Wikinger offshore wind farm in the Baltic."
The contract between Global Marine and the Prysmian Group was announced during September 2015 and will see the companies working together as partners with a shared heritage and comprehensive experience in submarine cabling. The project will see the two companies collaborating to install inter array cables for the Wikinger Offshore Wind Farm, situated within the German Exclusive Economic Zone (EEZ) of the Baltic Sea, 35km from the Island of Rugen and near the maritime borders with Denmark, Sweden and Poland. The site encompasses an area of approximately 35 km2, with an estimated generating capacity of 350 megawatts. "Global Marine is delighted to be working again with the Prysmian Group on this important project which further consolidates the good relationship we have with Prysmian in offshore wind," Nicola says. "It is also a significant award as it recognises our competence in subsea cabling in the everexpanding renewables market."
The Global Marine vessel the C.S. Sovereign will be deployed during the project and represents the ideal vessel for the installation and burial of cables within the Baltic Sea. For example, it is equipped with two, powered 2300 tonne 'basket' turntables, designed to operate at a maximum linear speed of 900m/hour, optimising the cost-efficiency of cablelaying. Additionally, her open deck allows the deployment of a variety of subsea vehicles to assist in the process. C.S. Sovereign has an impressive track record in offshore power and has installed in excess of 20 per cent of inter array cables in the European market.
Earlier this year the C.S. Sovereign completed a platform-to-platform fibre optic system installation in the North Sea on behalf of the oil and gas communications specialist Tampnet, including a full Cable End Module (CEM) deployment. Furthermore during September 2015 it was announced that the vessel had taken part in Global Marine's first installation of a new repeater system following successful sea trials.
The repeater was installed as part of a major fibre optic installation project in the Gulf of Guinea, for Huawei Marine Networks (HMN), a joint venture partner of Global Marine. It was the first installation of the R2 repeater following successful sea trials, which took place on Cable Innovator in November 2014 in a project that saw the installation of a 1011 km repeatered fibre optic subsea cable installed between Lagos in Nigeria and Kribi in Cameroon. It also encompassed a branching unit, for future connection, to Escravos and Qua Iboe in Nigeria's southeast region. A highlight of the project was the first deployment of HMN's second-generation RPT 1660 R2 repeater, which provides an optical loop back facility for performance monitoring and accurate fault location.
Commenting on the project, Global Marine Director – Installation, Andy Lloyd says: "We arevery proud to successfully deliver this system for HMN. By coupling our expertise and our long standing capability in subsea engineering with HMN's advanced transmission technology,we are confident that this system will bring solid, high capacity data communications to Nigeria and Cameroon." Indeed, the project heralds the latest in a series of milestones and industry firsts that differentiate Global Marine as a market leader in a broad and ever-growing portfolio of sectors.
Global Marine Systems
Services: Subsea cable installation
Issue 125 October 2015