A connected future
Global Offshore is part of the Global Marine Group, an innovative market leader in offshore engineering with an enviable track record of successful project execution of over 170 years. Delivering cable installation, repair and trenching services to the offshore renewables, utilities and oil and gas markets, Global Offshore is one of the four business units that makes up the overall Global Marine Group. Mike Daniel, who has been Managing Director at Global Offshore for the past three years, began by giving EOG readers some more details on the other divisions. "The other three units are: Global Marine, which provides fiber optic cable solutions to the telecommunications and oil and gas markets, CWind, which delivers a range of project services, CTVs and GWO-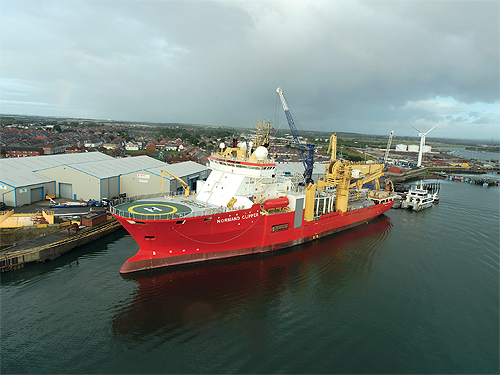 accredited training courses to the offshore wind industry, and OceanIQ, which provides unparalleled subsea cable data, survey, route engineering, permitting and consultancy services for telecom and power cable installation projects," he began, before highlighting some impressive statistics. "The Group has installed over 300,000 kilometers of subsea telecoms cable and more than 1,500km of power cables, performed maintenance operations on 33 per cent of the world's fiber optic cables and offered engineering services, assets and highly qualified personnel for projects at more than 50 wind farms globally."
Turning his attention to Global Offshore and its own services, Mike highlighted something that really helps to set it apart in the industry. "We have developed a reputation as a trusted partner, with many clients returning following successfully executed projects," he said. "These long-standing relationships have been forged through flexibility and an understanding of our client's needs." Thanks to this approach, Global Offshore has worked on multiple UK and European wind farms, as well as conducted numerous operations in oil and gas for major oil companies such as Shell and BP.
These operations are carried out by the specialist ships and experienced crews that make Global Offshore unique. With the range of vessels and the very best offshore engineering expertise, the company offers clients flexibility and reduced mobilization times, with a vessel suitable for every eventuality, in any location, worldwide. Mike gave some more details about the two main vessels utilized by Global Offshore. "The Global Symphony is a purpose-built vessel, designed to address the demands of deep-water remote intervention, renewables, construction and survey markets. Built in 2011, the vessel has an extensive 1,400m² deck space, with additional features which enhance her overall utility and productivity, particularly in deep water, trenching and cable operations, where oil and gas and floating offshore wind projects are situated," he said.
The most recent addition to the fleet is the Normand Clipper, which is on long-term charter from Solstad Offshore. "This comjoined our fleet in 2020 and we immediately commenced upgrades to the 127.5m cable-laying vessel," Mike noted. "With the addition of a 4000-ton cable carousel, two 15-ton cable tensioners, a 25-ton quadrant deployment frame and a fully integrated control system, the recent upgrades enable us to lay cable at much higher speeds than traditional methods, while still maintaining our high standards of safety and quality.
"The Normand Clipper is proving to be a valuable asset to our customers, with work already completed on both the Danish Kriegers Flak and the Pentland Firth projects. The flexibility built into the vessel back deck design allows it to move quickly between modes, and it is currently being re-mobilized in telecoms mode for an upcoming project."
Due to the recent increased demand from its customers, the company has also quickly mobilized the Normand Cutter, the sister vessel to the Normand Clipper, for additional project support throughout Q4 of 2020.
"We also have access to the rest of the Global Marine Group's fleet, which includes versatile installation and maintenance cable ships including C.S. Recorder and C.S. Sovereign, as well as more than 20 CTVs in a range of sizes that often work alongside Global Offshore to complete cable pull-ins and termination and testing at offshore wind farm projects," Mike added.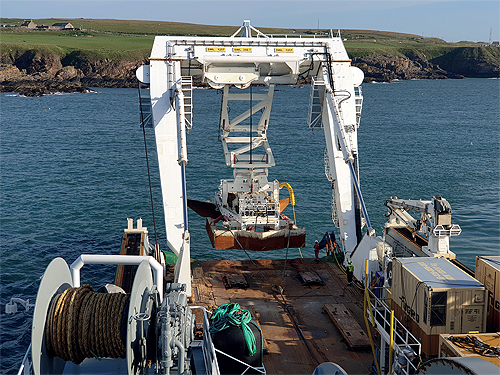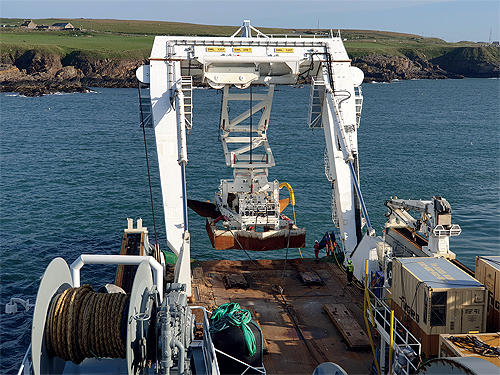 Having referred to Normand Clipper's work at Kriegers Flak, which will be Denmark's largest offshore wind farm, Mike noted how Global Offshore (and fellow Global Marine Group subsidiary CWind) are working together to complete the inter array cable installation, burial, trenching, pull-in and termination and testing works at this 72-turbine project. "Our work on site began with boulder clearance utilizing a brand new, multi-function pre-lay and backfill subsea plough, the PLP240," he explained. "The plough minimizes the operational risk and time required to install subsea cables by delivering boulder clearance and pre-trenching up to 1.7m in a single run."
Delivering the PLP240 required close collaboration with Osbit and Vattenfall, comillustrating perfectly how Global Offshore is always seeking to work directly with customers and the industry to address the changing needs of the market as it evolves with new technology and growing demands upon it for worldwide connectivity and power.
Significant scheme
The Kriegers Flak project is an exciting addition to Global Offshore's portfolio, and the business has also recently extended its working relationship with SSE on the Pentland Firth cable replacement project, which called on the Group's range of services including route survey, data collection and studies conducted by sister company OceanIQ, and cable replacement and trenching works carried out by Global Offshore. "Our team utilized the Normand Clipper and Global Symphony to replace the existing cable with a 37km 33kV cable which follows the existing route from Murkle Bay, near Thurso, to Rackwick Bay on the island of Hoy," Mike noted.
He went on to highlight another significant scheme that it is currently working on, this time for Grupo Cobra, called Kincardine. A floating offshore windfarm in Scotland which when complete will be the largest in the world to date. The first phase of this project completed by Global Offshore back in 2018 involved pre-installation surveys, grapnel work, installation, including the use of a dynamic riser to allow for movement of the platform, and trenching of an 18km export cable from Cove to the floating turbine, located just off the coast of Aberdeen. The team are currently working on phase two at the site where an additional export and five inter array cables will be installed, with work already completed on route clearance by the new PLP240 asset. "This project not only illustrates the growth in floating offshore wind, but how oil and gas techniques were used successfully in this different environment," Mike added.
It is clear that the renewable energy market is going to continue to offer up great opportunities for Global Offshore, not just through wind power, but also as the requirements of its clients in the oil and gas sector change and evolve. "With data showing that around five per cent of offshore wellhead production globally is used to power platforms, producing combustion-related emissions of around 200 million tons of CO2 annually, it is not surprising that the sector is seeking more environmentally-friendly methods of generating electricity to power offshore platforms," stated Mike.
"Powering platforms through renewables rather than gas-driven generators, or even connecting them to power supplies directly from shore, is seen as a game changer for the industry. This would require a strong, reliable power supply to floating platforms or turbines. We are uniquely experienced when it comes to providing innovative solutions for this industry challenge, having worked at Statoil Gjøa semi-submersible platform in the North Sea, the first ever floating platform to have power supplied by a direct link from shore. We were responsible for the laying of 99km of static cable and 1.5km of dynamic cable; at the time, the world's longest power link to an offshore platform. The cable, bringing electricity to the platform from the Mongstad refinery in Norway, has resulted in reduced carbon emissions by an estimated 210,000 – 250,000 tons a year."
Updating procedures
Global Offshore's client list is clearly impressive and the close working relationships it has formed with these blue-chip organizations over the years have paid dividends recently, as the company and the industry – and indeed the world – wages a battle against Covid-19. Mike divulged that in April, the Group was involved with an emergency response exercise with Vattenfall, using the Global Symphony, which was on charter to them at the time. "Although we have been doing everything possible to ensure our vessels remain sterile environments – from quarantining before joining, testing, and restricted shore leave – the exercise was designed to test both companies' responses to a Covid-19 incident onboard a vessel should it arise. With updated procedures, clear plans in place, and well briefed teams, the exercise was a success," he confirmed.
Maintaining connections
Having already instigated a raft of measures both on and offshore designed to keep staff safe, Mike noted that as parts of the world begin to see a second wave of the virus, and restrictions which only recently eased begin to tighten again, the challenge continues. "However, with the increased strain on the world's power and fiber optic infrastructures, it's more important than ever that the systems we rely on are well maintained. A large part of this process is ensuring that the web of subsea cables that keep our power on, and our internet connected, remain fully operational –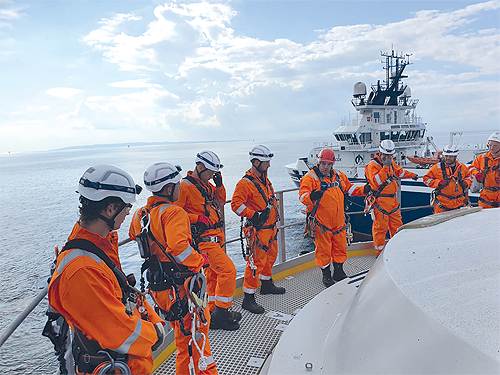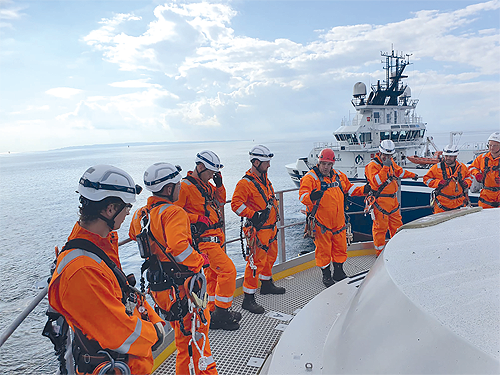 activities at the core of our services," he added.
With exacting protocols in place to protect its staff from the virus, Global Offshore has positioned itself in the best possible place to handle the contracts it has lined up for the comnext few years. "We can expect to continue growing and evolving as a business, as despite being well established in the industry, we are still fairly new to the Global Marine Group. Being part of the Group means we benefit from continuous investment and a constant focus on innovation, and I expect that we will continue to grow our assets and develop new ways to improve on traditional processes, as we have done recently with the upgrades to Normand Clipper, engineering developments to our two Q1400 trenching ROVs, and the PLP240 pre-lay plough, to name just a few," said Mike.
"In the near term, we will also be celebrating the commissioning of the world's first hybrid SES CTV as it joins the CWind fleet. The 23m vessel has been designed by the Group's engineering team to reach new levels of operational capability, performance and efficiency. With a high crew transfer wave height capability, it presents a significant increase in operational days offshore, whilst the hybrid propulsion system results in significant reductions in fuel consumption and the associated CO2 emissions. There is a great deal of excitement about the vessel joining the industry, and with it, a new generation of CTVs, further working towards a greener future."
Winning combination
Alongside its innovative new products and vessels, if you look inward, the business is also placing high importance on nurturing new talent for the future of the industry – through apprenticeship schemes, its cadet program and inspiring those even younger with STEM initiatives. It is also committed to working with industry bodies to support and lead growth and innovation, as well as working with local experts in growing markets by forming joint ventures, which give it an opportunity to share the knowledge and experience from the UK and Europe market with those in countries where the renewables market is very much bourgeoning i.e. Taiwan and the US.
For Mike, the success of Global Offshore comes down to a winning combination – a unique history in marine engineering, a commitment to innovation, and an unrivalled track record and experience in subsea cable installation, protection and maintenance, plus a team of extremely capable people who share a wealth of knowledge. "As a Group the business has a range of complementary services and skills, taking experience and best practice from working across multiple sectors, that when combined, offers customers a comprehensive, trusted solution," he concluded. "Our staff represent four brands that constantly achieve excellence through an exemplary commitment to health and safety, and a proactive approach to overcoming engineering challenges to exceed our customers' expectations. That passion is evident in the entire team, and together, we are committed to engineering a clean and connected future."
Global Offshore
www.globaloffshore.co.uk
Services: Offshore engineering