Process powerhouse
Global Process Systems (GPS) is a process facilities solutions provider and, since its foundation in 2000, has delivered a range of projects to clients across the oil and gas industry.
Its core business is the design and build of packaged process equipment for early production facilities, onshore processing plants, FPSO topsides and offshore platforms.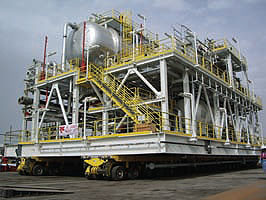 Its product portfolio spans a broad array of applications from fuel gas treatment to condensate stabilisation, while services cover every stage of the project lifecycle from concept through to engineering and fabrication to ongoing maintenance. These core capabilities are underlined by a strong health, safety and environmental (HSE) policy and quality management system that are the backbone of GPS' operations.
As part of the UAE-based diversified Al Jaber Group, GPS has grown into a global organisation with offices in the UAE, Singapore and Malaysia. With in-house engineering teams based in all three locations, GPS is able to respond to client requirements on a fast-track basis, generating conceptual and detailed designs using the latest industry standard design tools. GPS has worked for a broad range of clients over the years, with just three recent examples being engineering design services provided to Addax Petroleum in Nigeria, Halliburton in Turkmenistan, and Larsen & Tourbro in India.
Seamless transfer
The ability to offer quality fabrication services from dedicated in-house facilities also ensures that there is a seamless transfer between engineering and fabrication. Located in Abu Dhabi (UAE), Batam Island (Indonesia) and Thailand at Songkhla and Rayong, these facilities enable GPS to service its clients' project requirements in their particular geographic markets. Comprising over 200,000 sqm of fabrication space with alongside jetties in the UAE and SE Asia offering load-out capacities of up to 3500 tonnes, this asset bank enables GPS to undertake a comprehensive range of projects.
A key area of GPS' expertise is the modularisation of complex process packages. A key benefit here is the ability to execute a large majority of the project executed in controlled conditions. This enables costly onsite and offshore activity to be minimised and certainty added to the delivery schedule.
Fast-track solutions
This capability led GPS to a natural migration a few years back into the business of converting jack-up drilling rigs into Mobile Offshore Production Units or MOPUs. MOPUs are an increasingly effective solution for marginal field developments and a proven means of bringing assets on stream faster than conventional solutions. They also serve as a cost-effective method of maximising output from fields with limited production potential or that are coming towards the end of their production life.
GPS has some of the most extensive experience in the industry for the refurbishment
and conversion of redundant 250 ft Mat Type Drilling Rigs into MOPUs, and this includes the provision of all marine/hull and topsides systems. With five successful MOPU conversion projects under its belt to date, GPS has provided MOPU solutions to leading oil and gas operators in the Middle East and SE Asia.
Quickly configured to suit specific oil or gas production requirements, MOPUs can be mobilised to site and put into production on a fast-track basis. This enables clients to access essential cash flow during full field feasibility studies. Once the field declines, MOPUs can be relocated at minimal cost with much lower abandonment cost compared to a fixed jacket.
GPS is able to field a team of experienced design and construction engineers with extensive knowledge in rig conversions to carry out the activities involved, including: Identification, inspection and reporting on a suitable candidate vessel; Procurement of long lead items eg Gas Compressor, Dehydration Unit or Metering Package; Engineering design and procurement, Fabrication/construction conversion as well as installation at site, hook-up and commissioning followed by operations and maintenance.
Extensive portfolio
With its expertise based on technology-driven solutions, GPS is able to supply process packages for gas treatment; conventional oil processing; oil and gas production modules separation; water treatment and injection systems; LPG recovery and modularised compression. The recent addition of sulphur recovery technology to its portfolio – a result of a landmark co-operation agreement between GPS and Jacobs Comprimo Sulphur Solutions – deepens the versatility of its systems even further.
A joint venture with engineering contractor Kentz Group has provided GPS scope to carry out engineering, procurement and construction (EPC) turnkey projects for large-scale processing plants and production facilities. This includes early production and extended well test facilities, central oil/gas/water processing facilities, gas compression and booster stations, and refinery upgrades or modifications.
Access to electrical and instrumentation systems capability is provided through GPS' sister company INE Technologies, while the latest flare systems technology and solutions are available through affiliate company Flareon.
Positive prospects
In the last 12 months, the GPS Group has secured a substantial order book with contracts valued in excess of US$200 million. This success has been achieved for all three of its engineering centres and for some major clients. In Dubai for example, GPS is working for Bapetco, ADMA-Opco and Larsen & Toubro for a project in Oman. In Singapore, GPS' traditional line of business – the design and build of FSPO topsides – continues apace with recent awards for leading FPSO operators. Malaysia too has seen a good run of success with a trio of awards recently booked with leading local player Kencana Petroleum.
One new market of particular interest currently is Iraq, where there are a number of projects of varying size and complexity on the horizon.
In order to meet the requirements of this new workload, GPS is continuing its recruitment drive for personnel across all three of its offices in UAE, Singapore and Malaysia. During the last six months, for example, 60 new personnel in the engineering, QA/QC, HR and business development departments have been recruited. More than 30 have been recruited in Malaysia and Singapore across the engineering, projects and documentation controls office in KL as well as senior engineers in process, piping, mechanical and structural disciplines in Singapore.
With its global reach, there are many prospects available to GPS and it is a company ready to tackle these head on. An increasing product portfolio, in combination with its legacy of high quality engineering and loyal client base, ensures that the coming years for GPS look promising.
Global Process Systems
Services: Process facilities solutions provider