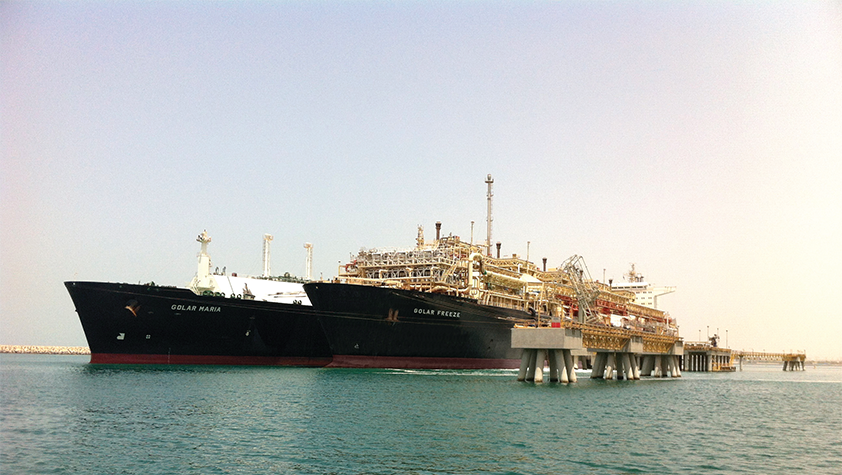 Expanding horizons
As its name may suggest Golar LNG's business is firmly focused on the liquefied natural gas (LNG) sector.
The company is one of the world's largest independent owners and operators of marine assets in the midstream LNG industry with over 30 years of experience. These assets are divided into two core areas at present – LNG carriers of which Golar LNG has nine vessels, and floating storage and regasification units (FSRUs), which currently number four in the company's fleet.
Golar LNG's heritage, and that of its predecessor companies, has always been concerned with LNG from its very first operations in the 1970s through to today. "We see a huge growth cycle coming in the quantity of LNG produced around the world, and as that increases so does the need for more and more carriers to take the product to market," describes Doug Arnell, CEO of Golar LNG
"So goes the need to open up new markets, which we believe the FSRU has contributed greatly to so we expect to have more assets in those types of business, and to branch out into other sectors within the value chain. As such, we are quite focused on developing our floating LNG production units at the moment, and we also have been working on floating LNG to power solutions as well. Overall we see very strong growth in the industry, and have a really good execution model that can deploy assets into those markets and achieve excellent value for our shareholders," he continues.
In fact Golar LNG was the first company to convert an existing Moss type LNG carrier into an FSRU. There is a need in the market to have a facility that can receive the LNG from the carriers, store it, and turn it back into its gaseous state to go on in the chain. Traditionally this kind of facility has always been built on land which presents significant challenges in securing large parcels of land on the coast sufficiently separated from population density, long permit times and securing financing.
"The floating solution came along as a way to deal with some of those difficulties," explains Doug. "The cost efficiency of converting a vessel into an FSRU is very great as it is easy to control spend given that all the work is done in a shipyard rather than in situ. Furthermore, it can be done in a much shorter timeframe and is easier to permit as it is offshore.
"Another advantage is that because it's cheaper you don't need to have tremendously large markets in order to support the economics of the asset. This means that markets that would have otherwise not had the opportunity to import LNG because they would have been too small, or the size of the market is uncertain, can achieve this using the floating technology. The result is that the number of new market receipt points for LNG has increased dramatically because the FSRUs have been implemented so quickly," he enthuses.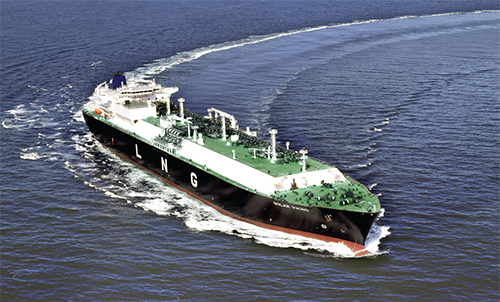 As a business, Golar LNG has a unique approach in that it will take measured risks as it sees the market unfolding in order to respond to the needs of the industry. An example of this is the fact that the business carried out the conversion of its first FSRU on a speculative basis before a customer had committed to it. This played a large part in the success of the asset as it enabled Golar LNG to provide a fast-track solution to the eventual customer – Petrobras in Brazil. The company's second FSRU was also contracted to Petrobras, with the third supplied into Dubai, and the most recent installation operating in Indonesia.
Golar LNG is taking a very similar approach to its first floating LNG production project in that it is basing the concept on the conversion of a Moss type carrier into the FLNG unit. "We've signed a contract with Keppel to work on this first unit," notes Doug. "All the components and liquefaction processing equipment will be based on technology that is proven and already utilised in many other applications. The industry already accepts the storage containment system on Moss vessels to be very reliable with a long life, so that in combination with the proven technology, our deep experience in converting these vessels into alternate uses means we expect to be successful on the FLNG production side in the same manner that we are on the FSRUs."
The vessel to be converted will be one of Golar LNG's existing fleet – either the Hilli, the Gimi, or the Gandria. The remaining two vessels are expected to be converted in line with market opportunities either as FSRUs or FLNG production units. Certainly the company doesn't see the FLNG production development as a one-off opportunity with follow-on vessels of the same nature expected going forward.
"I really believe that the impact to the industry that FLNG production will bring will be similar to that of the FSRU," speaks Doug confidently. "With our concept you have a much more cost efficient and fast-track approach to monetising natural gas that otherwise may have been stranded or wouldn't have access to alternate markets, through the use of this floating technology. With these attributes including a very fast 24 month project schedule, I believe that when we fully roll out the FLNG production business it will contribute to a material acceleration in the number of production sources of LNG globally."
With substantial amounts of new LNG production either already under construction, or being decided upon, Golar LNG is far from neglecting its carrier activities in favour of the newer developments. The company has ordered 11 new LNG carriers from Korea, which will be delivered from the third quarter of 2013 through to early 2015. In combination with two new build FSRUs that Golar LNG also has on order these vessels will effectively double the existing fleet, which represents a very large commitment to what it sees as a very optimistic future of the industry.
"We really believe in natural gas as a fuel of the future," confirms Doug. "It's clean, abundant, and can be sourced at relatively low cost. We see that with environmental issues continuing to have an impact on the global energy mix that the use of natural gas will grow enormously. The follow on impact of that is there will be great demand to increase the quantity of LNG related assets that are needed to get the natural gas from its production source to the markets that need it. We will continue to address this with assets in all different types – carriers, FSRUs, FLNG production units, and floating power, which together respond to one thing, which is to facilitate the delivery of competitively priced natural gas to high value markets," he concludes.
Golar LNG
Services: LNG carriers and floating storage and regasification units