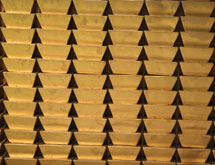 One of fastest-growing senior gold producers today, Goldcorp has operations and development projects strategically positioned around the Americas. Based in Vancouver, the company has more than 14,000 employees and aims to exhibit responsible mining practices while at the same time realizing sustained growth and performance.
The key to the company's future is its five-pronged operating model. Through growth, low cash costs, maintaining a strong balance sheet, operating in regions with low political risk and conducting business responsibly, Goldcorp believes it can be one of the world's leading senior gold producers.
The company has five mines in Canada and the United States, three mines in Mexico and two in Central and South America. Its project pipeline includes additional projects in Argentina, Quebec, Ontario, Chile and the Dominican Republic. Goldcorp says it is counting on these substantial assets to contribute to sustained production well into the future.
Setting Records
Goldcorp has been on a solid streak for quite some time. When the company released fourth-quarter 2011 numbers in February, it was able to show record revenues and cash flow, as well as an increase in gold reserves for the eighth consecutive year.
In fact, its fourth-quarter gold production totaled 687,900 ounces with a total cash cost of $261 per ounce. This led to record revenues of $1.5 billion and operating cash flows before working capital changes of $831 million.
Also during the fourth quarter of 2011, Goldcorp received a certificate of authorization for its Éléonore project in Quebec, which allows for full construction to begin immediately. In addition, the company received approval of an amended environmental impact assessment at the Cerro Negro project in Argentina and entered into a $2 billion senior revolving credit facility.
For all of 2011, Goldcorp's revenues increased 43 percent over 2010 to $5.4 billion, thanks to gold sales of 2.5 million ounces. The company's proven and probable gold mineral reserves increased eight percent to approximately 64.7 million ounces.
"Strong, low-cost gold production and another year of gold reserve growth provided a great finish to another solid year for Goldcorp," President and CEO Chuck Jeannes said in a release. "Our record performance is the result of strength throughout the mine portfolio, as demonstrated by sustained operational excellence at Los Filos in Mexico, which led to a record year at this important operation.
"Marlin in Guatemala had a particularly strong quarter and year as mining in the final, higher-grade portions of the open pit were completed and the mine successfully transitioned to an exclusively underground operation," he added.
"In addition, Red Lake in Ontario finished with a strong quarter for the year, highlighting the continued strength of this flagship operation."
As the company's gold mineral reserves increased to 64.7 million ounces, Goldcorp was able to say that measured and indicated gold mineral resources increased 10 percent to 28.2 million ounces in 2011, while proven and probable silver mineral reserves totaled 1.2 billion ounces and measured and indicated silver mineral resources totaled 418 million ounces.
"Strong growth in reserves and resources in 2011 once again highlights the continued success of Goldcorp's focused exploration programs, which discovered new gold reserves at a cost of approximately $14 per gold ounce," Jeannes said. "The consistent ability of Goldcorp to increase the amount of gold reserves represented by each of our common shares represents true leverage to the gold price. In 2011, gold reserves increased 6 percent on a per-share basis."
Other highlights for the company included generating about $360 million in cash flow from Peñasquito in Mexico in its first full year of commercial production. Thanks to the strength of its mine portfolio, Goldcorp is in good position for 2012.
Present Challenges
Heading into 2012, the company was looking to four major new sources of gold production to drive a 70 percent increase in gold production by 2016.
The Pueblo Viejo joint venture in the Dominican Republic and Cerro Negro in Argentina, as well as Cochenour in Ontario and Éléonore in Quebec, were part of the company's projections to reach 4.2 million ounces of gold production in 2016.
The company does have some challenges to overcome. In April, the Supreme Court of Chile announced it was suspending the approval of the environmental permit for the El Morro copper-gold project until the Chilean environmental permitting authority corrects certain deficiencies. The ruling meant the immediate suspension of all project fieldwork that was being executed under the terms of the permit. The plan for now is to concentrate on addressing the deficiencies.
Nonetheless, Goldcorp's 2012 first-quarter results were fairly positive, if slower than expected. In April, the company announced that adjusted net earnings in the first quarter had increased to $404 million compared to $392 million in Q1 2011. Operating cash flows were $480 million with gold production totaling 524,700 ounces at a total cash cost of $251 per ounce. Revenue increased 11 percent to $1.3 billion on gold sales of 545,700 ounces, and a high-pressure grinding roll supplemental feed system had been commissioned at the company's Peñasquito site.
The overall pace of construction and development activities at Goldcorp's growth projects was strong, as the Pueblo Viejo joint venture in the Dominican Republic neared completion and the Cerro Negro project in Argentina continues moving toward its expected initial gold production in 2013. In addition, construction is progressing at Éléonore in Canada for 2014, and the planned completion of the Cochenour project in Ontario is also on track to happen in 2014.
"Solid operating results throughout most of our mine portfolio were offset by a challenging first quarter at Red Lake," Jeannes said in a statement.
"Adverse ground conditions at Red Lake delayed the development of new mining faces in the High Grade Zone which, taken together with lower grade in other areas of the mine, led to our slow start to 2012," Jeannes continued. "Our Mexican operations were a particular area of strength in the first quarter, highlighted by the successful commissioning of the final component of Peñasquito's processing line which positions the mine for strong performance over the balance of 2012." EMI