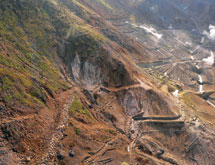 Golden Queen Mining Co. Ltd.
The home office for Golden Queen Mining Co. Ltd. may be in Canada, but for the last 27 years, the company's focus has been far outside the Great White North. Based in Vancouver, the company is totally focused on developing a gold and silver operation on its Soledad Mountain property, located outside of Mojave, California.
President Lutz Klingmann explains that Golden Queen was formed in 1985, when its owners acquired the property, which it will develop as an open-pit, heap-leach operation. Throughout the years, "We've basically only had one asset, our California property."
Although it has yet to start production on Soledad Mountain, it has continuously worked on the property over the years. "Through the late '80s, all of the '90s and to this day, the company has raised and spent money on the property," he says, noting that this included metallurgical testing, engineering and environmental studies.
Today, under Klingmann's leadership, the company has received the necessary approvals and permits required for the project, which is estimated to have average ore and waste mining rates of nearly 5 million tons and more than 9 million tons per year. Additionally, it will produce an annual average of 75,000 ounces of gold and 950,000 ounces of silver.
Leading Golden Queen
Klingmann, who has nearly 50 years of mining experience, joined Golden Queen in the late 1980s. Throughout his career, he has developed mines not only in the United States, but also in Canada and Africa.
According to Klingmann, his special interests have included feasibility studies and financing for mining projects, drilling and blasting in open pit mines, and the maintenance of heavy equipment and operator training programs.
Before coming to Golden Queen, he served as the director of Glamis Gold Ltd. for a number of years. "A major turnaround was achieved in terms of gold production, cash flow and profit from August 1982 to August 1983, while the Picacho Mine, located in Southern California and the only asset of the Glamis Gold Ltd. at that time, was being managed by myself," he says. Klingmann also served as a director and president of Eastmaque Gold Mines Ltd. Eastmaque had purchased a property from Newmont Exploration Ltd. in 1986 and subsequently developed two open pit heap leach operations and an underground mine and mill on the property.
After serving many years at Golden Queen, Klingmann stepped down from the company in 1996. "I was developing a project in the Yukon, Canada, that was time consuming," he says. However, Klingmann was asked to return four years later, when the prices of gold dropped and the Soledad Mountain project had been put on hold.
Today, Klingmann says he works alongside an engineer with whom he shares site responsibilities. "David Rubio was employed on site back in the 1990s," he explains. "That's the way we are running it." The company will employ a few experienced managers to develop the mine once a production decision is made and project financing has been secured.
Meeting the Challenges
Golden Queen is at work on securing financing for Soledad Mountain, which it estimates will cost $100 million to complete. "In this day and age, that is a low capital cost for a mine development," Klingmann says, noting that construction can be completed in approximately 18 months. "Executing a project is always a challenge," he admits.
Other challenges include earning local support for the project. Klingmann asserts that this is always essential, no matter where a mining company operates. "If you're doing a project in Mexico today or doing a project in Peru, you have to [have] community support," he says. "It's a critical part of what we do.
"It needs to make sense for the local community," he continues, noting that Golden Queen is working closely with the local community in Mojave.
Winning permits for projects can be challenging, too, Klingmann admits. "There are things that are defined in the permit that you need to do to achieve what you promised," he says.
Confidence in Gold
When production starts, Golden Queen will hire many local workers. "We expect to have a crew of approximately 160," Klingmann says, noting that more than 1,500 people have applied for jobs on site.
He adds that the time is right for the company to start production at Soledad Mountain, since gold and silver prices have risen significantly. "High precious metal prices will make it a successful project," he says, adding that he believes gold and silver may become more valuable.
"Elsewhere in the world, we have all these huge debt loads," he says. "I'd rather own a few gold coins than worthless, printer paper money. Gold is up. The public at large is losing confidence in all this paper that is floating around." EMI